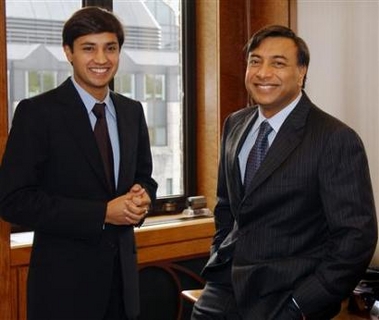 Radio National , Australia
listen now
download audio
In the modern global steel business no man has achieved more than Indian-born Lakshmi Mittal. From humble beginnings, Mittal has built an empire to rival the success of the 19th century steel baron Andrew Carnegie. He cemented his place as the world's largest steel producer, and the fifth richest man on the planet, after swallowing the European steel giant Arcelor in 2006. It was one of the most bitter takeover battles ever seen in Europe, pitting the Indian entrepreneur against the entire European steel establishment. That saga is now the subject of a new book called Cold Steel, by Tim Bouquet and Byron Ousey.
Guests
Tim Bouquet
Publications
Title: Cold Steel
Author: Tim Bouquet and Byron Ousey
Publisher: Little, Brown
BUY :
Amazon
Reporter
Sheryle Bagwell, Business Editor
Radio National often provides links to external websites to complement program information. While producers have taken care with all selections, we can neither endorse nor take final responsibility for the content of those sites.
_______
The Economist'

A
rare, insider's account of lots of people making millions . . . The book reads like a thriller, with each side trying to rope in other steel companies on both sides of the Atlantic as allies . . . As this book shows, money and business logic prevailed in the end over politics and protection.'
Synopsis
COLD STEEL is the gripping story of the world's biggest and most hard-fought industry takeover of recent years, an epic corporate battle that would send shockwaves through the political corridors of Europe, excite the world's financial markets, enrich thirty hedge funds and transform the global steel industry. In 2006, the two largest steel-producers went head to head in a bitter battle for total market domination. Lakshmi Mittal, a Calcutta-born industrialist who had raised himself up from humble beginnings to become the world's fourth-richest man, proposes a friendly merger with rival Arcelor, a pan-European company whose interested parties include the governments of Spain, Luxembourg and Belgium. Arcelor's mercurial CEO, Frenchman Guy Dolle, firmly refuses, and the scene is set for a massive hostile takeover involving billions of dollars of finance, government and shareholder manoeuvring, and accusations of jingoism and double-dealing. Fast-paced and electrifying, COLD STEEL brings to life the cut and thrust of big business at war.