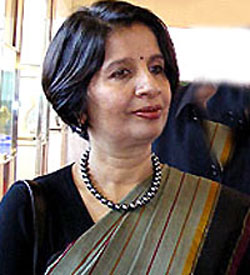 Ashok Tuteja

http://www.tribuneindia.com/2011/20110808/main7.htm



When Nirupama Rao presents her credentials to US President Barak Obama, she will be among familiar faces, having known many important American diplomats during her previous assignments. She also knows her way around Washington, literally, having served in the Indian Embassy there in a junior position.
India's engagement with America is expected to deepen further, given Nirupama Rao's performance as the Foreign Secretary as well as her equation with senior US leaders. Being experienced, friendly, persuasive and skilful, she has all the qualities to pursue India's agenda in a media-centred capital like Washington.
Fortunately, Rao takes charge at a time when India's relations with the US have been witnessing an unprecedented upswing. The bilateral cooperation on issues such as terrorism, nuclear proliferation and piracy has deepened while economic and defence ties too have been booming.
There are problems too. The recent decision of the Nuclear Suppliers' Group (NSG) to deny access to enrichment and reprocessing (ENR) technologies to the countries which have not signed the NPT has caused serious concern in New Delhi. Rao will have to use her close rapport with Secretary of State Hillary Clinton to ensure that Washington remains committed to the letter and spirit of the nuclear deal it had signed with India, regardless of the new NSG guidelines. The ever-changing Af-Pak equations will present her with another big challenge, and there are bound to be many other irritants that Rao will be expected to smoothen out.
But then she knows how to do that better than many others. Exactly a decade ago, she handled the abrasive Pakistani journalists after the Vajpayee-Musharraf summit in Agra collapsed. Her composure earned her respect, even from the Pakistani journalists.
Again in March 2007, she remained calm when she was woken up by the Chinese foreign office at 2 o'clock in the night to lodge a protest against Tibetan demonstrators scaling the walls of the Chinese Embassy in New Delhi. She played a perfect host at an Indian Embassy reception the next day, hardly giving any impression about the fact that she had not slept well the previous night.
Many such situations have confronted the 60-year-old veteran diplomat through her long diplomatic career but she has remained a picture of poise and dignity, not allowing emotions to get the better of her.
Close aides say the Indian Ambassador-designate to the US is a workaholic and is considered a demanding supervisor. Indian diplomats, particularly joint secretaries in-charge of the US, Pakistan and China, have been on their toes ever since Rao took charge as Foreign Secretary in August 2009.
As a student, the Kerala-born daughter of an Army officer had two major interests - history and current affairs. Right from the beginning, Rao was keen on joining the Indian Foreign Service (IFS), which was considered the best profession those days.
Schooled almost all over the country, Rao, after topping at both the graduate and the post-graduate levels at Mount Carmel College, Bangalore, and Marathwada University, Aurangabad, respectively, sat for the Civil Services exams. In keeping with her academic history thus far, she topped both the IFS and the IAS, and opted to join the former.
As a 22-year-old IFS trainee, she met her husband Sudhakar Rao, an IAS trainee at Lal Bahadar Shastri National Academy of Administration, Mussoorie, who went on to become the Chief Secretary of Karnataka.
From her first posting as Third Secretary at the Embassy of India in Vienna, to being the first woman spokesperson for the MEA to becoming only the second woman Foreign Secretary (Chokila Iyer was the first) is certainly an impressive record. When she took over from Shiv Shanker Menon as India's top diplomat, she had a plethora of accomplishments in her bag - India's envoy to China, Sri Lanka and Peru. She had also served as Minister (Press) in Washington and Deputy Chief of Mission in Moscow.
Old-timers in the media fondly recall how she emerged as the effective "face" of the MEA as its spokesperson. Rao used to be at her best at her daily press briefings. She was the Indian High Commissioner to Sri Lanka during the eventful years of 2004-2006 when governments changed there and the fragile peace process swiftly deteriorated towards a war with the LTTE. Amid the chaos in Colombo, she was among the few foreign diplomats who noticed the rise of the then President Chandrika Kumaratunga's aide Mahinda Rajapaksa.
Rao's next big ticket assignment was to Beijing as India's envoy. There are very few who know more about the complex India-China boundary dispute than Rao. She had been Director and later Joint Secretary handling China in the ministry. And when it came to naming the new Foreign Secretary to replace Shiv Shankar Menon, Rao was the obvious choice for the coveted but demanding job.
The biggest challenge for her was to deal with Pakistan. The dialogue with Pakistan had been suspended following the 26/11 Mumbai terror attacks. But she had an ace up her sleeve. Pakistan Foreign Secretary Salman Bashir was a good friend as both he and Rao had together served their respective countries as envoys in Beijing.
The two top diplomats made several attempts. Rao went to Thimphu in connection with a SAARC meeting in early February this year and met Bashir. The two quietly stitched a deal to kick-start the stalled dialogue process which is now making a steady progress.
Those who have worked with her say she expects everybody to be perfect. If she asks her staff to be in office by 10.00 am, she would herself be there before time. When it comes to Parliamentary work, she would make sure that all questions relating to the ministry are replied properly and in detail. One colleague recalled how she used to work on replies to Parliamentary questions till 1.30 or 2.00 am at times.
She is said to be benevolent and caring with her juniors. Her command over language is something which others in the service are envious of. An official, who has worked closely with her, said Rao is a bundle of energy, recalling how she held as many as seven interactions with different media houses shortly after returning to New Delhi from Islamabad in the wake of the failure of the foreign ministers level talks between India and Pakistan in last July. She has a sharp instinct and values others' advice.
Rao's letter to heads of Indian missions to show 'zero tolerance' for sexual misconduct and domestic violence is something that is constantly being talked about in the foreign office.
Ask her about the challenges she faced during her two-year tenure as the Foreign Secretary, she lists the relationship with neighbours, particularly Pakistan and China, being the focus of her attention. The evacuation of Indians from Libya in the wake of unrest there, visits of the leaders of all five permanent members of the UN Security Council to India last year and India's election to the UNSC as a non-permanent member with the highest votes were some of the high-points of her innings as the country's top diplomat.
Despite the demands of her office, Rao has keen interest in poetry and music. Her poem collection 'Rain Rising', published in 2004, has been translated into Chinese too.
And when someone is in the 'hot seat', one is bound to have detractors too. Rao was no exception but her critics were in a minority. Their contention is that she was very docile and danced to the tune of her 'masters' in the Prime Minister's Office (PMO). Another argument they advance is that her personal staff was over-secretive, which affects not only her image but that of the foreign office as well.
Hopefully, she will win over her detractors too when she takes up her next assignment to Washington as the Indian envoy to the US. After all, the relationship with the sole super power is as important as the job of Foreign Secretary.