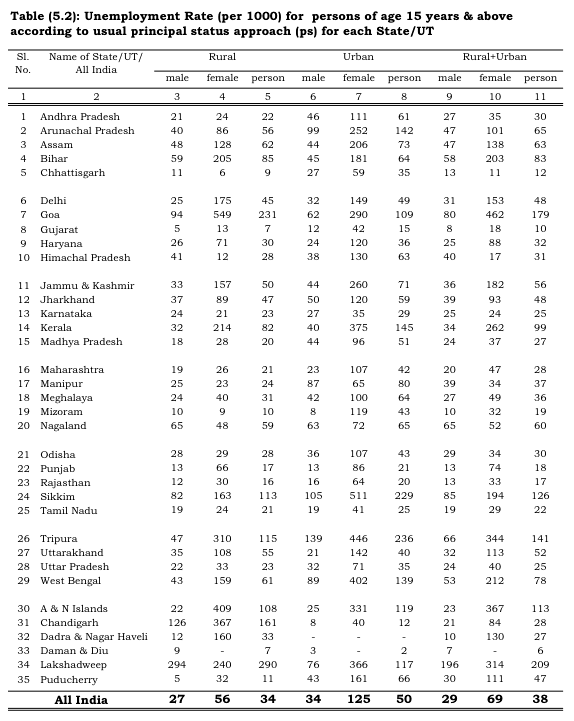 BY DeshGujarat News, Ahmedabad, 10 July 2012
Gujarat Congress's yet another poll agenda has been punctured, this time by a department under Union Ministry of Labour and Employment.
In run up to the assembly election, one of the issues Gujarat Congress has taken up against the state government is unemployment. According to the latest report for the year 2011-12, released by Labour Bureau, Gujarat has least unemployment rate among all states in India(barring Daman and Diu which is Union territory).
In recent past, party's youth wing had organized a rally and convention on this issue in Ahmedabad. Also
a TV ad
featuring singing and dancing 'unemployed' youths was also aired almost on daily basis on Gujarati TV channels.
However, the latest report released by Labour Bureau(under Union Ministry of Labour and Employment) backs Gujarat BJP's claim that Gujarat Congress's shouting over the issue of unemployment is not based on truth.
According to the report(2011-12), India's jobless rate stood at 3.8% during the last fiscal. Daman and Diu and Gujarat had unemployment rates of 0.6% and 1% respectively.
Chhattisgarh(1.2%) and Rajasthan(1.7%) stood at 3rd and 4th position in the list. Unemployment rate in Punjab stood at 1.8 per cent, the fifth lowest at all India level amongst states and UTs. Delhi and Maharashtra recorded an unemployment rate of 4.8 per cent and 2.8 per cent respectively during last fiscal. Haryana and Union Territory of Chandigarh recorded unemployment rates of 3.2 per cent and 2.8 per cent respectively and secured 13th and 9th position respectively
About the survey
This is second survey conducted by Labour Bureau. The first survey was conducted in 2009-10.
About Labour Bureau
The Labour Bureau is an apex organization for providing data base at the national level for policy formulation, evaluation and research. The Labour Bureau in the Union Ministry of Labur and Employment is the epicenter of all activities involving planning, collection and dissemination of data on various facets of Labour which forms a sound basis for decision making in the Government, industry and by various other user organizations.
First part of the report, that includes state wise data(PDF)