K.V. Prasad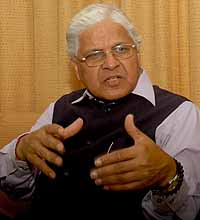 Ashwani Kumar, Minister of State for Planning, Science & Technology and Earth Sciences

MINISTER of State for Planning and Science and Technology and Earth Sciences Ashwani Kumar visited Washington recently to participate in the Indo-US Strategic Dialogue. In an interaction with The Tribune, he draws the contours of plans in the field as also his commitment to put Punjab on the international map of science, technology and innovation through collaboration. Excerpts of the interview:
What was the vision of India on science and technology that you presented at the third Indo-US Strategic Dialogue?
I spelt out India's aim and expectations from this engagement to US Secretary of State Hillary Clinton — that in order to achieve our 12th Five-Year Plan objective of sustainable growth, we have to pursue science, technology and innovation as core instrumentalities, which can also impart a competitive edge to our economy. We could impact the quality of life of the aam aadmi through affordable and better products and services. I also spelt out our vision of global leadership in this sphere, for which we need to strengthen our capabilities in converting pure science research into products and services. I sought a collaborative enterprise with the US for this. I believe the frontier areas of science which will validate our global aspirations include supercomputing, synthetic biology, regenerative medicine, neuro science, genome sequencing, bio-technology, water cycles research, solar energy, and molecular biology. Secretary Clinton gave full assurance of active collaboration in projects. It is important to remember the world faces common challenges such as energy security, food security, cyber security, pandemics, affordable health care and drinking water. Therefore, we need collaborative rather than competitive science. Accordingly, the Department of Science and Technology has an extensive programme of international collaboration with many countries. While there is active engagement with the US, European Union, United Kingdom, France, Brazil and Germany, there are MoUs with 82 countries.
What are your plans for Punjab in this sphere?
We are engaged with MIT-Cambridge for collaboration with IIT-Ropar to ensure that the institute in Punjab becomes a centre of educational excellence in science, technology and innovation. The Provost and Dean of MIT, Prof Canazaris, has assured us of purposive follow-up. On our side, a committee will hold the talks. My aim is to ensure Punjab catches up fast with some of the other states in becoming an educational hub.
What are the challenges faced by Punjab and the way forward?
Punjab had missed the information revolution and lags in centres of advanced and quality education. The other important challenge relates to water management, its conservation, quality and use. Towards that end, a high-powered team under the chairmanship of Planning Commission member Mihir Shah has already visited Punjab and consulted with the state government, farmers' bodies and other stakeholders. I have asked for a report and will be taking necessary action.
What is your overview on the state of economy and what do you see as the way to address this decline?
These are indeed challenging times. Our difficulties are compounded by the global economic crisis, as the Indian economy is today fully integrated with the world. Yet the India growth story is here to stay. The macro-economic fundamentals — including the democratic dividend with India being home to 20 per cent of the world's population below the age of 25, high domestic investment and saving rate and a service sector which instils resilience in the economy to absorb external shocks — will ensure over a five-year period eight-plus GDP growth rate, making India the second fastest growing large economy. We need to build a political consensus to push through second-generation reforms in finance, insurance, infrastructure and manufacturing sectors. If we fail to push ahead with this and contain rising fiscal deficit we would have missed the opportunity to foster sustainable and more inclusive growth, as aspired for in the 12 th Five-Year Plan.
As one who represents the Congress, how do you react to reports about the dipping electoral fortunes of your party, especially after the rout in Punjab?
Many prophets of doom in the past sought in vain to write the obituary of the Congress. We have had our ups and downs, but based on an inclusive political agenda, we are committed to the spirit of nationalism and seek inspiration from the towering moral leadership provided by the party from time to time. We have continued to receive the affection of the Indian people. I have no doubt that despite the challenges on account of organisational weaknesses in various states and pressures of caste and communal politics, the Congress will remain the premier party in the country for many years under the leadership of Sonia Gandhi.
What about the next generation leadership, and where do you see Rahul Gandhi in it?
I believe it is necessary to invite the younger generation in the political life of the country, which can only be done by inspiring the youth through politics based on ideals and service to the people. Rahul Gandhi has sought to do just this. He is capable of assuming a larger role in the affairs of the nation. However, when and how he will do it should be best left to his judgement.