http://www.sharnoffsglobalviews.com/luxury-market-india-181/
October 4, 2013 8:22 am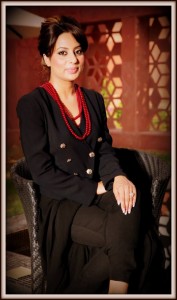 Rachna Sharma, Hotelier
India was always a luxury appreciating country from the time of Maharajas to the middle affluent consumer today.
luxury-india-marketI was raised in a small town of Jammu & Kashmir and always thought that the world was mine. However, while growing-up, I started learning the meaning of luxury in my childhood, which kept evolving with time. Sometimes an ice cream from Baskin-Robbins over Mother Dairy became a luxury and sometimes traveling to Kashmir by plane was a luxury when everyone else traveled long hours in public transport over bumpy hilly roads.
Until around 1995 – 2000, I assumed very few Indian kids — I would say only the elites — probably knew the difference and name of luxury brands, be it hotels, automobiles, clothing etc. Times have changed now; ever since luxury brands entered India, the Indian consumer has come a long way.
Enough has been said about India and its current luxury scenario; everyone is jumping on each other's weakness and every downfall. That's precisely the reason of our failure.
However, I think the Indian market is starting to accept the presence of luxury; albeit slowly, but we are getting there.
It has a lot to do with policy makers, government substratum and of course all those high-end research firms, which give huge percentage charts and make beautiful presentations. Let me also mention that the luxury giants are busy giving PR interviews, making their scripts impressive and speaking like a well versed politician.
But, the question that I raised before remains unanswered! How many of us really face the reality and accept that India is taking baby steps?
Luxury entered India five years ago compared with China, which interestingly enough, has been a success story for most brands, where luxury entered in 1992 and grew at 27 per cent in its first 10 years.
For example, Louis Vuitton has 35 stores in China against three in India. Also, the Indian buyer is still traditional in his/her preferences (as seen in jewellery and clothing), is price conscious and less brand aware, even when there are more options present in the country than there has ever been. Moreover, the market is younger (luxury re-entered India only five years ago) and China has none of the structural barriers (foreign investment and duties to name a few).
Is it a fear of too much wealth in the market? If yes, then how wrong are we?
Why do we forget our heritage, the culture and traditions of Maharajas and kingdoms? Why do we forget that at one time, a lot of wealth was taken away from India; a proven fact that India was luxurious and wealthy not too long ago!
We had the taste and understood investing in luxury. Who would argue with the fact that we probably have the most beautiful jewels, palaces and fabrics than any other country in the world?
I have heard that Maharaja of Patiala had 21 Rolls Royce …astonishing figure isn't it?
The scope of luxury has gone beyond our imagination with our generation, which we call MAC (middle affluent consumer), who is aspiring, more knowledgeable and has learned the magic of credit cards and EMI's that enhances its purchasing power indirectly.
India was always a luxury appreciating country from the time of Maharajas to the middle affluent consumer today. Yes! We are precisely where every other developed nation was a few hundred years ago. In my view, Luxury is a slow process of evolution hugely by default and not design.
As the Indian luxury market enters the next phases of development, the rewards of this potentially massive market will continue to attract investment. However, India is not just another emerging market. The dynamics of the Indian luxury market challenge international luxury players to develop an India-driven strategy.
The ability and willingness to connect with the Indian luxury consumer can make a difference between winning and losing a share of the luxury rupee. A new era beckons international luxury brands to plan strategically for the future and seize the market.
India has often been cited as the next China as international luxury brands enter the market to benefit from the monetary gains of a desire economy. However, the Indian luxury market is not only different compared to other emerging markets, but unique.
It is a market of contrasts, contradictions and extremes. It is these opposing forces that need to be understood and integrated into business strategies if luxury players are to leverage growth opportunities and avoid the pitfalls of market failure.
India today is a case study: it's projected that the Indian luxury market will reach USD 14.72 billion in 2015 with unprecedented growth rates in categories from fashion to hotels to automobiles and fine dining.
The luxury market in India garners huge attention and is sometimes seen as a sign of India having finally "arrived."
The talk is about the new-found spending power of the Indian consumers, Indian luxury brands and flashy consumption culture. On the other hand, periodically one hears about another luxury brand exiting the country or a global luxury CEO talking about how China is a better market.
The truth, as always, is somewhere in the middle. India is a huge potential market for luxury, yet players face serious growth challenges and companies make money with great effort.
Yet, Indian luxury brands are no longer a myth. The luxury market has grown at 23 per cent since 2006. The luxury products market (apparel, watches, jewellery, spirits, electronics) have grown at 30 per cent, reaching a market size of $2 billion. The luxury assets market-cars, homes and yachts have grown at 25 per cent, and have a market size of $2.8 billion.
In the last one year, 50 luxury outlets (product stores and car showrooms), have been added to the 200 that existed, a 25 per cent growth in footprint. The market, at 1 per cent of the global luxury market, is still small; the luxury products market in China is $12-13 billion and Europe is 40 per cent of the global market.
Key growth drivers are the 150,000-plus HNIs (high net worth individuals) with a net worth of $600 billion-3.1 million households earning more than Rs.10 lakh in the top 10 cities (Mumbai, Delhi/NCR, Bangalore, Kolkata, Pune, Chandigarh, Hyderabad, Ludhiana, Chennai and Ahmadabad), and a Gini coefficient of 39.9 per cent.
Gini coefficient indicates whether income inequality within countries and rising income inequality within countries leads to a change in spending patterns, creating good business opportunities at opposite ends of the economic spectrum.
All is not well though. Import duties are high (20-150 per cent), foreign investment in luxury retail comes with strings attached-100 per cent FDI in both single and multi-brand retail requires 30 per cent of local sourcing, a clause which luxury players find difficult to comply with-and there just isn't enough quality retail real estate available.
These issues have been known since the outset.
On the demand side, those who can afford it still suffer from a middle class mindset and those who do spend, don't spend enough!
Price conscious Indian consumers prefer shopping overseas in the homes of luxury brands to get the best deals. The rich are also highly fragmented and not easy to reach. In addition to the traditionally wealthy who are habitual spenders and the professional elite who are careful spenders, there is a large segment of business giants (entrepreneurs, owners of small and medium enterprises) who have the money, but lack appreciation for fine luxury goods because of no prior exposure.
This group will soon become the largest consumer segment for luxury. And they are not concentrated only in the metros. If one looks at the luxury car showrooms, (15 out of the 18 new showrooms in the last one year have been added in non-metros), one can see that there is a market waiting to be tapped beyond the metros.
Besides all the above, we still notice players talking of India as the next luxury destination! They hope that as growth in the large markets saturates, the BRIC countries (Brazil, Russia, India and China) will be the next growth engines-not unlike what they would expect in most consumer categories.
Deregulation has driven growth in several industries in India-insurance, retail and telecom is notable examples. To get to the next level of growth, deregulation is imperative, not just FDI and import duties, but land regulation that restricts availability of prime real estate is also a key barrier. At $1.5-$2 billion, latent demand in luxury products is equal to the current market size. Industry could grow at 35 per cent from the current 23 per cent if regulatory and real estate constraints are removed.
Thus, while the "buzz" generated by this industry sometimes is disproportionate compared to the size of the market, it does indicate the aspiration value of the sector and a belief in the potential of the market, both of which are difficult to ignore.
Even the luxury brands celebrate the values of Indian heritage, whether it is the sarees by Hermès or the Bandhgala by Paolo Canali, so why shouldn't we?
Rachna Sharma is an expert hospitality professional. A gold medalist from Mangalore University with a Bachelors in hotel management, she is proficient in strategic thinking, business planning and development, brand management, marketing communications, sales tactics and identifying & maximizing opportunities across diverse sectors. Rachna is responsible for strategic development of an international hotel company in India. She is also a philanthropist and is working towards urban women empowerment. Rachna is co- author of the book Globalization and Voices from Indian Practitioners. She is brand ambassador for "Red Light to Violence against women in India," a socio-cultural project supported by UNESCO, UNICEF, Kerala Tourism, ICCR, Instituto Cervantess & Spanish Authorities.