https://briandcolwell.com/2016/08/4ir-geopolitics-investing-in-russias-asymmetrical-warfare/.html

#4IR Geopolitics: Investing in Russia's Asymmetrical Warfare
August 9, 2016 by Brian Colwell
82
SHARES
"We live in a wondrous time in which the strong is weak because of his moral scruples and the weak grows strong because of his audacity." –Otto Von Bismarck, 19th Century
I was listening to Patriot Radio recently while Russia's Asymmetrical Warfare and the Wikileaks were being discussed
I'm totally into the Fourth Industrial Revolution, and it occurred to me that "Asymmetrical Warfare" is a #4IR Geopolitical issue. I've written about all sorts of investment opportunities because of the coming Fourth Industrial Revolution innovation and disruption, from Agtech to mining companies (see related articles at end), but have not yet approached the issue from a Geopolitical stance.
It seems to me that Russia's Asymmetrical Warfare is a perfect opportunity to expand my existing investment thesis: #4IR #GlobalMacro
The following post is divided into multiple sections for easy reading. You'll notice that this post lacks the funny animated gifs and witty sarcasm of my precious posts. Why? Because as I dig into this research, I become more and more certain that our next major conflict, our next large scale war, will be with Russia. And they are a SERIOUS threat to Western security. This is a serious post and a serious issue. Remember, every Industrial Revolution ends in war, and as we come into the Fourth Industrial Revolution war is inevitable: innovation leads to disruption, history repeats itself, and human nature is a guarantee.
But that doesn't mean we have to suffer… there are winners in every Industrial Revolution, as well. The Boy Scout motto is "Be Prepared." That what I'm doing… getting prepared. Doing the research and writing this post are my first steps towards readiness for success.
I believe this post to be an in-depth review of Russia's Asymmetrical Warfare AND the potential investment opportunities that will arise from Russia's continued (and guaranteed escalation of) aggression.


I'm creating a #4IR portfolio,
Which was started April 2015 and still has several slots to fill. I'm hoping to identify a fantastic investment opportunity from this research that would cover the theme #4IR Geopolitics. Current holdings in my #4IR portfolio cover themes like renewables, energy storage via batteries, deflation, hyperinflation, emerging markets, and more. The holdings are: Barrick Gold (ABX), First Majestic Silver (AG), Silver Wheaton (SLW), and Glencore (GLNCY). I've identified my pick for sustainable agriculture, climate change, biotech, and agtech as Monsanto (MON), but have not yet started a position. Read why here: Monsanto: THE #4IR Agtech Investment… Just not now. Lastly, on the side of innovation I have identified Amazon (AMZN) as my Fourth Industrial Revolution pick for themes like drones, robotics, cryptocurrency, AI, cyber-physical systems, and on and on… In the case of Amazon I started a position earlier this year, sold out after a quick 15% pop, and am now waiting for the "Big Crash" to buy-in a better prices.
Get involved, leave comments at the end, ask questions, and make recommendations! I'm always open to investment ideas for research, so if there is a Fourth Industrial theme I haven't looked into yet, let me know!
Table of Contents:
INTRODUCTION
PART 1: GET CURRENT
A. What is Geopolitics?
B. What is #4IR? The Fourth Industrial Revolution
Globalization leads to Global Asymmetrical Warfare
PART 2: WHAT IS ASYMMETRICAL WARFARE?
A. Not a new concept
B. Asymmetrical strategic objectives
C. Organizational and operational scope
D. Categories of asymmetry
PART 3: THE FOUR ELEMENTS OF ASYMMETRIC WARFARE
A. Asymmetric threat
B. Asymmetric operations
C. Cultural Asymmetry
D. Asymmetric Cost
PART 4: RUSSIA'S ASYMMETRICAL WARFARE
A. The Evolution of Russian unconventional warfare
B. Context and theory of Russian Asymmetric Warfare
C. The Gerasimov Model
D. The Russian propaganda machine
E. Russian information warfare
F. Military intimidation
G. Igor Panarin and Alexandr Dugin
PART 5: RUSSIAN ASYMMETRIC WARFARE IN UKRAINE
A. Historical context
B. Attention shifts to Crimea
C. Conflicting narratives
D. Key points: the Russian view
E. Russian tactics, techniques, and procedures in Ukraine
F. Gerasimov's Model in Crimea
G. Gerasimov's Model in Eastern Ukraine
PART 6: AND IT'S NOT JUST UKRAINE…
A. Russia
B. Eastern Europe
C. The United States
PART 7: THE SITUATION TODAY
A. No solution to Ukraine
B. Syria
C. Russia: Hardly a superpower, but acting like one
D. Russia has been preparing for three possible scenarios of military conflict
E. The war of sanctions
F. A threat to Western security
G. Russia's potential triggers
PART 8: WHAT ARE THE INVESTMENT OPPORTUNITIES?
A. The investing environment
B. Let's review some of the etfs…
C. My top pick: Boeing, Lockheed Martin, or AeroVironment?
CONCLUSION
RESOURCES
INTRODUCTION:
The September 11th, 2001 terrorist attacks on the United States captured the attention of the world and ushered in a new phase of warfare. Not that terrorism was new— it has been around since the dawn of time—but just as World War I and World War II elevated warfare itself to a worldwide level, 9/11 brought a global dimension to terrorism.  Taking place roughly a decade after the breakup of the Soviet Union and the end of the bipolar order, 9/11 showed the West that their new enemy plays by no rules, respects no national boundaries and, although he wields little or no advanced technology or firepower, can wreak more destruction upon American lives on U.S. soil in an hour than occurred in the nearly half-century of the Cold War.
The attacks also demonstrated that a military could no longer guarantee its ability to serve as a buffer between the enemy and its own government or people.


This shock to the Western psyche spurred much of the discussion that was already transpiring on the concept of asymmetric warfare—changing perceptions of strategy, tactics, security and threat forever. The difference today is that the enemy takes on many faces and methods: terrorism, insurgency, war of information and ideas, war of disruptive threats, attacks using bio weapons through the mail or cyber-attacks on the Internet, war waged by non-state actors.
There is growing evidence that asymmetrical warfare has become a strategy of choice among dissident, extremist political groups and will be the most likely national and international security threat in the 21st century.
These malicious actors are increasingly using a combination of defense and commercial technology, underscoring the need for the U.S. military and defense industry to start thinking like asymmetric bad guys, to both counter and create hybrid-defense technologies and programs through the third offset strategy. America's post-World War II history has shown that low-intensity conflicts against insurgents and small powers are far more likely to occur, and can significantly damage U.S. interests, exact an outsized toll, and give future enemies a playbook from which to work.
Operating in small, covert groups, and having no recognized sovereign territory or population to defend, asymmetrical combatants can engage in violent, lethal activities with far less risk of being totally overwhelmed by reprisals that a nation-state might face. In addition, those killed in action can be portrayed as martyrs and used to recruit more converts to the cause. A great many lessons have been learned over the years on how to counter asymmetrical threats, and the breadth, complexity and international scope of the threat are now generally recognized. Moreover, much has been written on countering the threat, particularly since the September 11 terrorist attacks, and many corrective measures have been suggested and adopted. But as yet, there has as yet not been a grand strategic vision encompassing all the many, varied facets of the threat. It has not been a lack of understanding or of lessons learned about the many varied elements of asymmetrical warfare that has lead to the lack of progress in effectively countering threats in recent years. Rather it has been has been the lack of a new, comprehensive strategic vision against what is essentially a new and different type of armed conflict.
The strategies and tactics of Russia and China, not to mention Iran or ISIL, may have more in common with insurgent forces than the kind of conventional air or naval engagements the U.S. military expects in a great power showdown. The explosion of commercial technology, repurposed for military capabilities and possibly supplemented by state-backed systems and training, only exacerbates this trend. The U.S. defense industry's unique knowledge of U.S. and allied military requirements and capabilities means it can play a valuable role identifying and adapting commercial technology for our national security — as well as countering adversaries who may use similarly hybridized technologies against us.


Despite the technological advantage of the U.S. military, insurgents in Iraq and Afghanistan have proven their resilience in the face of large-scale campaigns.
Groups like these are constantly innovating on the tactical and strategic levels because they are constantly at war, and defeat, for them, has existential consequences. Their military innovation curve is much faster by necessity. Insurgents tend to use new combinations of available commercial technologies to great military effect. Insurgents in Iraq combined cheap, commercially available cell phones and service with rudimentary explosives to create improvised explosive devices, and with the aid of Iranian designs, also produced explosively formed penetrators, which proved costly for U.S. forces. In the future, insurgents armed with commercially available drones or state-provided technology, could deny the U.S. military the staples of low-intensity conflict such as MQ-9 Reapers or Blackhawks in a strategically meaningful manner. Hezbollah has already demonstrated its ability to use anti-ship missiles against Israeli ships, and Hamas is trying to develop "suicide" drones.
Nor are non-state actors the only ones who will be likely to use commercially available technology and asymmetric tactics to achieve their military ends. China has used swarming fishing boats to bolster its territorial claims in the East and South China Seas and could use them for intelligence, surveillance and reconnaissance, or offensive operations in a time of war. Russia has shown its willingness to use unconventional tactics to occupy Crimea and eastern Ukraine. With new unmanned, communication, and remote sensing commercial and military technology, asymmetric warfare will cut across all military domains by actors small and large.
"We are fighting a war unlike any we have fought before—it demands new ways of thinking about military force, new processes to improve strategic agility, and new technologies to take the fight to the enemy." –Former Chairman of the Joint Chiefs of Staff General Richard B. Myers


PART 1: GET CURRENT
A. What is Geopolitics?
Not sure what #Geopolitics is? No problem! Check out this feed:
Many people don't understand what the word "geopolitics" means. That's cool, I didn't either. So I looked it up… that's when I realized that almost everyone had a different definition of geopolitics. I decided to consolidate the resources into this list:
Geopolitical news encompasses:
DemographicsEconomicsEnvironmental issues including climate changeGenetic resourcesIdiological trendsMilitary & strategic issuesPolitical issuesRegional securityReligionSocial issuesSustainabilityUtilization of natural resources
B. What is #4IR? The Fourth Industrial Revolution
Unsure of what the Fourth Industrial Revolution is? Check out this post!
So to quickly recap why coming into a new Industrial Revolution is important:
EVERY Industrial Revolution is marked in history by both innovation AND disruption… on a massive scale.
Saying "innovation" and "disruption" sounds cool, like plug words in a lame commercial for some new high tech razor you really don't need, but disruption on the scale of the Industrial Revolution isn't cool at all.


The First Industrial Revolutionbrought industrial cities, and eliminated hemp as a crop in America. It brought railroads and steam power, and led directly to the Civil War. The Second Industrial Revolution occurred shortly after, and is referred to as the America Revolution, or the Age of Invention. It brought the light bulb, and created a Middle Class in America of the first time. And it also led to the Great Depression and World War I. The Third Industrial Revolution was Globalization, Computers, and Automation. Great innovations, right? Well, disruptively, the Third Industrial Revolution led to loss of culture in many countries as well as the Financial Crisis, the Great Recession, and the destruction of America's Middle Class.
In addition, as you read on, it will become clear that The Third Industrial Revolution and Globalization, or the flattening of world economies, created new fronts for global war such as Hybrid and Asymmetrical Warfare.

Globalization leads to Global Asymmetrical Warfare…
Now we enter the Fourth Industrial Revolution: Disruption and innovation are already occurring all around us: cyber-physical systems are replacing humans, AI and self driving cars are set to disrupt industry on a massive scale, drones, nanoparticles, space mining, and 3D printed stem cells… the Future is HERE. More innovation, more disruption. They go hand-in-hand.
But technology is neutral. It can be used for great good, for example by medical professionals pioneering new forms of robotic surgery, or great harm, such as ISIS using a drone to commit another atrocity.


And now #Russia… always Russia. And #Putin, the stereotypical Bond villain. But he has a plan…#DISRUPTION
PART 2: WHAT IS ASYMMETRICAL WARFARE?
A. Not a new concept
B. Asymmetrical strategic objectives
C. Organizational and operational scope
D. Categories of asymmetry
A. Not a new concept:
The term "Asymmetrical Warfare" is frequently used to describe what is also called "guerrilla warfare", "insurgency", "terrorism", "counterinsurgency", and "counterterrorism", essentially violent conflict between a formal military and an informal, less equipped and supported, undermanned but resilient opponent. Asymmetric warfare is a form ofirregular warfare.  –Wikipedia


Many have tried to describe this new type of warfare, and many catchphrases and buzzwords have come and gone: low-intensity conflict, military operations other than war, asymmetric warfare, fourth-generation warfare, irregular warfare. In any event, warfare today has taken on a new form and grown to new levels. The type of warfare is not new, and few of the tactics are new. What is new is that this type of war has recently reached a global level—and the United States and its allies have found themselves ill prepared.
Asymmetric warfare is population-centric nontraditional warfare waged between a militarily superior power and one or more inferior powers which encompasses all the following aspects: evaluating and defeating asymmetric threat, conducting asymmetric operations, understanding cultural asymmetry and evaluating asymmetric cost. This definition encompasses every aspect of asymmetry that is important to today's strategist.


In the modern context, asymmetric warfare is increasingly considered a component of fourth generation warfare. When practiced outside the laws of war, it is often defined as terrorism, though rarely by its practitioners or their supporters.
"This is another type of war, new in its intensity, ancient in its origin—war by guerrillas, subversives, insurgents, assassins, war by ambush instead of by combat; by infiltration, instead of aggression, seeking victory by eroding and exhausting the enemy instead of engaging him. . . . It preys on economic unrest and ethnic conflicts. It requires in those situations where we must counter it, and these are the kinds of challenges that will be before us in the next decade if freedom is to be saved, a whole new kind of strategy, a wholly different kind of force, and therefore a new and wholly different kind of military training." –President John F. Kennedy, addressing graduating West Point class of 1962


Asymmetrical Warfare isn't a new idea:
The concept of asymmetric warfare has been around for centuries. Following the teachings of Sun Tzu, all warfare is asymmetric because one exploits an enemy's strengths while attacking his weaknesses. The Greeks used the Phalanx to defeat a mounted enemy. Hannibal used a feint in the middle of his forces with a double-envelopment to achieve victory over the Romans. Every time a new tactic or invention changed the fortunes and power of one army or empire over another, an imbalance or asymmetry occurred— the weighting to one side created the conditions for victory.
"We live in a wondrous time in which the strong is weak because of his moral scruples and the weak grows strong because of his audacity." –Otto Von Bismarck, 19th Century


B. Asymmetrical Strategic Objectives:
"The insurgent has a formidable asset—the ideological power of a cause on which to base his action." –David Galula's Counterinsurgency Warfare, 1964


Although all armed political conflicts have much in common, their strategic objectives can differ widely. The primary strategic objective of asymmetrical warfare is psychological, not military. It is to intimidate the adversary psychologically by directly or indirectly inflicting fear and terror in order to achieve its political agenda. In more descriptive terms, it is, "the combined use and threat of violence that is directed at one set a targets—the victims—to compel compliance or allegiance from another set of targets (targets of demands) or to impress a wider audience that is not directly involved in a specific conflict (the mass media, the general public, world opinion, other governments, etc.)" Asymmetrical combatants generally use covert terrorist and unconventional guerrilla warfare tactics and seek to avoid direct military encounters with the adversaries' vastly superior armed forces. This is in sharp contrast to conventional military warfare strategies that involve direct military-on-military confrontations with the strategic objective being to erode the enemy forces' will to fight, and thereby to produce decisive military victories that can force the defeated side to accept the victors' terms. The second but vital strategic objective in asymmetrical warfare is to win the hearts and minds of potential sympathizers and supporters, thereby gaining financial and logistic support, safe haven, and the ability to recruit new combatants.
No asymmetrical organization or movement can long survive much less achieve its political objectives without a significant outside support system.


C. Organizational and Operational Scope:
Asymmetrical warfare organizations come in all sizes, from small independent local groups to large multi-national operational organizations and support networks, terrorist and insurgency support groups. All asymmetrical organizations share the same basic psychological strategic objectives and the same predilection for the use of covert, unconventional military tactics. Where they might differ is in the scope of operations. There are two general types of organizational structures: individual terrorist attacks and broader insurgencies. Although the latter are generally carried out by larger dissident national or subnational organizations, asymmetrical organizations can be involved in both terrorist and insurgent operations. For example, al-Qaeda is a large multi-national terrorist organization that has undertaken individual terrorist attacks in the United States, Yemen and Saudi Arabia, but has also been active in insurgency operations in Iraq, Afghanistan and Pakistan where the principal political objective is regime change. If successful to the degree that asymmetrical combatants can challenge a regime militarily, the nature of the conflict changes from asymmetrical warfare to conventional military warfare. It might still involve unconventional military tactics, but the combatants will have adopted conventional strategic military objective of destroying the enemy forces' will to fight. In the past, asymmetrical organizations were primarily concerned with sub-national, national and regional political issues. That began to change in the 1980s. Due largely to great advances in and easy access to communications, transportation and weapons technology, asymmetrical warfare has become multinational in scope, with networks and affiliate organizations in many countries.
And as a result of globalization and the breakdown of national border security, asymmetrical warfare has also become transnational in operational reach, with the capability to strike across national boundaries.


Despite the globalization of asymmetrical warfare, however, even the largest organizations are not monolithic in scope with unified chain of command and span of control structures comparable to effective national military and/or security services. Primary personal loyalty of individual terrorist members in large organizations and networks still generally remains within local small units or groups of individuals who joined and bonded together and who share many local fears and grievances not shared by affiliate groups elsewhere. Nevertheless,
Globalization of threat has increasingly made asymmetrical warfare the strategy of choice in the 21st century for many sub-national and multinational dissident groups that are hopelessly outmatched militarily by their chosen adversaries. Having no national territory or population to defend, they can engage in violent activities with far less risk of being totally overwhelmed by reprisals that a nation-state might face. In addition, those killed in action can be portrayed as martyrs and used to recruit more converts to the cause.


D. Categories of Asymmetry:
Asymmetry of technology:
Asymmetry of technology is the most obvious due to the United States' vast advantage.
Asymmetry of method:
Asymmetry of method was illustrated in the 9/11 terrorist attacks, when al Qaeda proved its ruthlessness and resolve.
Asymmetry of interests:
The U.S. experience in Vietnam illustrated an asymmetry of interests, since the U.S. goals and the goals of the Viet Cong were very much at odds.
Asymmetry of cost:
One aspect of the current asymmetric war is the asymmetry of cost. Galula noted in 1964 the asymmetry of cost between an insurgent and a counterinsurgent. An insurgent blows up a bridge—a counterinsurgent now must guard all bridges. An insurgent throws a grenade into a theater—a counterinsurgent must take very expensive steps to ensure that the population feels safe. This concept is drastically illustrated today in the tremendous cost to the United States to secure its airways after the relatively inexpensive (for the attackers) 9/11 attacks. Asymmetry of cost is further illustrated in the cost of waging warfare in general with a non-state terrorist organization. When a nation-state wages war against a peer nation, each member of the conflict has similar risks at stake: population, land and interests to defend. When a non-state actor like a terrorist organization wages war against a nationstate, the non-state actor has no population or land at risk and therefore bears a lower cost in waging warfare.
Asymmetry of culture and values:
Failure to understand an enemy's culture—assuming that the enemy thinks as you do and shares your values—will lend to a failure to achieve victory because you are unable to identify his "center of gravity." General Anthony Zinni, U.S. Marine Corps (Retired) identified the center of gravity of America's current enemy as "angry young Muslim men." Cultural asymmetry impacts the way the West communicates—or fails to communicate—with this center of gravity.
Asymmetry and idiosyncrasy:
In his Parameters article, Meigs recommended agreeing upon a definition, but he also recommended that strategists not overlook the idiosyncrasies of the enemy's methods: Idiosyncrasy has a different connotation—possessing a peculiar or eccentric pattern. In a military sense, idiosyncrasy connotes an unorthodox approach or means of applying a capability, one that does not follow the rules and is peculiar in a sinister sense. . . . In this new strategic environment we should agree on a set of definitions that will provide our tools for analysis. In preempting the terrorist are we really dealing with asymmetry, or is something else at work? Thinking of the threat as only asymmetric misses the mark, especially if we have the concept wrong. The combination of asymmetry and the terrorists' ability continually to devise idiosyncratic approaches presents our real challenge. Assessing the distinction and interrelationship between these two factors provides us with the initial understanding required to address the operational challenges.
PART 3: THE FOUR ELEMENTS OF ASYMMETRIC WARFARE:
According to The ASSOCIATION OF THE UNITED STATES ARMY (AUSA), the elements of asymmetric warfare are
A. Asymmetric Threat
B. Asymmetric Operations
C. Cultural Asymmetry
D. Asymmetric Cost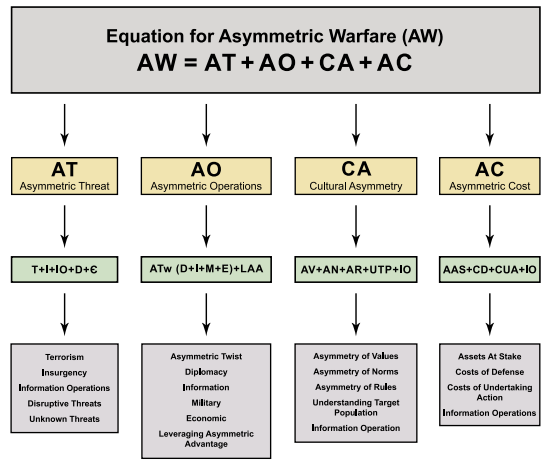 A. Asymmetric Threat:
The components of asymmetric threat are:
TerrorismInsurgencyInformation operationsDisruptive threatsUnknown threats
Terrorism:
Terrorism includes all of the known forms of terrorism that exist today: suicide terrorism, catastrophic attacks such as the strikes on 9/11, political assassination, biological strikes like anthrax mailings, and many others. Terrorism is meant to produce a horrific effect. In the Information Age, terrorism is much more effective because a terrorist's message is disseminated and its impact is felt instantly and worldwide. Threat and message mean more to a terrorist than the action itself; success is measured by the disruptive and psychological effect of an action, not by the body count. Terrorist networks can operate with a very decentralized command structure. Terrorists do attempt to achieve political goals, as per Clausewitz' definition of warfare in general; however, the support of a population is not essential to a terrorist.
Insurgency:
At its root, an insurgency is a revolutionary war. Asymmetries abound in an insurgency. The key is that, unlike a terrorist, an insurgent is completely reliant upon the population, and the population is the objective for both the insurgent and the counterinsurgent. Kilcullen mentioned that one key difference between the insurgency in Iraq and past examples of insurgency is that the Iraqi insurgency was decentralized. In Vietnam, for instance, all of the direction of the insurgency came from Ho Chi Minh. In Iraq, however, there were at least 17 insurgent organizations and four terrorist organizations that the United States identified, many of them at odds with one another as well as with the counterinsurgent forces. Also, Landry pointed out that many of al Qaeda's actions and strategies more closely resemble those of a global transnational insurgent than of a terrorist. Much more like a revolutionary than a terrorist, Osama bin Laden conducted his actions to attempt to gain the support of a populace.
Information operations:
Galula stated in Counterinsurgency Warfare that information operations (IO) are key. An insurgent's greatest asset is an idea; he wants to spread this idea and convert it into more tangible assets like soldiers and support. The enemy wages information warfare by issuing propaganda, creating lies and developing conspiracies. The enemy, like the insurgents described by Galula, can bank currency on mere promises, rather than upon action. They can also seek to drive a wedge between the target population and a target superpower, such as the United States. This was clearly exemplified by the violence that followed the publication of the Danish cartoon depicting the Prophet Mohammed.
Disruptive threats:
Promoting disorder is a legitimate objective for the asymmetric enemy. Between terrorism and disruptive threats lies much overlap. When conducting a disruptive strike, an asymmetric enemy need not even commit an action; the mere threat of action is enough to disrupt way of life. This holds true in the United States, but even more so in parts of the world where suicide bombing is part of daily life. The impact of a disruptive strike is measured in psychological rather than physical effect. Disruptive threats weigh greatly in asymmetric cost, as will be discussed later. A strategist combating disruptive threats must consider that until the average American truly understands the nature of asymmetric warfare, great measures—at a great cost—must be taken to make people feel safe. A strong case in point is the 9/11 terrorist strikes: Billions of dollars were lost in impeded air travel shortly after 9/11, and billions more have been spent to ensure that "9/11 could not happen again," rather than spending this money and intellectual energy to find and fix the next U.S. weakness.
Unknown threats:
In the equation of asymmetric threat, there is the vast and ambiguous unknown term denoted by the symbol "∈." An asymmetric enemy could use virtually any means to achieve his goal. However, it is important to clearly delineate the difference between a true asymmetric enemy and that enemy's tools. Many people view crime, organized crime, hate crime, disease, drug trade, protests, natural disaster, peaceful civil disobedience or human trafficking as potential asymmetric threats. These in and of themselves are not the enemy because they fail to meet the Clausewitzian principle of politics through other means. Rather, they are events that are profit-motivated, directed toward minorities rather than toward the government, part of nature or part of the political life of a free democracy. However, each of these could be used by an asymmetric enemy to achieve his goals. In this case it becomes a tool and DOES fall under the realm of asymmetric threat. Criminal elements can supply and assist enemies, protestors can further an enemy's cause, natural disasters can provide a disruption that an enemy can capitalize upon; however, none of these is motivated by the ideology of the enemy. A criminal seeks profit and avoids arrest; his ideology is moot. Criminals can be bribed to work against the enemy, or intimidated into submission if their price is too high. Each enemy tool must be addressed by a strategist, as long as that tool is not targeted as the actual enemy. Targeting these forces as an enemy instead of as a tool can cause the population—the true objective—to become more sympathetic to the enemy's ideology.
B. Asymmetric Operations:
The components of asymmetric operations are:
Asymmetric twistDiplomacyInformationMilitaryEconomicLeveraging asymmetric advantage
Asymmetric twist:
Asymmetric operations are those operations that are planned and conducted by the stronger side of an asymmetric war. They can be thought of as offensive operations. They consist primarily of putting an asymmetric twist on the traditional spheres of national power, such as diplomacy, information, military and economic (DIME). In addition to placing an asymmetric twist on DIME, one also must look to leverage asymmetric advantage wherever possible.
Diplomacy:
As Galula pointed out that politics has primacy in an insurgency, and Clausewitz pointed out that all wartime objectives are political, diplomacy has primacy in asymmetric war. This is sometimes easy to forget since most asymmetric enemies are non-state actors. However, if counterinsurgency principles are applied to asymmetric warfare on the global-transnational scale, the population is still the objective. The State Department's mission is diplomacy; thus far they have focused only on nation-states and international organizations. They should be organized and equipped to engage a target population through diplomatic efforts either directly or by working through the legitimate governments of the nation states.
Information:
There are four very important concepts about information warfare that anyone conducting an asymmetric war must understand. The first concept is that information warfare in the Information Age is not waged just by very specialized military units on the ground. Psychological operations (PSYOP) products are targeted communications aimed at a specific group or demographic and delivered on a schedule as part of a larger plan. In contrast, information operations are conducted every time an official of the United States (or the West), whether elected, appointed or uniformed, makes any public statement; regardless of the intended target, the message is immediately disseminated worldwide. The second concept is that actions, or lack thereof, speak much louder than words. As Galula stated: "With no positive policy but with good propaganda, the [asymmetric enemy] may still win. . . . [We] can seldom cover bad or nonexistent policy with propaganda." The third concept is that the IO message comes across much more convincingly when it is delivered by a local leader rather than by a Western spokesman. Whenever possible, the United States should engage friendly sheikhs, imams, elders and elected officials to disseminate IO themes. The last great concept to take away is that, unlike traditional warfare wherein any action by the friendly side is seen as progress, an "action" by the U.S. side in an information war can just as easily impede progress or take giant leaps backward if the consequences are not thoroughly and carefully considered. The lead agency in information warfare should be the State Department. However, coordination must occur at all levels, and good policy, supported by organization, knowledge and leadership, is the most important aspect in winning.
Military:
Asymmetric military operations mainly comprise direct action (anti-terrorism), unconventional warfare (counterinsurgency), psychological operations, civil-military operations, foreign internal defense and special reconnaissance. Ironically, until recently U.S. Army Special Operations Command trained for and specialized in each of these types of operations, leaving the rest of the Army to focus on traditional missions. Today, however, given the nature of the asymmetric war the United States is fighting, the rest of the military is quickly learning to perform of these operations. Counterinsurgency has come to the forefront of military thinking due to the global situation today. The U.S. military is making huge strides in the realm of counterinsurgency; however, the State Department—among other federal departments—is only just beginning to realize its own vastly important role in winning a counterinsurgent war. Once again, as Clausewitz stated, "warfare is simply politics through other means."
Economic:
The most visual asymmetric economic operation is development and reconstruction. Foreign aid, trade policy and foreign direct investment (FDI) also play vital roles in waging asymmetric economic operations. In a war where the population is the objective, that target population must be able to see and understand the tangible benefit for supporting the side with the asymmetric advantage and to see and understand a material disadvantage for supporting the asymmetric enemy. "Stick-and-carrot" techniques are important, as is coordination at all levels. All aspects of economic operations must be coordinated and nested with the diplomatic, information operations and military campaigns.
Leveraging asymmetric advantage:
Finally, the side of an asymmetric war that wields the asymmetric advantage must understand how to leverage that advantage against the enemy. Asymmetric advantage comes primarily in the following forms: technology, intelligence, communications, conventional military forces and economic resources. Although much of asymmetry highlights the advantages possessed by the weaker side, the United States must recognize and appreciate its own vast advantages and use them against the enemy.
C. Cultural Asymmetry:
Cultural asymmetry is one of the hardest concepts to grasp, but it is one of the most crucial in an asymmetric war. Since asymmetric warfare is population-centric, understanding the population—the center of gravity, as identified by Zinni—cultural asymmetry feeds into all other operations. Understanding of cultural asymmetry also helps identify and prepare for asymmetric threats because analysts should have a better understanding of the enemy's capabilities and motives. Cultural asymmetry is not new to American forces. During the development and reconstruction phase following World War II, when the allies were rebuilding Japan, General Douglas MacArthur exhibited a keen grasp of cultural asymmetry when he allowed Japan to keep its emperor rather than punishing him as a war criminal, even though the concept of an emperor ran counter to American values.
The components of cultural asymmetry are:
Asymmetry of valuesAsymmetry of normsAsymmetry of rulesUnderstanding target populationInformation operations
Asymmetry of values:
Bismarck's statement that the "the strong is weak because of his moral scruples and the weak grows strong because of his audacity" referred to cultural asymmetry of values, norms and rules. The West believes that it values life too greatly to employ suicide as a political or military tactic. Suicide terrorists see themselves as sacrificing their lives to achieve legitimate military goals—and, in the context of the terrorist suicides of Islamic extremists, to reap commensurate rewards in heaven. This is foreign to the Western mindset; without condoning such actions, we must look through our cultural barriers to try to understand why someone would commit such an act. Understanding values is crucial in a population-centric asymmetric war. Simply put, the enemy's greatest asset is an idea.
Asymmetry of norms:
The West has gone to great lengths to legitimize acts of warfare by identifying combatants and noncombatants. However, if a non-Western culture vilifies an entire group of people for committing economic and political as well as military atrocities, then they can view the people working in the World Trade Center on September 11th, 2001 as combatants, whereas the West justifiably identifies them as innocent noncombatants. Once again, the West need not accept the enemy's norms; strategists must simply attempt to understand them so strategy can be focused accordingly. Also, in the Muslim culture loyalty is placed above honesty when weighing one's honor. Many U.S. Soldiers and commanders complain when a member of the local population lies to protect the insurgents/terrorists/cache, etc. Although Soldiers take this as a strong affront, and their norms cause them to feel that this man has no honor or integrity, they must understand that if someone appealed to his loyalty—whether to culture, religion, nationality or tribe—whether or not he likes that person or supports his cause, the man is honor-bound to lie for that person. The man's honor is defined more greatly by his loyalty than by his honesty.
Asymmetry of rules:
Asymmetric enemies are bound by neither the laws of land warfare nor the Geneva Conventions. They routinely direct violent action against civilians. They use tactics of terror and horrific images. Many terrorists and insurgents are also willing to sacrifice their own lives for their cause in a suicide strike. All of these must be weighed when planning to fight an asymmetric enemy. No atrocity is beyond this enemy's capability
Understanding target population:
When waging a population-centric war, strategists must identify the values and norms of the target population. These may be very different from those of the enemy and, if so, must be exploited. If the target population's values and norms are very different from those of the West, then every effort must be made to understand this and to be aware.
Information operations:
Cultural asymmetry is crucial in waging information warfare. As previously stated, information warfare is waged whenever any Western spokesperson makes a public statement and any time the West acts or fails to act in a given situation. Often, Western leaders make statements for their own benefit and without consideration of their impact on target populations. Statements such as "I would rather fight them over there than over here" tell an Iraqi who is deciding whether to support the insurgents that the goal of the United States is to make Iraq (his home) an unending battleground.
D. Asymmetric Cost:
Galula explains that there is tremendous cost to asymmetric warfare,
"Disorder is cheap to create and very costly to prevent. Because we cannot escape the responsibility of maintaining order, the ratio of expenses between us and the asymmetric enemy are high. Because of the disparity in cost and effort, the asymmetric enemy can thus accept a protracted war; we should not. The asymmetric enemy is fluid because he has neither responsibility nor concrete assets; we are rigid because we have both."


The components of asymmetric cost are:
Assets at stakeCosts of defenseCosts of undertaking actionInformation operations
Assets at stake:
A nation state that goes to war places many assets at risk: population, land and interests. A non-state actor's or an insurgent's only asset is his idea; he has no land or population. He may have interests, and he probably has a target population. The goal of the players on both sides of an asymmetric war, as in a counterinsurgency, is to win over the population to support their side—only then can the enemy grow weak. If an asymmetric enemy has interests, then these interests should be targeted as well. When fighting other than a nation-state, however, one must recognize the assets at stake for each side of the asymmetric war
Costs of defense:
As Galula noted, "Disorder is cheap to create and very costly to prevent." It is cheap for an insurgent to bomb a bridge, but expensive for a counterinsurgent to guard all of the bridges. We have seen that it is cheap for al Qaeda to hijack airplanes but expensive for the United States to maintain air security. It is cheap to mail anthrax but expensive to screen the mail.
Costs of undertaking action:
Also, as Galula states, to be effective, a counterinsurgent's forces must be ten or twenty times the size of the insurgent's. This lends itself to the asymmetric cost of the defense. An insurgent can afford to wait, and he chooses where to strike. The drawn-out nature of a counterinsurgency makes it extremely costly. However, as stated under Information Operations, failure to act in a given situation loses more of the population to the insurgency. This same principle can be true on the strategic level. Demonstrating to the world that the United States and its allies are willing to help in the aftermath of a natural disaster such as the December 2004 tsunami that struck Indonesia or the October 2005 earthquake in Pakistan gained tremendous ground in this asymmetric war.
Information operations:
Information operations holds a position under "Asymmetric Cost" due to the costs associated with conducting information operations in an asymmetric war. The enemy can base his entire IO campaign on rumor, propaganda and conspiracy theories. The West can base theirs only on concrete actions—and they are judged very harshly when they fail to act. It is hard for someone to grasp the concept that the United States can place a man on the moon but cannot turn on a village's electricity. Due to this asymmetry of cost in the realm of information operations, the West might lose ground every day without ever being aware, simply because the enemy's propaganda mechanism leads the populace to believe, for example, that Allah is punishing them with a lack of rain for their cooperation with the infidels.
PART 4: RUSSIA'S ASYMMETRICAL WARFARE:
A. The Evolution of Russian unconventional warfare
B. Context and theory of Russian Asymmetric Warfare
C. The Gerasimov Model
D. The Russian propaganda machine
E. Russian information warfare
F. Military intimidation
G. Igor Panarin and Alexandr Dugin
A. The Evolution of Russian unconventional warfare:
The Russian intervention in Crimea and eastern Ukraine in 2013–2014 demonstrated a radical departure from the paradigm of twentieth-century conventional warfare.


Russian intervention in Ukraine has featured refined and modernized techniques evolved through observation and analysis of Western methods (the "Color Revolutions", Arab Spring) and Russian experiences since the collapse of the Soviet Union. Specifically, they drew lessons from interventions in:
Lithuania, 1991Transnistria, 1990–1992Chechnya, 1994–1996Dagestan and the Second Chechen War, 1999-2009Georgia, 2008
Lithuania, 1991:
When the Baltic states (Lithuania, Estonia, and Latvia) each declared independence from the Soviet Union and deprecated Moscow's former annexation as illegal, the Russian government under Mikhail Gorbachev responded by attempting to crack down on Lithuania. The government in Vilnius had declared independence in March 1990, but the ensuing months featured economic crises, rampant inflation, political upheaval, and ethnic tensions as pro-Russian populations within the country (including ethnic Russians and pro-Moscow Poles) protested what they saw as discrimination. The "Russian diaspora" problem became a common theme in this and future Russian interventions. Protection of ethnic Russians teetered between being a genuine objective and a convenient—even artificial—contrivance by which Moscow could justify military invasion. During the January Events of 1991, the Russians exerted political pressure through their control of the Lithuanian Communist Party and the Yedinstvo Movement, which agitated against the government's independence. Russian operatives employed propaganda and organized worker protests that on the surface were aimed at overpriced consumer goods but fundamentally were vectored more at the government's independence from the Soviet Union. These events were followed by protesters attempting to storm government buildings—a tactic that would be repeated in future conflicts. The Soviets deployed military forces into the country, allegedly to ensure law and order. The forces included Spetsgruppa A (Alpha Group)—a counterterrorist unit created by the KGB in 1974 that operates under the direct supervision of the government in Moscow—along with a unit of paratroopers. The January Events commenced with Soviet military forces seizing key government buildings and media infrastructure on January 11. Concurrently, the Lithuanian Communist Party announced that its National Salvation Committee was the sole legitimate government in Lithuania. Soviet forces continued to assault and occupy government facilities while unarmed civilians mounted protests and demonstrations against the aggression. On January 13, Soviet forces moved to take over the Vilnius TV Tower. Tanks drove through demonstrators, killing fourteen, and Soviet forces began to use live ammunition against civilians. When an independent television broadcasting station managed to transmit desperate pleas to the world decrying the Soviet invasion, international pressure on Moscow mounted.
This situation gave rise to another tactic that was to be repeated and refined in future interventions: denial. Gorbachev and his defense minister denied that Moscow had ordered any military action in Lithuania, claiming that the "bourgeois government" there had initiated the conflict by firing on ethnic Russians. Nevertheless, international and domestic reaction to the aggression caused the Soviets to cease large-scale military operations and instead use small-scale raids and intimidation. The Soviets signed a treaty with Lithuania on January 31, and subsequent elections saw massive popular support for independence.
The Russians had been given their first post-Cold War lesson about wielding power abroad: large-scale conventional operations against sovereign states would invite unwanted scrutiny, international pressure, and domestic protest within Russia. To maintain their control over states on the periphery, they would have to employ power in a more clandestine, deniable fashion.


Transnistria, 1990–1992:
The dissolution of the Soviet Union led to ethnic tensions in Moldova as well. The Popular Front there agitated for closer ties to Romania, the reestablishment of Moldovan as the sole official language, and a return to the Latin alphabet. Under Gorbachev's perestroika and glasnost, anti-Soviet sympathies grew, and ethnic Slavs in Transnistria and Gagauzia, who favored ties to the Soviets, formed an ad hoc government that sought autonomy from the rest of Moldova. War broke out in 1992 as Moldovan forces tried to suppress separatist militias in Transnistria.
The Soviets fell back on an old tactic for handling such problems on the periphery: they sent Cossack volunteer units to assist the separatists. For several months Transnistrian militias and Cossacks, supported by the Soviet 14th Guards Army, fought Moldovan forces, which had support from Romania. The strategic dynamics of the small war included Moldova's military weakness and the political and military strength of Transnistria. The latter came about because of the strong ethnic Russian majority in the disputed territory on the east bank of the Dniester River and the remnants of the Soviet 14th Army who remained in the area. Some of the unit's officers who had strong local ties defected to join the separatists, and others offered their support, at times turning over weapons and ammunition and training the militias. On July 3, 1992, the commander of the 14th Army launched a massive artillery strike against Moldovan forces, effectively destroying them and ending the military conflict.
Transnistria thus became one of the four "frozen republics"—quasi-legal states left over from the Soviet occupation. As in past and future conflicts, Russian operatives in Transnistria branded the opposition as fascists attempting to install an illegal government over ethnic minorities.
Chechnya, 1994–1996:
In September 1991 a popular coup ousted the communist government of Chechnya, the only one of the former federated states that had not come to terms with Russia as the Soviet Union dissolved. President Yeltsin attempted to put down the rebellion with Internal Troops, but the Russian forces were surrounded and compelled to withdraw. In 1993 the government of Chechnya declared full independence from Russia. The subsequent exit (both voluntary and forced) of Russian professionals caused a severe downturn in the economy. In response to the independence movement, Russian forces fighting in South Ossetia were positioned on the Chechen border. Russia began to provide funding, arms, training, and leadership to the opposition against the Chechen government, and in 1994 Russian forces joined the insurgents in two assaults on the Chechen capital of Grozny that failed catastrophically. During the campaign, Russia repeated its unconventional warfare tactics of supplying mercenary and volunteer forces, denying involvement, and using its own forces in support of the rebels. In December 1994 Russia launched an all-out invasion aimed at destroying the government of Dzhokhar Dudayev (who was president of the Chechen Republic of Ichkeria, a breakaway state in the North Caucasus), but many within the Russian military and government protested the war, insisting that it would lead to another stalemate as in Afghanistan. The dire predictions came true in short order. Dispirited, disorganized Russian troops suffered severe reverses. Because of the Russian conscripts' poor training and leadership, Russian forces inflicted horrendous casualties among the civilian population, including those who had originally supported the intervention as well as ethnic Russians. After months of bloody fighting, the invaders finally took Grozny, but the cost in civilian life attracted universal condemnation, including from former Soviet leader Mikhail Gorbachev. The war grinded on as Russian forces advanced to try to take control of the entire country. Public confidence in Boris Yeltsin plummeted. The war took on a new and dangerous dimension when the senior mufti in Chechnya declared a jihad against the Russian invaders, opening up the prospect of a wider Islamist war against Russia.
On the last day of August 1996, the Russian government signed a cease-fire agreement with Chechen leaders, ending the First Chechen War. As in the Lithuanian conflict, Moscow learned again that the large-scale use of conventional force to impose its will on the periphery caused more problems than it solved. The challenge of ensuring Russian control of regions and states remained, but Russian leadership began to cast about for different, more effective techniques for dealing with conflict. Ongoing war in the Caucasus required more conventional force operations, but unconventional warfare tactics rose in prominence for Russian planners.
Dagestan and the Second Chechen War, 1999–2009:
Radical Islamists within Chechnya were not content with the political gains of the First Chechen War but instead intended to carve out an Islamic state, joining the faithful from Chechnya and Dagestan. To that end they organized a two-thousand man brigade of jihadists and crossed the border into Dagestan to aid Islamic separatists there. The response from the local government and its Russian support was slow, allowing the rebels to seize several villages. But Russia eventually staged an effective counterattack using ground troops and strong air attacks. Key to Russian success was the failure of the Islamists to gain the substantial popular support for which they had hoped. Instead, local villagers tended to view the Chechens as invaders and religious fanatics. The Russians expelled the invading forces, pushing them back into Chechnya, and commenced airstrikes against their strongholds there.
This success led to the Second Chechen War. In the aftermath of the war in Dagestan the Russian FSB (Federal Security Service) accused the oligarch billionaire Boris Berezovsky of conspiring with the Chechen Islamists to instigate the Dagestan war as a way of goading the Russians into attacking separatist Chechnya and providing access to the region's rich mineral resources. The case was never proven, but Berezovsky's involvement and opposition to Vladimir Putin (then head of the FSB) highlighted the growing role of Russia's super-rich elites and the need to engender cooperation between them and the Russian government.
Oligarchs could pose a threat to Putin's agenda because, as Berezovsky put it in an interview, Russian capitalists at times had to interfere with political processes as a counterweight to ex-communists "who hate democracy and dream of regaining lost positions." If Putin and his reactionary allies hoped to succeed in recapturing Russia's status as a great power and regional hegemon, they would have to make common cause with the oligarchs. That they were effective in doing so was critical to operations in Ukraine in 2014.
On the heels of their success against the Islamic International Brigade in Dagestan, the Russians invaded Chechnya to continue the fight and to reestablish Moscow's control of the region. This was Vladimir Putin's first war as the new prime minister of the Russian Federation. A string of bombings tied to Dagestani separatists and their Chechen allies served as a catalyst for invasion. Allying with pro-Russian militias against the Islamists, the Russians rapidly maneuvered to the Terek River, besieged Grozny, and methodically seized the city, largely destroying it in the process.
Planners and leaders had learned hard lessons in the First Chechen War and applied them during this invasion. Conventional attacks were more deliberate and cautious, and the Russian forces focused on securing their rear area against insurgents and terrorist attacks. Throughout the spring of 2000 the Russian offensive moved into the mountains to destroy the remaining insurgent groups, including bands of Islamic foreign fighters.
After the initial military engagements, the Russian government sought to turn over most of the remaining conflict to its local proxies within Chechnya—primarily the police forces. Use of properly aligned proxies became another key feature of Russian unconventional warfare within the periphery. The FSB and MVD (Ministry of Internal Affairs) were the agencies that directed proxy forces—an organizational technique that would continue in future wars.
From 1999 through 2009 Moscow directed a sustained campaign that effectively destroyed the Islamic insurgency in Chechnya and reasserted Russian control of the region.
Once again the political and economic situation in Chechnya was a key factor in Russian success. The separatist government proved unable to effectively administer the economy and rapidly lost popular support. The rift between separatist leader Aslan Maskhadov and the Islamists, and the growing strength of independent warlords, left the region's political framework fragmented and ripe for exploitation by the Russians. This environment allowed Russian forces to assume the mantle of liberators and protectors and furnished Moscow with an acceptable premise for invasion.
The wars in Chechnya and Dagestan, however, were characterized by allegations of excessive use of force and indiscriminate use of violence against civilians. The charges and graphic images of the results of the Russian invasion threatened Putin's domestic political base and attracted unwanted criticism from human rights organizations and the international community. Because the wars were technically considered internal affairs, Moscow was able to deflect charges of aggression. Still, the global outrage in the wake of civilian deaths and the growing refugee problem motivated Putin's planners in the military and intelligence services to transfer control of the ongoing counterinsurgency operation to reliable proxies (i.e., local militias or imported paramilitary forces used in place of regular Russian troops).
Georgia, 2008:
In the early 1990s Georgia had fought to regain control of the two breakaway regions of Abkhazia and South Ossetia, but Russian support for the separatists foiled the plan and left the two regions with de facto independence. Russian citizens with Russian passports made up the majority of the population in South Ossetia, and in the face of further attempts by Georgia to reassert control there, Putin decided to strengthen Russian control. Georgia's application for NATO membership and the fact that the Baku-Tbilisi-Ceyhan pipeline runs through the country underscored Moscow's intention to bring Georgia to heel.
In early summer 2008 Putin directed a series of intimidating moves, including overflights by Russian aircraft, the introduction of more forces (masquerading as peacekeepers or railway repair units) into Abkhazia and South Ossetia, and military training maneuvers in the region. US President George W. Bush sent his secretary of state, Condoleezza Rice, to Tbilisi on a state visit, and American troops trained with their Georgian counterparts. Putin and his allies in Moscow viewed this as American interference on the Russian periphery.
The situation heated up in early August as South Ossetian forces began shelling Georgian villages and Georgian forces responded. The Russians moved in more forces and began to evacuate civilians from the region. Georgian forces launched an attack into South Ossetia, initially seizing the key city of Tskhinvali. The Russians deployed units of the 58th Army along with paratroopers into the fight, and by August 11 the Georgian forces had been expelled from the region. Russian forces then followed up with attacks into Georgia, seized the city of Gori, and threatened the capital of Tbilisi. Simultaneously they opened a second front against Georgia through operations in Abkhazia and adjacent districts.
Throughout their operations, the Russians alternately denied involvement or downplayed the size and activities of their forces.
They also introduced the use of information warfare on a scale previously unseen:
Russian operatives employed cyberwarfare to neutralize Georgia's war fighting options.Russian operatives also employed strong propaganda to vilify Georgia in the press as aggressors, even accusing them of genocide.The Russian military brought journalists into the theater of war to strengthen the message of Russia protecting the population from Georgian aggression.Moscow carefully managed television broadcasts both at home and in the region, highlighting atrocities that the Georgians allegedly inflicted on the population of South Ossetia.
Russian military forces performed notably better in the Georgian war than they had in the Chechen wars, in part due to a renewed reliance on professional soldiers instead of conscripts. However, strong Georgian air defenses were able to limit the use of Russian airpower, which complicated reconnaissance and the rapid deployment of Russian airborne forces. In general, Russian leaders viewed the relative success of the Georgian operation as an indicator of the need to continue modernization.
Likewise, the brief campaign reiterated the key features of Russia's unconventional warfare along the periphery: (1) use of proxies when possible; (2) deniability to deflect international criticism and domestic political reaction; (3) use of information warfare, including propaganda and cyberwarfare; and (4) political preparation of subject populations and manipulation of economic conditions. All these factors would play roles in Russia's intervention in Ukraine in 2014.


B. Context and Theory of Russian Asymmetric Warfare:
Russia's objective in asymmetric warfare is to avoid direct military operations while interfering in the internal conflicts in other countries. In a 2003 article for the Russian-language journal International Trends, Victor Kremenyuk laid out the specifics of fighting weaker adversaries relying on the following strategy:
Employ small units of specially trained troops.Take preventive actions against irregular enemy forces.Spread propaganda among local populations.Provide military and material support to friendly groups in the country being attacked.Scale back combat operations.Employ nonmilitary methods to pressure the opponent.
As Putin put it in 2006, "We should not go after quantity. … Our responses must be based on intellectual superiority. They will be asymmetrical, not as costly, but will unquestionably make our nuclear triad more reliable and effective."
Chekinov and Bogdanov describe the main instruments of asymmetric warfare employed by Russia:
Measures making the opponent apprehensive of the Russian Federation's intentions and responses.Demonstration of the readiness and potential of the Russian forces in a strategic area to repel an invasion with consequences unacceptable to the aggressor.Actions by Russian forces to deter a potential enemy by guaranteeing destruction of his most vulnerable military and strategically important targets to persuade him that an attack is hopeless.Impact of highly effective, state-of-the-art weapons systems.Widespread employment of indirect force and non-contact commitment of forces.Seizing and holding enemy territory only undertaken if the benefits are greater than the "combat costs," or if the end goals of the war cannot be achieved any other way.Information warfare as an independent form of combat along with economic, political, ideological, diplomatic forms.Information and psychological operations to weaken the enemy's military potential by other than armed force, by affecting his information flow processes, and by misleading and demoralizing the population and enemy military personnel.Significant damage to the enemy's future economic potential.A clear understanding by a potential adversary that military operations against Russia may turn into an environmental and sociopolitical catastrophe.
In the field, this strategy means employing high precision non-nuclear weapons, together with the support of subversive and reconnaissance groups. Strategic targets are those that, if destroyed, result in unacceptable damage for the country being attacked. According to Chekinov and Bogdanov, these include top government administration and military control systems, major manufacturing, fuel and energy facilities, transportation hubs and facilities (such as railroad hubs, bridges, ports, airports and tunnels), and potentially dangerous objects (hydroelectric power dams and hydroelectric power complexes, processing units of chemical plants, nuclear power facilities, storages of strong poisons and so forth).
Russia's objective is to make the enemy understand that it may face an environmental and sociopolitical catastrophe, and therefore avoid engaging in combat.
These are the key elements of Russian new generation warfare. It combines direct/symmetrical actions with asymmetrical instruments, aiming to achieve the tactical objectives established by political leaders. Since the Russians understand they are not strong enough to win a war against NATO, their strategy relies on asymmetric methods. Most important is that this strategy is based on attacking an adversary's weak points. As a result, each campaign is unique.
In his recent work entitled "The Technology of Victory," Igor Panarin, a leading advocate for Russian information warfare, boasted about the nearly flawless Russian operation to seize and annex Crimea. He celebrated the campaign's success in avoiding armed violence and preempting American interference. While pointing to neoconservative ideals of justice, spirituality, and "true" liberty, he praised the use of blackmail, intimidation, and deception in the face of international dithering in the West. He attributed the success to the personal leadership and direct control of Vladimir Putin.
Key principles to Russia's Asymmetrical Warfare:
Strategy to deal with states and regions on the periphery of the Russian Federation.Primacy of nonmilitary factors: politics, diplomacy, economics, finance, information, and intelligence.Primacy of the information domain: use of cyberwarfare, propaganda, and deception, especially toward the Russian-speaking populace.Persistent (rather than plausible) denial of Russian operations.Use of unidentified local and Russian agents.Use of intimidation, bribery, assassination, and agitation.Start of military activity without war declaration; actions appear to be spontaneous actions of local troops/militias.Use of armed civilian proxies, self-defense militias, and imported paramilitary units (e.g., Cossacks, Vostok Battalion) instead of, or in advance of, regular troops.Asymmetric, nonlinear actions.
C. The Gerasimov Model:
Russian Chief of Staff Valery Gerasimov's model for interstate conflict reflects the growing importance of non-kinetic factors in Russian strategy.
This study uses an analytical framework derived from the work of General Valery Gerasimov, chief of the general staff of the Russian Federation. General Gerasimov's main thesis is that modern conflict differs significantly from the paradigm of World War II and even from Cold War conflict. In place of declared wars, strict delineation of military and nonmilitary efforts, and large conventional forces fighting climactic battles, modern conflict instead features undeclared wars, hybrid operations combining military and nonmilitary activities, and smaller precision-based forces. Gerasimov, observing American and European experiences in the Gulf War, Operation Iraqi Freedom, and the intervention in Libya, notes that political, economic, cultural, and other nonmilitary factors play decisive roles. Indeed, even humanitarian operations should be considered part of an unconventional warfare campaign.
In a January 2013 report entitled "The Main Trends in the Forms and Methods of the Armed Forces" Gerasimov explained that the Color Revolutions and the Arab Spring demonstrated that the line between war and peace has blurred. While liberal democratic uprisings may not appear to constitute war, they often result in foreign intervention (both overt and clandestine), chaos, humanitarian disaster, and civil war. These activities may become the "typical war" of the modern era, and Russian military practices must evolve to accommodate the new methods.
Modern war, Gerasimov argued, focuses on intelligence and domination of the information space.
Information technologies have reduced the "spatial, temporal, and information gap between army and government." Objectives are achieved in a remote contactless war; strategic, operational, and tactical levels, as well as offensive and defensive actions, have become less distinguishable. Asymmetric action against enemy forces is more commonplace. Gerasimov developed a model for modern Russian warfare under the title "The Role of Nonmilitary Methods in Interstate Conflict Resolution." His model envisions six stages of conflict development, each characterized by the primacy of nonmilitary measures but featuring increasing military involvement as the conflict approaches resolution.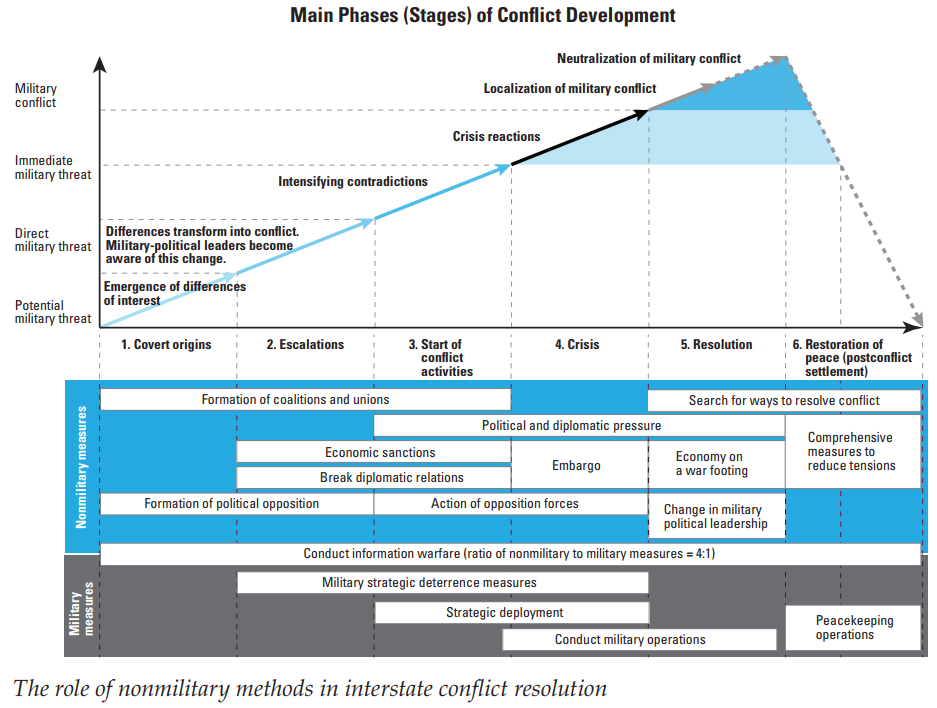 Six stages of conflict development:
Covert originsEscalationsStart of conflict activitiesCrisisResolutionsRestoration of peace (post-conflict settlement)
Covert origins: During the initial stage, which will likely be protracted, political opposition forms against the opposing regime. This resistance takes the form of political parties, coalitions, and labor/trade unions. Russia employs strategic deterrence measures and conducts a broad, comprehensive, and sustained information warfare campaign to shape the environment toward a successful resolution. At this stage, the potential for military activity emerges.
Escalations: If the conflict escalates, Russia exerts political and diplomatic pressure on the offending regime or non-state actors. These activities can include economic sanctions or even the suspension of diplomatic relations to isolate the opponent. During this stage military and political leaders in the region and abroad become aware of the developing conflict and stake out their public positions.
Start of conflict activities: The third stage begins as opposing forces in the conflict region commence actions against one another. This can take the form of demonstrations, protests, subversion, sabotage, assassinations, and paramilitary engagements. Intensification of conflict activities begin to constitute a direct military threat to Russian interests and national security. At the commencement of this stage of conflict, Russia begins strategic deployment of its forces toward the conflict region.
Crisis: As the crisis comes to a head, Russia commences military operations, accompanied by strong diplomatic and economic suasion. The information campaign continues with a view to rendering the environment conducive to Russian intervention.
Resolution: During this stage Russian leadership searches for the best paths to resolve the conflict. The domestic economy is on a war footing, as a way to unify the nation's efforts toward successful prosecution of the war effort. A key aspect of resolution is effecting a change in the military and political leadership of the conflict region or state—what Western militaries refer to as "regime change." The goal is to reset the political, military, economic, and social reality in the region in such a way as to facilitate a return to peace, order, and the resumption of routine relations.
Restoration of peace: During the final stage, which again may be protracted, Russia oversees comprehensive measures to reduce tensions and conducts peacekeeping operations. This stage includes the diplomatic and political measures required to establish a post-conflict settlement that addresses the original causes of conflict.
Gerasimov's model for modern conflict is a theoretical adaptation of emerging ideas about warfare, but elements of these ideas clearly pertain to Russia's unconventional warfare in Ukraine and Crimea in 2013–2014.


D. The Russian propaganda machine:
The Russian propaganda machine running rampant in Europe seeks to confuse and manipulate current news events to offer misleading but convincing theories that show Russia in a positive light. The aim of such media manipulation, in many instances, is to destabilize Ukraine and discredit European leaders who oppose Russia.
The most prominent recent Russian propaganda included two big denials: that Russia had shot down Malaysia Airlines Flight MH17 in July 2014 and that the Russian military had entered Crimea just before Moscow seized the territory. When the Malaysian airliner crashed, Russian media reported it had been shot down by Ukrainian forces. Evidence strongly suggests that pro-Russian rebels armed with Russian weapons were responsible. Putin also brazenly refuted claims that his soldiers were in Crimea prior to its unlawful takeover, but later awarded participants with medals. Russian media has repeated claims that multitudes of Ukrainians have crossed the border from southeastern Ukraine into Russia. But the United Nations High Commissioner for Refugees could provide no confirmation. In March 2015, Ukrainian news outlets reported that a congress was held among Transcarpathia's Ruthenes, a small Slavic group in western Ukraine, Slovakia and Poland. It was reported that they were "demanding recognition of their national identity and autonomy of their land," The Economist reported in April 2015. It was later learned that the congress was a fiction of Russian news agency TASS.
Disinformation doesn't need to be a blatant lie, but simply manipulation of facts and twisting of details to place Russian explanations within the realm of possibility. Russian-run media outlets frequently sandwich propaganda between legitimate news stories to blur legitimacy lines.
Russian propaganda reporting can be bizarre, but that doesn't matter:
For instance, several Russian media news sources, including the daily newspaper Moskovskij Komsomolets and the Russian Defense Ministry's channel Zvezda, erroneously reported that Ukrainian President Petro Poroshenko "lost touch with reality" when he gave a Ukrainian soldier amputee a soccer ball. Some reports are eccentric enough that the Ukrainian media has turned them into comedy. The Kyiv Post published the "Top 10 Kremlin myths and lies used to justify Russian invasion of Ukraine's Crimea," and a photograph has gone viral of a Russian woman who has appeared in numerous Russian media reports using different names each time. However amusing the reports are, their intent is not. The Russian government is deeply invested in this hybrid warfare, with the goal of discrediting the EU and Eastern European governments. Russian propaganda circulating in Ukraine and Eastern Europe is aimed at inducing hatred toward Ukrainians to justify aggression, security experts say.
Russian news agencies are expanding:
And the means by which Russia can spread its disinformation is growing. RIA Novosti, once considered a balanced Russian news outlet, in late 2014 was transformed into an "aggressive propaganda vehicle of the Kremlin," according to the Brussels-based think tank Egmont Institute. The name was changed to Rossiya Segodnya, which means Russia Today, not to be confused with RT, the Russian-owned TV network. Rossiya Segodnya combines the former RIA Novosti news service and the international radio service Voice of Russia. And in November 2014, Voice of Russia changed its name to Sputnik.
It will focus on radio and Internet presence and will "give alternative interpretations for which there is definitely a demand for in the world," Dmitry Kiselyov, head of Sputnik News, told Agence France-Presse in November 2014.


It is expanding its radio reach to 30 more cities worldwide. Russia Today is broadening its TV news services to broadcast in the world's biggest capitals. This growth is particularly worrisome to security experts. "Facts are reported [by Russia Today] with a total lack of due accuracy and impartiality, and undue prominence is given to pro-Russian views and opinions," the Egmont Institute wrote in November 2014. The disinformation has been so outrageous that a correspondent quit, saying: "It was the most shockingly obvious misinformation and it got to a point where I couldn't defend it anymore," The Heritage Foundation reported in October 2014. Some of the boisterous reporting has alleged that the September 11, 2001, attacks in the U.S. were planned by a U.S. deputy defense secretary and that the U.S. created Ebola.
"Russia Today's propaganda machine is no less destructive than military marching in Crimea," Lithuanian Foreign Minister Linus Linkevicius said in March 2014, The Wall Street Journal reported.


By 2014, the media element of Russian information campaigns displayed close coordination of messaging with centralized direction, as well as an impressive range of alternative outlets to address all sectors of the target audience. RT (formerly Russia Today), Sputnik, Russia Direct and others each tailored their level of sophistication of argument – and the extent to which they concealed their propaganda function through subtle imitations of objectivity – to the expectations of their intended readers and viewers, facilitated by the willingness of unscrupulous or deluded native speakers to serve the Kremlin against the interests of their own nations, whether as editors, correspondents or interviewees. In this way, the media effort reflected the way in which the troll army adopts a different approach for different forums, ranging from simple abuse, through confusion with half-truths, to sophisticated argument.
Into Social Media…
The pollution of the information framework for decision-making is a key element of the long established Soviet and Russian principle of reflexive control – influencing the decision of your adversary by ensuring that he is supplied with specific information or disinformation on which to base it.


Russia has also hired an army of covert Internet trolls and messengers to post pro-Russian and pro-Putin comments and social media posts, according to EU Observer. "It's [a] very serious threat," David Clark, senior research associate at the Foreign Policy Centre, told Newsweek in March 2015. The Russian troll army, interacting directly with readerships in a range of forums including online discussion boards, Twitter and more, has acted as a force multiplier for driving home the Russian message, especially by diverting or suppressing any debate that has sought to highlight the inconsistencies or implausibilities of the Russian version of events. In addition to this use of trolling as a blunt instrument, the effect can also on occasion be subtle and indirect – by creating an atmosphere and an impression of consensus, rather than pushing a single direct and obvious lie. This leaves free media unsure whether the sway of opinion reflected in their correspondence or comments pages is genuine and should be publicized, catered for, or reflected in coverage.
Russia achieves further successes in suppressing dissent when the social media outlets themselves can be induced to silence opposing voices, as in January 2016 when the use of mass bots posting automated complaints led to the blocking of pro-Ukrainian accounts on Twitter – an incident which, together with the earlier deletion of accounts parodying Russian media outlets, undermined earlier confidence in Twitter as a free and open medium where Russian disinformation could be challenged and countered.
Measures like these augment the scale, intensity, volume, and consistency of the Russian arguments online. Consequently they exacerbate the Western media problem of favoring balance over objectivity, and can result in reporting being further skewed by taking into account the entirely false, but ubiquitous, Russian alternate narrative.
By comparison with the pre-internet era, the effective seeding of disinformation is now vastly simpler. Noisy and unsubtle exploits such as hacking the Twitter feed of a major news agency to plant disinformation have taken place, but even these are unnecessary when stories can be introduced into the media by other, seemingly natural and legitimate, means.
Major commercial news media outlets in Western countries have made substantial cuts in reporting staff as advertising revenue has bled away to other media, and few of the numerous amateur blogs and forums which have sprung up have the capacity for serious source validation on their own. Consequently, 'sock puppet' websites which appear to provide or aggregate news can achieve substantial reach and penetration. Once the disinformation placed there has been fed into the mainstream news flow at one or more points, and is picked up and reported by reputable traditional media whose editors and reporters are not aware of its origins, others will follow. Even in the new climate of awareness, the major media do not wish to be left behind on a story which has made it to the news agenda. Crucially, part of the definition of success for a disinformation campaign is that most or all of the media outlets reporting it will not know that it is disinformation – and will therefore fiercely defend their right to report it.
The defensive and offensive aspects of the Russian disinformation campaign illustrate a key reason why its success or failure should not be judged by criteria set elsewhere than in Moscow. The widespread assessment that Russia is failing in its objectives continues to emphasize the implausibility of its narratives and the consequent assumption that they will be rejected by their audience. But while respect for the facts is a fundamental requirement of Western communications strategies, Russian campaigns need not even remotely resemble the truth to be successful.
"Propaganda played a significant role in the Ukraine conflict. Behind the scenes it's plausible that Russia has thousands of people working on social media and on news websites, making interventions and tweeting in order to put the Russian message across."


Europeans eagerly await and support efforts to confront disinformation:
"The Kremlin's use of disinformation has been laid bare after the shooting down of a Malaysia Airlines passenger plane on 17 July. Europeans must confront the grotesque propaganda machine on which President Putin's authoritarian rule depends," William Horsley, former BBC European Affairs correspondent and co-founder of the Centre for Freedom of the Media at the University of Sheffield, wrote in August 2014. European leaders agree: "We're up against a very systematic and sophisticated campaign of misinformation. We know that it's corrosive… we have to up our collective and individual games," an EU diplomat stated.


E. Russian information warfare:
According to Russian doctrine, information is a dangerous weapon. "It is cheap, it is a universal weapon, it has unlimited range, it is easily accessible and permeates all state borders without restrictions." —Jolanta Darczewska


Western militaries tend to look upon what they refer to as 'information operations' merely as an adjunct to their campaign plans. In contrast, for Russian military thinkers, information now has 'primacy in operations', while 'more conventional military forces [are] in a supporting role'. The Latvian analyst Janis Berzins observes how this new Russian emphasis on information has changed the focus in today's major conflicts from 'direct destruction to direct influence, from a war with weapons and technology to … information or psychological warfare'.
He further highlights…
The center of gravity that is now THE target: the Mind
Thus the Russian view of modern warfare is based on the idea that the main battlespace is in the mind and, as a result, new-generation wars are to be dominated by information and psychological warfare [with] the main objective [being] to reduce the necessity for deploying hard military power to the minimum necessary, making the opponent's military and civil population support the attacker to the detriment of their own government and country.


As Berzins makes clear, from the Russian perspective, 'modern warfare' is to be fought in the mind – and information will be the principal tool in this fight, creating a version of reality that suits political and military purposes at all levels of warfare.
Russian information warfare has emerged as a key component of Russian strategy:
Information warfare consists in making an integrated impact on the opposing side's system of state and military command and control and its military-political leadership — an impact that would lead even in peacetime to the adoption of decisions favorable to the party initiating the information impact, and in the course of conflict would totally paralyze the functioning of the enemy's command and control infrastructure.– Russian information warfare theorist Col. P. Koayesov


Russian information warfare techniques are an amalgamation of (1) methods evolved within the Soviet Union (with roots as far back as tsarist Russia) and (2) deliberate developments in response to scrutiny of Western, especially American, operations in the twenty-first century. The revitalized doctrine, called spetzpropaganda, is taught in the Military Information and Foreign Languages Department of the Military University of the Ministry of Defense. As an academic discipline it reaches out to military personnel, intelligence operatives, journalists, and diplomats.
Spetzpropaganda:
The doctrine specifies that an information campaign is multidisciplinary and includes:
PoliticsEconomicsSocial dynamicsMilitaryIntelligenceDiplomacyPsychological operationsCommunicationsEducationCyberwarfare
In general, Russian information warfare has in view the broad Russian-speaking diaspora that fragmented into the various post-Soviet era states. It aims at affecting the consciousness of the masses, both at home and abroad, and conditioning them for the civilizational struggle between Russia's Eurasian culture and the West.
At its roots, the theory is military and nonmilitary, technological and social. Information warfare is likewise the chief tool with which the state achieves diplomatic leverage and attains its foreign policy goals. It links directly to geopolitics in service to the state and the Russian civilization. Through coordinated manipulation of the entire information domain (including newspapers, television, Internet websites, blogs, and other outlets), Russian operatives attempt to create a virtual reality in the conflict zone that either influences perceptions or (among some Russian-speaking audiences) replaces actual ground truth with pro-Russian fiction.
Compatriot Russians:
The Russian information output is designed to influence minds. However, the subjects must be reasonably receptive in the first place. Moscow is fortunate in this respect in that the now-independent states that were once part of the Soviet Union contain a significant number of ethnic Russians, as well as Russian speakers. These Russian minorities in places such as Ukraine, the Baltic States, Moldova and Georgia are the principal focus of Moscow's current information-warfare campaign.
Russian law labels these individuals as 'Compatriots Living Abroad', and they are seen as requiring the protection of Mother Russia. While Moscow may have altruistic motives for providing such protection, the presence of these minorities does also provide a convenient excuse for Russia to interfere in the internal affairs of these states, an interference in which Putin is all too ready to engage.
The first goal of the information warfare campaigns against these 'Compatriot Russians' is to instill in them what has been called a 'soft loyalty' to Russia through an emphasis on cultural, linguistic and ideological links. The plan is that this 'may evolve into a more formal relationship in future, if or when needed'.
The second goal is to instill fear that their host government will one day turn on them. Messages are sent out that 'leverage historical memory'. Particular emphasis is put on the nature of the Nazi tyranny suffered during the occupation of countries including Ukraine and the Baltic States during the Great Patriotic War–and on the fact that the Red Army came to the rescue of those under this tyranny. Moscow's message today is that the current governments in these countries also have their 'Nazi' elements, and so it may be better for compatriot Russians to seek protection and 'think about a future joint destiny with Russia'.
Having succumbed to such influences, it is intended that compatriot Russians then become channels of communication themselves. As the 'multipliers of desired information, attitudes and behavior', they should set about convincing their non-Russian neighbors to adopt the same thinking.
The primary goal is for local populations in the targeted countries, be they Russian-speaking or not, to protest against the governing authorities, and for Moscow to be able to use any subsequent clampdown by these authorities as an excuse for setting up local vigilante squads to provide 'protection'.
These squads may, of course, contain Russian special forces in civilian clothes or unmarked uniforms–or they may not; the situation may be 'blurred'. The end-game comes when those influenced by the information campaign seek a 'humanitarian intervention' by Russian troops or ultimate safety by joining Russia itself. Ideally, though, in Kremlin thinking, this would be achieved via the ballot box through the 'clever manipulation of local politics'. Russia thus obtains a new piece of territory through not much more than the passage of information.
Recognition that social media constitute 'influencing factors causing a considerable shift in the balance of power within conflicts' has led to recent suppressive measures targeting such media within Russia in an attempt to control this last unregulated subset of 'national information space'.


F. Military intimidation:
In the United Kingdom, routinely inaccurate media reporting of the detail of Russian military flights approaching UK airspace distracts both from the normality of these events and from their potential real significance in the case of direct confrontation between Europe and Russia. Such reporting obscures the equally significant Russian submarine activity, at times supported by these same aviation missions. This is a particular concern for the United Kingdom given the continuing absence of a maritime patrol aircraft capability pending the implementation of the 2015 Strategic Defense and Security Review, and consequent reliance on foreign assistance to track submarine movements.
For countries physically closer to Russia, increased Russian air activity presents direct security concerns simply in terms of airspace use, even before the military implications are considered. A range of dangerous incidents over the Baltic Sea has been recorded. A significant escalation in the potential danger came in March 2015, when Russian bombers, escorted by fighters, approached Sweden with transponders inactive, after previously being identified and tracked by Danish and Italian aircraft based in Lithuania. This approach was considered especially dangerous since one of the Tu-22M bombers was travelling at supersonic speed while transiting the Riga Flight Information Region (FIR).
Provocative or irresponsible behavior by Russian aircrew continues to show lack of respect for airspace boundaries and safety norms. This includes in Syria, despite this attitude having already led to the shooting down of one Su-24M bomber by Turkey in November 2015. The previous month, Russia and the United States had agreed procedures for avoiding incidents between their aircraft operating in Syrian airspace. These included maintaining horizontal separation of three miles, and 3,000 feet vertically. But these procedures were routinely flouted by Russia in subsequent months, both before and after the loss of the Su-24M, with aggressive and provocative manouvering continuing in close proximity to US aircraft. The risks of this brinkmanship are compounded by the difficulties of communicating with Russian aircraft, which may not be fitted with radios operating on the same frequencies. In these situations and others, Russian assertiveness constantly probes the restraint of Western counterparts.
Aggressive air movements by Russia align with the new emphasis on the potential for the use of nuclear weapons in statements by President Putin and other officials. In addition to the distinctive role that strategic nuclear weapons play in Russian national identity, the use of both strategic and tactical nuclear weapons is now described in Russia as being 'viewed as a realistic possibility and even something to be embraced'. This gives rise to a dangerous situation in which each side holds entirely different views on when, if ever, such weapons could be employed, with a resulting increased risk of miscommunication and misunderstanding. Here, as elsewhere, the Russian attitude displays continuity whereas the West has moved on. Soviet plans for an assault on Western Europe included early use of tactical nuclear weapons, and these still play a significant – but not publicly acknowledged – role in Russian doctrine.
Understanding Russia's thinking about how to manage the risks of conventional, nuclear, and cyber escalation by the West is essential to understanding its view of its nuclear arsenal. In the case of other nuclear powers, for example the United Kingdom, nuclear weapons are not linked with foreign policy. Russia, however, uses their possession as an integral part of its means to constrain competitors. This principle applies whether there is real contemplation of their use, or whether they are simply used to intimidate through rhetoric. According to two Western analysts writing as recently as the early part of this decade, non-strategic nuclear weapons (NSNW) are: "… prized and important assets to Moscow, and they have become even more prized and important assets as Russia's conventional military has become weaker. They are seen more and more as the fallback option if Russia one day faces some sort of defeat in a conventional conflict."
Military posturing also extends to threats of use of conventional ground forces against Russia's neighbors, including warnings that 'the same conditions that existed in Ukraine and caused Russia to take action there' exist in the three Baltic states. Overall, Russian military messaging is baffling to its Western audience because the post-nationalist West has moved on from the Cold War mindset in which it is rooted. The result is a dangerous situation in which the messages from Russia, especially in the nuclear domain, are received but not understood.
G. Igor Panarin and Alexandr Dugin:
Two Schools of Thought on Geopolitics and Information Warfare in Russia.
Two noted academics dominate the development of information warfare in Russia: Igor Panarin and Alexandr Dugin. Both men not only promulgate their doctrines, but they also have experience in prosecuting information warfare firsthand.
Igor Panarin:
Igor Panarin holds doctoral degrees in political science and psychology. He is a member of the Military Academy of Science and currently serves as a professor in the Diplomatic Academy of the Ministry of Foreign Affairs. He is a former KGB member and a close associate of Putin. His writings detail two periods of American-led information warfare targeting Russia: the first spanning from perestroika to the collapse of the Soviet Union and the second from 2000 on aimed at discrediting Vladimir Putin and keeping the former Soviet states fragmented. He attributes the Velvet Revolution in Czechoslovakia (1989), "color" revolutions in former Soviet states (early 2000s), and the Arab Spring (2010–2012) to American conspiratorial influence. In response to these threats Panarin advocates for a centrally controlled information warfare campaign that uses propaganda, intelligence, analysis, secret agents, media manipulation, and selected special operations to influence the masses and politicians.
His method includes five cyclical stages:
Forecasting and planningOrganization and stimulationFeedbackOperation adjustmentPerformance control
 Alexandr Dugin:
Alexandr Dugin is a professor of political science, geopolitics, philosophy, and religious history at Lomonosov Moscow State University and the director of the Centre of Conservative Studies at Moscow State University. He is the leading proponent for "netwar," "net-centric warfare," and a "Eurasian network" designed to engage the so-called Atlantic network (i.e., the US-led Western coalition) in geopolitical battles within the former Soviet states and around the world. Dugin, like Panarin, sees the color revolutions as engineered by the United States to keep Russia fragmented and weak. He states that the Americans accomplished this goal through a broad application of net-centric warfare—a curious interpretation of American warfighting doctrine from the 1990s. As originally derived, net-centric warfare was a tactical/ operational idea designed to use computer and communications networks linked with sensors to command and control widely dispersed military forces. Dugin extrapolated from that application and conceived of the theory as a geopolitical idea—linking not just joint military forces in a theater of war but rather the entire information apparatus of a state and culture in a contest for political and social domination. Having perceived this structure in the West, Dugin calls for a similar approach in Russia.
Dugin's Eurasian network would include political leaders, diplomats, scientists, military organizations, intelligence, media, and communications linked together to promulgate a geopolitical campaign to counter Western influence and information. He also insists that the creation of the network must be attended by a shift toward postmodernism, by which he seems to mean an evolution in Russian culture that can appeal to twenty-first-century masses. Dugin's theory and practice seem somewhat bipolar in that he pushes for a postmodern, postliberal approach but integrates it into the conservative themes of other Russian elites. He views twentieth-century history as the titanic ideological struggle among fascism, communism, and liberalism, culminating in the victory of Western liberalism.
He argues, however, that liberalism, focused on individualism, technocracy, and globalism, has run its course and must be replaced with a neoconservative super-state (Russia) leading a multipolar world and achieving genuine justice, dignity, and freedom. At the same time, this ideological superpower will defend conservative values and tradition.
Dugin's theory demonstrates the evolving nature of Russian information warfare through its incorporation of social media tools.
Russian observers noted how the color revolutions and the Arab Spring outflanked state-controlled media through the use of Facebook, Twitter, and other forms of social media. Dugin insists, therefore, that patriotic Russians must be organized and seize the domain of social media in service of the state. He prescribes a vigorous campaign of combating pro-Western liberalism through a set of polemics designed to vilify Russian liberals as lackeys for the Americans. If a blogger advocates for Western-style democracy, the patriotic Russian should respond, "How much did the CIA pay you?" Dugin insists that Russians must sustain the social media campaign relentlessly over a prolonged period to effectively paint the opposition as corrupt. Persistent messaging through social media not only conditions the domestic audience and targeted groups in areas of conflict, but it also gives rise to spontaneous support groups abroad—people who respond with enthusiasm to the Russian message and help to propagate it without direct control from the state. This technique is analogous to small boat swarms overwhelming capital ships at sea: the sheer volume and persistence of the messages overtaxes the adversary's ability to defend.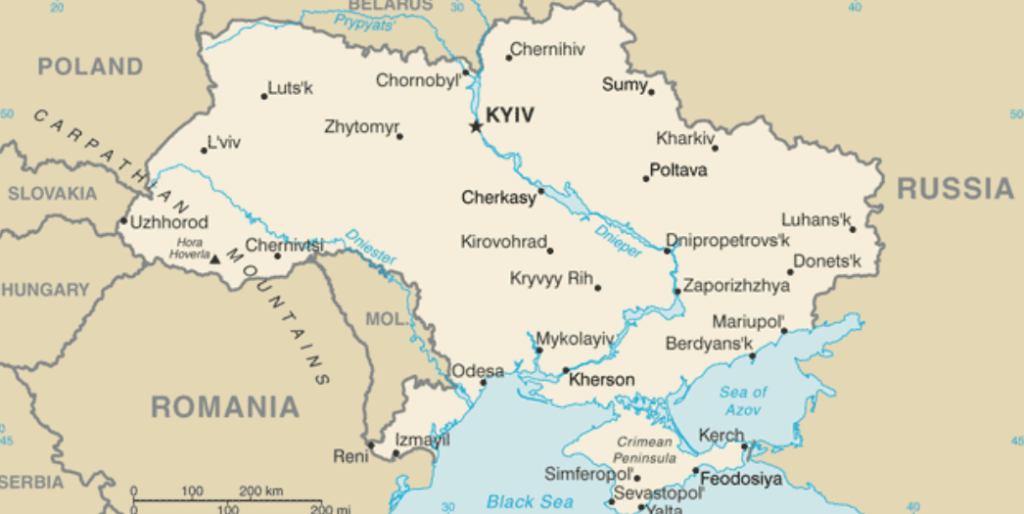 PART 5: RUSSIAN ASYMMETRIC WARFARE IN UKRAINE:
A. Historical context
B. Attention shifts to Crimea
C. Conflicting narratives
D. Key points: the Russian view
E. Russian tactics, techniques, and procedures in Ukraine
F. Gerasimov's Model in Crimea
G. Gerasimov's Model in Eastern Ukraine
The Russian propaganda machine running rampant in Europe seeks to confuse and manipulate current news events to offer misleading but convincing theories that show Russia in a positive light. The aim of such media manipulation, in many instances, is to destabilize Ukraine and discredit European leaders who oppose Russia.


Russia's belligerent attitude toward Ukraine surprised Europe. For most, a 21st-century war within European borders was unimaginable. This is the consequence of diverging strategic views in Europe, Russia and the United States, resulting in different levels of confrontation. And it is aggravated by internal strategic divergence among European states.
A. Historical context:
Russia's intervention into Ukraine and its annexation of Crimea in 2014 stem from a combination of motivations, fears, and interests that drew strength from the period of pozor (shame) in the early 1990s.


Russia's self-perception, its national identity and historical narratives, plays a big role in understanding its actions in the Ukraine crisis. Russia's national identity is largely linked to its Soviet past. The collapse of the Soviet Union caused a severe identity crisis in Russia, fueled by the regional disintegration of former Soviet republics such as Ukraine and other nations that are now a part of the EU and/or NATO. For many Russians, this meant losing considerable influence in its former republics.
Losing Russian security and economic influence in central Europe jeopardizes Putin's geopolitical aspirations for the Russian state, and Ukraine's westward shift through Euromaidan constitutes a devastating blow.
Historically, Ukraine's industry and agriculture were the most vital economic factors in maintaining the power and influence of the Soviet Union.


Putin: new Russian pride
This chaos of the 1990s has led many Russians to mourn the collapse of the USSR for many reasons, whether it be personal incompatibility with the new economic system or nostalgia for and pride in the Soviet Union's former great power status. Contemporary Russian identity is largely framed by the presidency of Vladimir Putin, who introduced a new concept of Russian national pride. It emphasizes Russia's great cultural achievements, for example, by celebrating authors such as Tolstoy and composers such as Tchaikovsky. Accordingly, it has become common to refer to Russia's glorious past, whether it means stressing cultural achievements, the glories of the Russian Empire or the great power stature of the Soviet Union and its influence over Eastern Europe. Putin's new "conservative values" program gave Russia's population the strong self-identification it so desperately sought after the dissolution of the Soviet Union. Russia's national pride can be observed in its newly adapted neighborhood policy. By embracing its former "glorious past," it emphasizes the concept of Russkiy mir, or the Russian world. This refers to regions that share a history with Russia, mostly during Soviet days.
Russia: "these regions are not necessarily Russia itself, but part of the Russian orbit."
Putin and his associates saw NATO as the primary threat to their plans. Outright invasion from the West was not a likely scenario, but Russia foresaw that NATO and the EU, along with Western nongovernmental organizations, would attempt to intervene within peripheral states to turn them against Moscow.


By stressing cultural commonalities like language, religion or history, Russia draws a picture of Eastern Europe as being inseparably connected to Russia. The next step in this logical causality is the assertion that these shared narratives give Russia a legitimate claim to influence the region. The Russkiy Mir Foundation, often referred to as Russia's "soft power" agency, states: "The Russian world is much more than the territory of the Russian Federation and the 143 million people living within its borders." So, by perceiving certain parts of Eastern Europe, including specific parts of Ukraine, as the "Russian world" and by viewing Russian-speaking Ukrainians, for example, as ethnic Russians, Putin's actions in eastern Ukraine are rendered legitimate from a Russian perspective. The narrative includes protecting ethnic Russians from a supposedly fascist, anti-Russian government in Kiev that wants to ban the Russian language from its society. Putin has shown to be prone to this narrative by referring to Ukraine as "not a real state" and by his statement that the "historical South of Russia" was added to Ukraine "with no consideration for the ethnic makeup of the population." After all, the bottom line for Russia's action in Ukraine is the idea that eastern Ukraine is a vital part of the Russian world, with a 94 percent Russian-speaking population.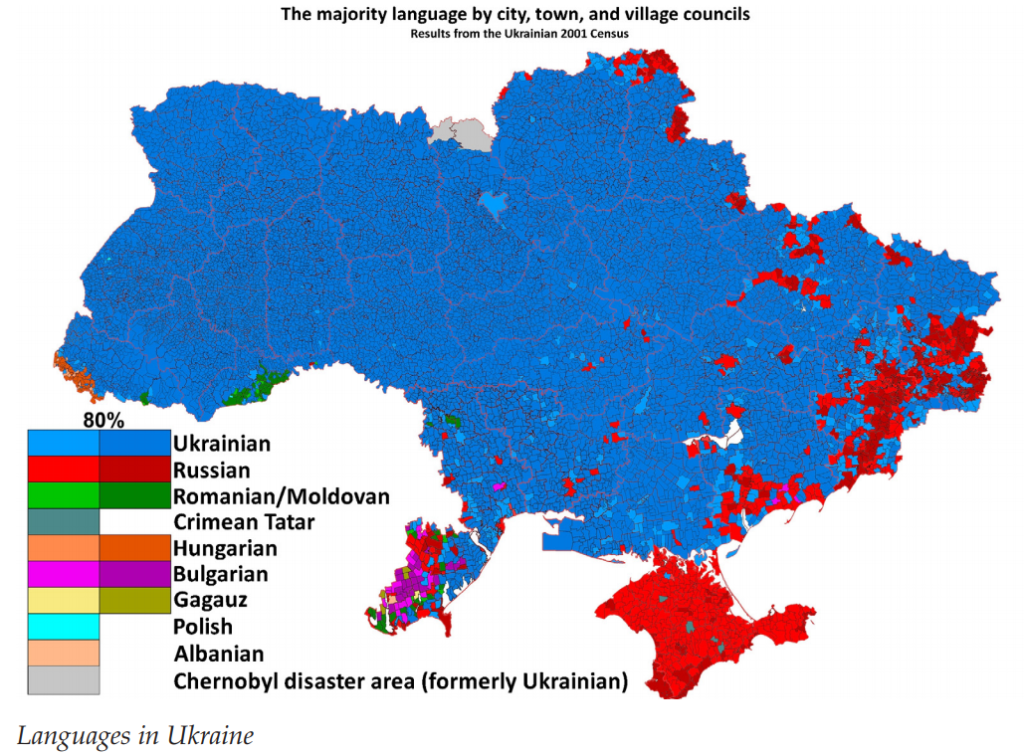 B. Attention shifts to Crimea:
War furnishes the best opportunities to distract domestic public opinion and destroy the remnants of the political and intellectual opposition within Russia itself. An undemocratic regime worried about the prospect of domestic economic social and political crises— such as those that now haunt Russia amid recession and falling oil prices—is likely to be pondering further acts of aggression. —Andrei Illarionov (former economic adviser to Vladimir Putin)


Why Crimea?
The ethnic Russian population in Russia is shrinking while Muslim populations continue to grow, suggesting the demographic landscape could change to majority Muslim by 2050. Combined with widely held pan-Russian nationalism that decries the division of Russian populations into former Soviet republics, the prospect of reunifying Russian diaspora is popular across the Russian political spectrum. Thus, the prospect of injecting 1.45 million ethnic Russians into the population by annexing Crimea became attractive.


Beyond the fact that almost everyone there speaks Russian… Control of the Black Sea Region
Russia's long-standing maritime and security interests in the Black Sea highlight the importance of Crimea and the port of Sevastopol. The peninsula served as a barrier against invasion from Western powers, including Ottoman, French, and British forces in the Crimean War (1853–1856), and hosted some of the bloodiest engagements on the Eastern Front during the German invasion in World War II. Russian expansion into the Black Sea basin in the seventeenth century was driven by both imperial ambitions and hopes to open significant maritime trade routes. Today, the Black Sea provides Russia with a crucial avenue to advance, demonstrate, and safeguard its superpower status. Black Sea access allows Russia to address maritime security threats to its coastal waters and energy transportation routes, as well as to project power into the Mediterranean, the Indian Ocean, and beyond.
As the largest economic player in Crimea, the Black Sea Fleet also offers nonmilitary Russian influence.
It owns more than eighteen thousand hectares of land, only three thousand of which are in Sevastopol. The fleet and its affiliates own high-value assets, including resorts, real estate, and profitable businesses, many of which operate outside of Ukrainian tax regimes and significantly below market rates.
These nonmilitary activities integrate the Black Sea Fleet and affiliates into regional politics, business, and crime.


Buffer of Russian Influence in Peripheral States against the West:
Russia has historically maintained a ring of nations within its sphere of influence to compensate for its lack of geographic barriers to invasion. The policy of maintaining a buffer zone of friendly states was most explicitly expressed by Joseph Stalin after the devastation of World War II, a policy meant to ensure that Russia could never again be invaded by a Western force. The accession of the Baltic states (Estonia, Latvia, and Lithuania) and Poland into the EU and NATO marked a critical breakdown in the traditional security zone maintained by both the Russian Empire and the USSR.The persistent orientation of Georgia toward EU and NATO membership despite the 2008 Russo–Georgian War and the decisive steps toward an Association Agreement between Ukraine and the EU were premonitions of a collapsing Eastern European buffer of friendly or vassal states, which would leave the Russian mainland vulnerable to Western influence and military action.
Ukraine heats up…
Geopolitics in Ukraine got REALLY hot when violence in Kyiv spread across the country in early February 2014. Protesters occupied regional government buildings and the Justice Ministry in defiance of the anti-protest laws, spurring more police actions. President Yanukovych tried to negotiate with the opposition, offering to repeal anti-protest laws, remove Prime Minister Azarov, grant amnesty for arrested protesters, and return to the limits on presidential power codified in the 2004 constitution. Negotiations broke down, and violence erupted, resulting in at least sixty-seven deaths between February 18 and 20. The president and numerous Party of Regions deputies fled the capital, and the parliament voted to remove President Yanukovych from office (Yanukovych then fled to eastern Ukraine before exile in Russia). The interim authorities released Yulia Tymoshenko from prison on February 22. Oleksandr Turchynov became interim president and Arseniy Yatsenyuk became prime minister. The parliament set presidential elections for May 25, 2014, and the pro-Western voters chose billionaire oligarch Petro Poroshenko as the new president of Ukraine. Reflecting the sentiments of his constituents, he signed the Association Agreement 31 with the EU on June 27, 2014.
The pro-Russian resistance opposed the new government, considered it illegal, and insisted it was a fascist regime.
The locus of conflict shifted to Crimea, where a largely Russian-speaking majority allegedly favored deeper ties with Moscow. After the expulsion of Yanukovych, Sergei Aksyonov, leader of a large paramilitary force in Crimea, appealed to Putin for help. Popular support for ethnic Russians and Russian speakers in Crimea emboldened Putin to act. Pro-Russian protesters labeled the Kyiv government as Western fascists and adopted a position that ethnic Russians in Ukraine were in danger. Groups of unidentified armed men began appearing throughout the region, often in coordination with local pro-Russian militias. Both the Ukrainian government and most Western intelligence sources claimed that the "little green men" were Russian operatives.
The Crimean "self-defense" militias seized government buildings, air bases, and military installations, and the Kyiv government, desiring to avoid bloodshed and further provocation, ordered its military forces not to resist. On March 11, 2014, a joint resolution between Sevastopol and the Supreme Council of Crimea declared their intention to hold a referendum to join Russia. Refat Chubarov, president of the Worldwide Congress of Crimean Tatars, announced that the new Crimean government and the proposed referendum were illegitimate and supported only by the armed forces from another country. On March 18, 2014, a treaty was signed to incorporate all of Crimea, including Sevastopol, into the Russian Federation.
The United States and EU responded to the move with economic sanctions.
And small-scale military deployments to the Baltic states and Poland. Diplomatic protests continued, but Russia's annexation appeared to succeed as the world turned its attention to eastern Ukraine. Demonstrators in the Donetsk and Luhansk oblasts engaged in sporadic violence in the wake of Yanukovych's ouster, but Russia's annexation of Crimea stimulated a new wave of demonstrations in April. The SBU (Security Service of Ukraine) had ejected demonstrators who seized the Donetsk Regional State Administration building in early March. But in April more than a thousand demonstrators again seized the building and demanded a regional referendum similar to the one in Crimea. When the government refused, the rebels declared the People's Republic of Donetsk. That month, pro-Russian militants stormed government offices in Donetsk, Luhansk, and Kharkiv. Resistance groups labeled the Kyiv government as fascist and held informal referendums on autonomy in the east. Denis Pushilin, one of the leaders of the self-styled People's Republic of Donetsk, stated that his forces would not consider withdrawal until the new leaders in Kyiv left power.
The Kyiv government launched its counterattack against rebels in the east.
The offensive quickly stalled, with scattered reports of Ukrainian soldiers refusing to fire on their fellow citizens and in some cases changing sides. Other Ukrainian forces simply lacked the combat power to overcome the Russian-backed resistance. In late April government forces launched a second round of attacks with some success in Mariupol and to the northeast of Donetsk. To deal with firmly entrenched rebel fighters in Slovyansk and Donetsk, government forces resorted to blockades aimed at isolating the defenders. But with Russian troops, intelligence personnel, and equipment, the rebels continued to seize buildings and hold their positions throughout the Donbass region. The combatants became increasingly brutal, and allegations of torture inflamed passions on both sides.
In late April, Vyacheslav Ponomaryov, the pro-Russian mayor of Slovyansk, threatened to kill hostages, including an American journalist, if his forces were attacked.


"New Russia"
On May 22, rebels from the Donetsk and Luhansk oblasts declared the establishment of New Russia, an area including southern and eastern Ukraine. The militants mandated that Russian Orthodoxy was the state religion and that private industries would be nationalized. Late spring and early summer saw an increase in the pace of skirmishing, but actions remained relatively small in scale with few casualties on either side. The presence of Russian-made antiaircraft weapons neutralized the Ukrainian government's air advantage and resulted in the downing of an Ilyushin Il-76 transport in mid-June, killing forty-nine troops who were aboard.
Militants continued to expand their footprint in eastern Ukraine until the government counterattack began to gain some momentum. On July 1, after a week long unilateral cease-fire, the government counteroffensive resumed and rapidly recaptured several towns, including Slovyansk on July 5. The renewed government attacks inflicted heavy losses on the pro-Russian militants, and some insurgents fled. Fighting intensified through mid-July, with government forces capturing more towns and gradually pushing the remaining militants into their strongholds of Donetsk and Luhansk.
Russia backs off:
On July 17, Russian-backed militia in eastern Ukraine fired a surface-to-air missile at Malaysian Airlines Flight 17, causing it to crash, killing 283 passengers and 15 crew members. The downing of the civilian passenger flight brought increased world attention on Russian activities, and strengthened economic sanctions may have contributed to a lessening of direct Russian support. In any case government forces began to threaten the remaining rebel strongholds. By early August, the government had recaptured about 75 percent of the territory once held by insurgents.
And then things heat up again:
In September 2014, a tenuous cease-fire was arranged between Ukraine and pro-Russian forces, with the support of Russia and the EU. Sporadic fighting continued, but both sides claimed that the cease-fire would continue to be respected. However, by early November there were clear indications that the fighting was heating up. Russian tanks crossed the border, and on November 12, media outlets were reporting that the cease-fire was over and that major hostilities had resumed.
The use of conventional invasion can be viewed from two perspectives. On the one hand it represents the failure of Russian information warfare in eastern Ukraine, because it implies Putin's desperation in recouping the failures of his agents there. On the other hand, it represents the logical, culminating sequel in the Russian information campaign, which in part is designed to set the conditions for invasion if necessary.


C. Conflicting narratives:
Ukraine is central to the original narrative of the Russian nation and Eastern Orthodox civilization, and losing influence in Ukraine and Crimea would threaten Putin's political appeal among the demographics of the other Russia. The tidal shift against Ukrainian president Viktor Yanukovych and the Russian dominance of Kyiv's politics expressed in Euromaidan constituted a serious blow to Putin's image as a defender against the eastward drive of Western influence. The annexation of Crimea and continued operations in eastern Ukraine have served to quell a potential domestic crisis of legitimacy for the Putin administration.


According to Russian polemics championing the annexation of Crimea and Russian involvement in eastern Ukraine, the entire operation was planned, organized, and controlled under the leadership of Vladimir Putin. It is significant that pundits in favor of Russia's actions—and not just those opposed to Russia—point to the cult of personality that has gathered around Putin. Indeed, it is striking that despite all the modern and postmodern features of Russian information warfare, the age-old glorification of a strongman continues to characterize Moscow's politics.
In his recent work entitled "The Technology of Victory," Igor Panarin, a leading advocate for Russian information warfare, boasted about the nearly flawless Russian operation to seize and annex Crimea. He celebrated the campaign's success in avoiding armed violence and preempting American interference. While pointing to neoconservative ideals of justice, spirituality, and "true" liberty, he praised the use of blackmail, intimidation, and deception in the face of international dithering in the West. He attributed the success to the personal leadership and direct control of Vladimir Putin.
However, the process of forming a Ukrainian identity resulted in creating narratives that disagree, to a great extent, with Russian perceptions of the Soviet Union, Ukrainian independence and the future of Eastern Europe. Even though the process of developing a Ukrainian identity was slow, the young generation of Ukrainians predominantly defines itself as "Ukrainian" and emancipated itself from a Russian-dominated identity, imposed on Ukrainians from Russia. It is often suggested that Ukraine, or at least part of it, does not have a strong national identity because of its Russian past and large Russian-speaking population. After all, 94 percent of eastern Ukrainians list Russian as the easier language of communication. However, it is a false conclusion to assume that Russian speakers in eastern Ukraine feel they are ethnic Russians. When asked their nationality, 72 percent of eastern Ukrainians said "Ukrainian," and 93 percent considered Ukraine their motherland, according to a poll conducted by the Razumkov Centre. So even though the Russian language still plays a big role in Ukrainian society and a large part of the Ukrainian population prefers friendly relations with Russia, this should not be misinterpreted as a Russian self-perception in Ukraine.
This contrasts with the Russian perception of Ukraine as a part of the larger Russian world. That concept holds true language-wise, but it is here where the two identities collide. While Russia defines a Russian population based on its language, it conflicts with Ukrainian self-perception, which defines itself by national feeling. The basic underlying difference is the narrative of defining the affiliation of a population:
The Russian narrative is that language is the crucial variable in defining a population, while the Ukrainian narrative emphasizes a collective national identity.
Moreover, the Ukrainian national identity narrative is based on independence from Russia. This is mostly based on a different narrative and interpretation of the Soviet past, which is not seen as a time of glory in Ukraine, but rather as a time of oppression and subjugation. The case of the Holodomor is one example of the conflict between Ukraine and Russia. While Ukraine has officially recognized the Holodomor as genocide against the Ukrainian people, Russia still rejects this position. This symbolizes the negative attitude of Ukraine toward the Soviet era, which is why it is an important aspect of Ukrainian national identity to emphasize Ukraine's opposition to Russia as a successor of the Soviet Union. However, there are also tendencies in Ukraine's identity that point toward being fundamentally anti-Russian and characterize Russia as "the opposite of Europe, democracy and civilization."
It should be noted, however, that hostile identities alone do not cause conflict.
D. Key points: the Russian view
THIS CRISIS PREDOMINANTLY STEMS FROM RUSSIA DEFINING UKRAINE VERY DIFFERENTLY than Ukraine defines itself, which can be observed in conflicting narratives on the same issues.
Ukraine's historical, cultural, religious, and economic ties to Russia make it a vital interest to Moscow.Western encroachment into the Russian sphere of influence, primarily through North Atlantic Treaty Organization (NATO) expansion and European Union (EU) economic ties, stimulated a reactionary movement among Russian conservatives to stop the loss of peripheral states to the West.The Crimean peninsula, with a majority of ethnic Russians, includes Russia's Black Sea naval base of Sevastopol and is a vital interest to Moscow.The Maidan movement is viewed as a product of Western—especially American—conspiracy.Vladimir Putin has boosted his popularity by portraying himself as the defender of Russian nationalism and Russian Orthodoxy in Ukraine.
It is significant that pundits in favor of Russia's actions—and not just those opposed to Russia—point to the cult of personality that has gathered around Putin. Indeed, it is striking that despite all the modern and postmodern features of Russian information warfare, the age-old glorification of a strongman continues to characterize Moscow's politics.


E. Russian tactics, techniques, and procedures in Ukraine:
Highlights (Lowlights):
Political organization within the conflict region to create and sustain pro-Russian political parties, unions, and paramilitary groups.Recruitment and support of regional SPETSNAZ.Importation of "little green men"—unidentified Russian agents (usually SPETSNAZ) to organize and lead protests and paramilitary operations.Importation of Cossack, Chechen, Serbian, and Russian paramilitary "volunteers".Persistent (rather than plausible) denial of Russian operations, even in the face of photographic evidence and firsthand testimonials.Domination of television, radio, and social media through the use of highly trained operatives, including "hacktivists" and seemingly independent bloggers; use of Russia Today television as a highly effective propaganda tool; use of professional actors who portray themselves as pro-Russian Ukrainians.Use of blackmail, bribery, intimidation, assassination, and kidnapping against regional political opponents and government officials, including police and military officials.Use of "relief columns" to import weapons, soldiers, equipment, and supplies to pro-Russian forces.Small-scale invasion and precision operations by conventional Battalion Tactical Groups (BTGs) based along the Russian border.Issuing Russian passports to pro-Russian populations and touting Moscow's need to defend the Russian diaspora against alleged abuses.
Russian Information Warfare in Ukraine:
Russian information operations (IO) include the use of cyberwarfare. Typical computer network operations feature attacks aimed at disrupting enemy infrastructure and command. Similar to the Russian prelude to its 2008 conflict in Georgia, Crimea's landline, Internet, and mobile services were nearly eliminated. Hacktivists using the names Cyber Berkut and Ukraine Anonymous fought back, attacking Russian government sites and the Russia Today news agency.
Igor Panarin's thinking on Russian information warfare likely influenced Putin's strategy in Ukraine. In March 2014 Panarin commented on the Crimean operation and stressed that through careful preparation of the information environment, Russia was able to obviate a more violent scenario. He contrasted this performance with operations in 2008, as well as with the poor performance of the West. He likewise praised what he termed "the valor of Berkut"—a reference to the Ukrainian secret police organization officially disestablished by the Kyiv government in the wake of the organization's alleged massacres of protesters. The Crimean branch of Berkut was subsequently absorbed into the Russian Ministry of Internal Affairs. Finally, he attributed the Crimean success to the personal leadership of Vladimir Putin, who centralized the control of all the key political, economic, financial, military, intelligence, and information tools.
In its new role as the leader of a multipolar world, Russia's three pillars of power will be spirituality, state power, and cyber-sovereignty.


Moscow combined secrecy, deception, threats, and accusations in crafting the narrative for the international community. Throughout the campaigns in Crimea and eastern Ukraine, Putin and his agents denied Russian involvement while simultaneously touting their military (including nuclear) capabilities if they were pushed too far. While dismissing evidence of Russian troops in the region, they accused the West of meddling in Ukrainian affairs and warmongering.
The coordinated information warfare campaign was carefully crafted to modify the messaging to the West.
In Russian media outlets aimed at American and European audiences, the themes were changed slightly to tout the essential "democracy" of Russia's actions in Ukraine. Everything came about because of the "people's choice," and Russia simply acted in accordance with local wishes. Other messaging targeted the pacifist sectors of the West by both threatening war and simultaneously assuring the world that Russia wanted peace. If Moscow fell short of convincing the more cynical critical thinkers in the West, it nevertheless persisted in reiterating its themes of justifiable intervention.
Russian information warfare targeted key proxies in Crimea and eastern Ukraine,
Preparing them for resistance against Kyiv, a separatist insurgency, and, finally, annexation by Russia. Their challenge was difficult because the West seemingly offered democracy—a form of government that Western culture views as best for personal liberty, security, peace, and prosperity. Conversely, Russian information warfare proselytizes for a different path: a neoconservative postliberal struggle for true justice in a multipolar world. This plan for governance, which the West contemptuously dismisses as autocratic, seeks to defend tradition, conservative values, and "true" liberty.
Marketing: "We're the good guys"
From Moscow's viewpoint, the West likewise seeks to bedazzle and entice former Russian clients with promises of economic prosperity and opportunity. Russian information warfare countered by pointing out that the reverse was actually true: to achieve membership in the EU and the WTO, Ukrainians would be bullied into "austerity" programs aimed at curbing government spending. Conversely, alignment with Russia and integration into the EEU would bring immediate economic aid. This thesis was reinforced with action. Shortly after Crimea's annexation, Russian funds and support programs arrived in abundance. Likewise, when Yanukovych bowed to Russian pressure, Putin immediately responded with a generous proposal to buy up Ukrainian debt and cut gas prices by a third. These actions were not simple acts of diplomacy or economics. They were integral parts of a broad information campaign designed to combat Western paradigms and reeducate Ukrainians along Moscow's lines of thinking.
F. Gerasimov's Model in Crimea: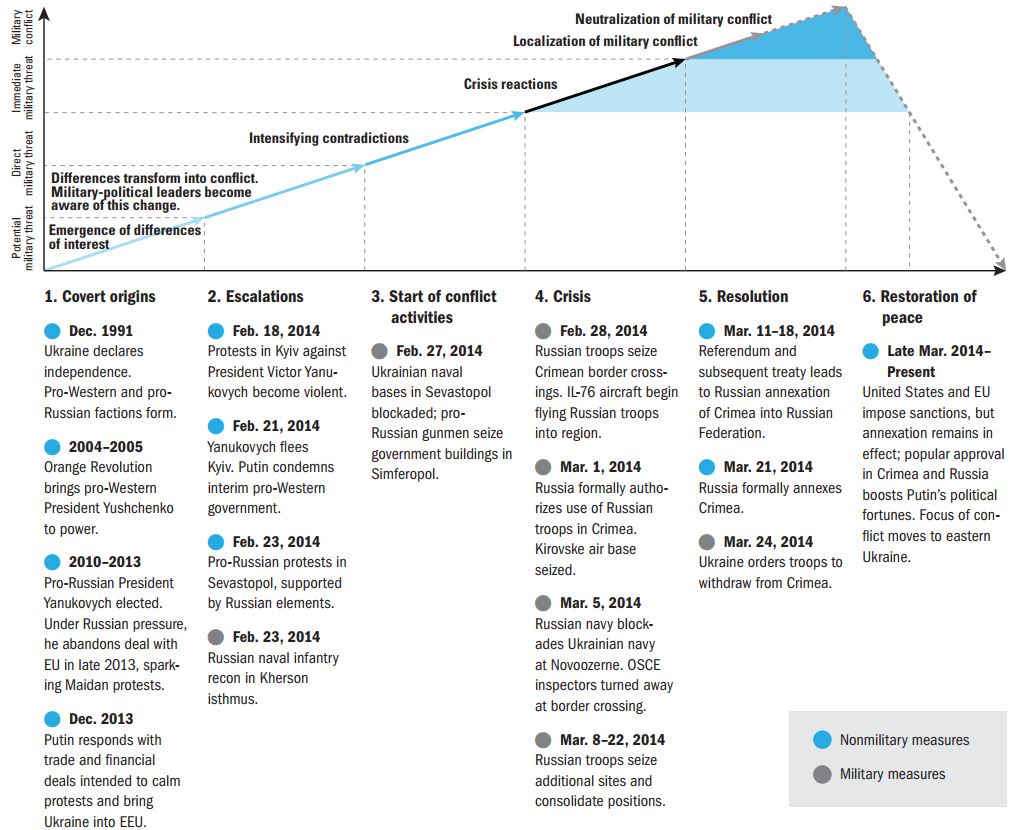 Recall that there are six stages of stages of conflict development described in The Gerasimov Model…
Six stages of conflict development: in Crimea
Covert origins: The covert origins stage featured a long period of political infighting in Kyiv, culminating in an unforeseen crisis for Putin.Escalations: During the escalations stage Putin took actions calculated to de-escalate the situation, but they had the opposite effect.Start of conflict activities: The start of conflict activities was relatively sudden and brief, quickly transitioning to the next stage. This suggests intensive and deliberate planning designed to preempt any embryonic resistance forming against Putin's designs.Crisis: The crisis stage featured nearly flawless execution of Russia's new information-based warfare, culminating in a staged referendum and political decision.Resolutions: During the resolutions stage, Putin's autocratic government rapidly sealed the annexation with a legal form. With Russian troops firmly in control of Crimea, he was able to present the world with a fait accompli.Restoration of peace (post-conflict settlement): The restoration of peace stage was facilitated in part by the upswing of conflict in eastern Ukraine, so as to divert attention away from Crimea.
G. Gerasimov's Model in Eastern Ukraine: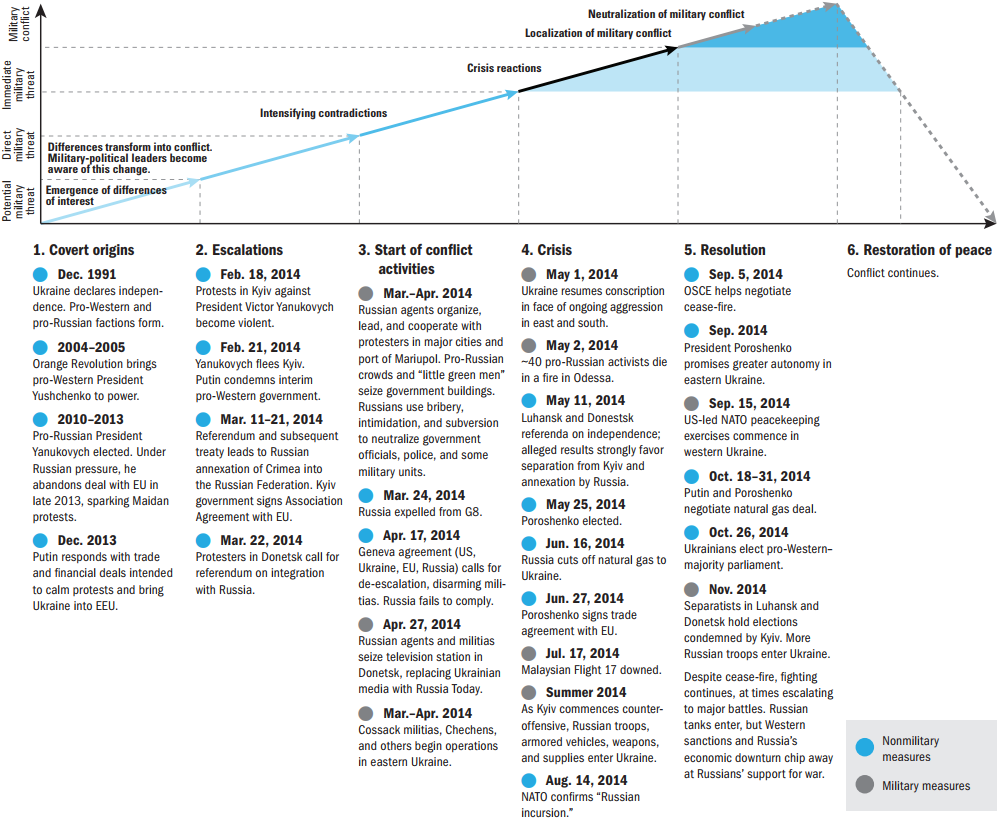 Recall that there are six stages of stages of conflict development described in The Gerasimov Model…
Covert origins: The covert origins stage featured a long period of political infighting in Kyiv, culminating in an unforeseen crisis for Putin.Escalations: During the escalations stage Putin took actions calculated to de-escalate the situation, but they had the opposite effect. The March 2014 annexation of Crimea led to an upswing of unrest in eastern Ukraine.Start of conflict activities:The start of conflict activities was framed by Russia's deceptive diplomatic agreement at Geneva— setting the stage for Putin's sustained unconventional warfare campaign in eastern Ukraine under an umbrella of persistent denial.Crisis: The crisis stage came to a head with the downing of Malaysian Airlines Flight 17, which fueled growing international condemnation of Putin's intervention in Ukraine.Resolutions: The hoped-for resolutions stage instead saw surprising political resilience from the Kyiv government and people of Ukraine against Russian aggression. US, EU, and NATO support, along with Russia's severe economic downturn and President Poroshenko's sustained counteroffensive, led Russia to resort to increasingly explicit invasion.Restoration of peace (post-conflict settlement): The restoration of peace stage remains in doubt as the US government passes a renewed sanctions law and threatens to begin giving military aid to Kyiv.
PART 6: AND IT'S NOT JUST UKRAINE…
A. Russia
B. Eastern Europe
C. The United States
In March 2014, Gvidas Venckaitis, attaché at the Lithuanian Embassy in London said, "Russian propaganda is another emerging threat which has to be addressed at both NATO and the EU level."


That has experienced Russia's preference for asymmetric war:
A. Russia:
To garner support at home for Russian adventures in Ukraine and Crimea, the Putin administration crafted a picture of NATO encroachment toward the borders of Russia and even proposed that the West, led by the United States, intended to annex Crimea. Sevastopol would become a NATO naval base. Related to this theme was the notion that the Russian people—with their history of religious, cultural, and military greatness—were artificially divided after the collapse of the Soviet Union. Once again the West was behind the nefarious plot to keep the Russian people from enjoying unity, peace, security, and their rightful place in the world order.
Further, the election protests of 2011–12 in Russia saw government attempts to use automated systems to dominate or suppress online debate, or divert or disrupt social media as a facilitator for organization. A large array of prepositioned Twitterbots and sporadic but highly targeted distributed denial-of-service (DDoS) attacks were combined with old-fashioned dirty tricks against opposition leadership figures to attempt to defuse and discredit the protest movement.
Domestically, there is no challenge to the Kremlin narrative now that independent media have been effectively removed from the marketplace. Russians who do not deliberately seek out alternative sources of information are more likely to accept what they are being told about their own country and the outside world. Abroad, the Russian alternative reality need not be plausible in order to provide alternatives to the truth, since saturation coverage by Russian external media, the strictures of balance in Western media, and the efforts of the Kremlin troll army will ensure that it achieves penetration among its target audience regardless of credibility.
The response to the protests marked a major step forward in Russia's learning to use means of online mass communication.
Examination of the results appears to have reinforced the conclusion that automated systems are simply not sufficient, and that dominating mass consciousness online requires the engagement of actual humans. This led to intense investment in human capabilities to direct or prevent online debate and comment. This capability, which had previously had only limited targeting and mostly within Russia, was bolstered by the recruitment or training of foreign-language speakers (at varying degrees of capability) to exploit the hyper-connected nature of online space. Meanwhile, the recruitment of staff for online media saw journalists tempted from their work with traditional media by offers of doubled or tripled salaries. Thus parts of the original Information Troops concept morphed into the 'Kremlin troll army', in cooperation with state-backed media with a strong internet presence. Automation and machine generation of social media posts and information, while tested and found not to be a complete solution, was nevertheless incorporated in the overall strategy with its own specific role.
B. Eastern Europe:
Uzbekistan, Kyrgyzstan, and Tajikistan:
Russian actions in Crimea also served to warn those within Russia who may be inspired to imitate Euromaidan or start uprisings in the North Caucasus. Russia's recent military buildup and increased security funding have been particularly focused on improving domestic security, including new bases in Uzbekistan, Kyrgyzstan, and Tajikistan to enable rapid movement of forces to hot spots (a strategic imperative frequently rehearsed since 2004).
Estonia:
In 2007 there were a series of Russian cyber attack on Estonia, which led to a "cyber-riot."
And in 2014, an Estonian government officer was kidnapped by Russia. Russia claimed the officer, Aston Kohver, was on its side of the border when he was illegally detained. However, if Kohver was on the Estonian side, one could argue that the kidnapping constituted a Russian invasion of a NATO state. But again, the situation included deniability, subterfuge, contradiction and confusion — all elements of hybrid warfare.
The question of how to respond to increasing Russian aggression remains Estonia's top priority.
The facts are stark: "We have seen violations of our airspace and irregular flights and mysterious submarines in the Baltic Sea." The Russian navy and air force engage in confrontations with NATO forces patrolling the sea, thereby normalizing a mentality of war for their pilots and sailors — and for the Russian public, which consumes these facsimiles of war through state media.
C. The United States:
WikiLeaks: Round 1: 2008 – 2015
The information-leaking website WikiLeaks has revealed countless stories of corruption, espionage, and human rights violations since it was launched in December 2006. This sensitive information concerns dozens of countries around the world and many of their leaders, but tends to have major disruptive effects on the United States and its allies in particular.
Secrets revealed by WikiLeaks:
In 2010, the public learned that Kind Abdallah repeatedly pressured the United States to attack Iran. You have to "cut off the head of the snake," he reportedly said in 2008, demanding US strikes to destroy Iran's nuclear program, which at the time was in full swing. Other information revealed that the United States believed Iran had received long-range missiles from North Korea that could reach Moscow and Europe.
WikiLeaks revealed unflattering discussions about former Italian prime minister Silvio Berlusconi. In 2009, the US chargé d'affaires in Rome, Elizabeth Dibble, stated that he was "feckless, vain, and ineffective as a modern European leader." Another document detailed that "his frequent late nights and penchant for partying hard mean he does not get sufficient rest." In 2010, his close ties to Russian Prime Minister Putin finally came to light. At the time, US secretary of state Hillary Clinton requested that her ambassadors in both countries report back on all business and personal relations between the two men.
At the end of 2010, documents revealed that Yemen had covered for the United States in the fight against al-Qaida by publicly taking the blame for drone attacks led by the Americans. "We'll continue saying the bombs are ours, not yours," said Yemen President Ali Abdallah Saleh to general David Petraeus, who was, in January 2010, commander of US forces in the region.
According to a cable released by WikiLeaks in 2010, Afghan Vice-President Ahmad Zia Massoud was stopped by authorities working with the Drug Enforcement Agency in the United Arab Emirates, while carrying nearly 52 million in US dollars. The American ambassador let him keep the money on the condition that he would not reveal where the money came from or what it was for.
Also in 2010, it was revealed that the Chinese government was behind a cyberattack against Google's computer network. According to a Chinese informant who revealed the information to the US embassy in Beijing, it was "a coordinated campaign of computer sabotage carried out by government operatives." The Americans initially refused to accuse the Chinese government, but the information released by WikiLeaks clearly showed that Beijing had directed the attacks not only against Google, but also against American and Western ally computers, the Gmail accounts of Chinese dissidents, and even the Dalai Lama's personal computer.
GUANTANAMO BAY: The Camp Delta Standard Operating Procedures, the US Army manual for soldiers dealing with prisoners at the camp in Guantanamo Bay, was actually released by WikiLeaks in 2007. The public learned about the degrading conditions in which prisoners were held and numerous human rights violations. In April 2011, the site published nearly 780 Guantanamo Bay detainee files. The files contained many details, such as the contents of interrogations, medical reports, photos, and file notes. The files revealed that more than 150 Afghans and Pakistanis were detained for years without ever being charged with anything.
IRAQ APACHE HELICOPTER ATTACK: A video where you can see a US Army Apache helicopter shooting 15 people, including two Reuters journalists, shocked the entire world when it was released on WikiLeaks in 2010. You can hear the soldiers laughing at the sounds of the shots. The US military did not condemn the helicopter crew, justifying the attack by claiming there were "insurgents and reporters in an area where US forces were about to be ambushed." The military added that, at the time, the soldiers' equipment didn't allow them to discern whether the people were carrying cameras or rocket launchers.
In 2010, WikiLeaks published information suggesting that Beijing would not object to Korean reunification, under Seoul's control. Faced with various shows of force by Pyongyang, Chinese leaders said at the time that their ally was acting like a "spoiled child" and was no longer a useful or reliable ally. It was the United States and South Korea who influenced China, as they were planning the potential reunification of the two countries.
According to documents published by WikiLeaks in 2010, Hillary Clinton authorized her diplomats to gather personal information such as credit card and cell phone numbers, email addresses, and even the DNA of UN Security Council members. This story was covered extensively in the news because, since 1946, a treaty has banned searches, requisitions, and any other form of interference in the UN building.
In late 2009, WikiLeaks revealed close to 1,000 emails sent over nearly 10 years by heads of the Climatic Research Unit at the University of East Anglia, specializing in the study of climate change. The documents of what became known as "Climategate" suggested that influential scientists were guilty of ethical abuses, having manipulated certain data to exaggerate global warming. An investigation by the British Parliament exonerated the main accused, but climate skeptics still use this story to support their arguments.
In 2008, WikiLeaks published secret documents from the Church of Scientology, including some that described the Church's strange and controversial internal practices. The Church attempted to prevent the publication of these documents, written by founder L. Ron Hubbard, but to no avail. It is no secret, however, that WikiLeaks founder Julian Assange has always been openly against the organization.
Also in 2008, WikiLeaks revealed the list of names, addresses, and occupations of 13,500 members of the far-right British National Party (BNP). The list included the names of several police officers, senior military officers, doctors, and professors. At least one individual on the list was fired from their job after it was revealed that they were a member of this controversial British political party.
In November 2009, WikiLeaks published more than 500,000 pager messages that were sent in the United States on the day of the September 11 attacks. Some came from federal and local officials, but most were from ordinary people. There was a debate to determine if the release was truly in the public's interest, as many of the released messages were highly personal. WikiLeaks defended its actions, stating that the information was important to providing a more complete picture of what happened that day. … #DISRUPTION
Prior to the 2008 US Presidential Election, Sarah Palin—the running mate of Republican candidate John McCain—had her email account hacked by Anonymous. The group sent WikiLeaks two emails from her personal account, as well as her contact list and various family photos. The incident revealed that the politician had been using a private email account to exchange sensitive information and was accused of doing so to avoid American public record laws.
THE MINTON REPORT: In 2009, the public learned of the existence of the Minton Report, which revealed details of toxic waste dumping causing the death of 17 people and the poisoning of thousands of others. The so-called Probo Koala Affair took place in the Ivory Coast in September 2006 and was named after an oil tanker owned by the Dutch-Swiss company Trafigura.
In 2010, the public learned that American diplomats indulged in coming up with some fairly uncomplimentary nicknames for a number of world leaders. For instance, Iranian President Mahmoud Ahmadinejad was compared to Hitler, French President Nicolas Sarkozy was called "the emperor with no clothes," and Russian Prime Minister Vladimir Putin was described as an "alpha dog."
Also in 2010, the public learned of the existence of Bradley Manning, a US military analyst stationed in Iraq, who was arrested by the Security Service. He was accused of leaking information to WikiLeaks, including the video of the Apache helicopter in Iraq. In total, he reportedly gave the site nearly 260,000 pages of secret documents from various US embassies around the world.
In 2011, following a magnitude-9 earthquake off the Japanese Pacific coast of Tohoku and the Fukushima nuclear accident, WikiLeaks released a document that showed concern from an expert at the International Atomic Energy Agency. The expert claimed the Japanese reactors would not be able to withstand an earthquake with a magnitude greater than 7. Another cable from 2006 indicated that the Japanese government had opposed the closing of a plant over doubts about its ability to withstand an earthquake.
In June 2015, WikiLeaks revealed that three French presidents (Jacques Chirac, Nicolas Sarkozy, and François Hollande) were wiretapped by the NSA (the US National Security Agency) for economic reasons. Then, in July of the same year, the public learned that the Americans had also spied on Japanese leaders, both in the government and at private companies such as Mitsubishi.
Snowden: 2014: The NSA
Edward Snowden, a former contractor for the CIA, left the US in after leaking to the media details of extensive internet and phone surveillance by American intelligence. Snowden, who has been granted temporary asylum in Russia, faces espionage charges over his actions. Doesn't it make sense that he would seek asylum in Russia, given that Russia is the source of this asymmetrical attack on the United States?
The secrets he revealed include:
Secret court orders allow NSA to sweep up Americans' phone recordsPRISMBritain's version of the NSA taps fiber optic cables around the worldNSA spies on foreign countries and world leadersXKeyscore, the program that sees everythingNSA efforts to crack encryption and undermine Internet securityNSA elite hacking team techniques revealedNSA cracks Google and Yahoo data center linksNSA collects text messagesNSA intercepts all phone calls in two countries
WikiLeaks: Round 2: DNC Emails
And notice the source of this next bit of content? Sputnik News … remember them? Part of Russia's propaganda campaign…
In mid-June, WikiLeaks announced that they were preparing "upcoming leaks in relation to Hillary Clinton," that the information was recovered from the former Secretary of State's private homebrew server, and that the evidence would be sufficient to indict the beleaguered politician who continues to ride a campaign of Russia-baiting her political opponent Donald Trump to fend off her own historical levels of unpopularity and an unprecedented level of distrust held by the public of her candidacy.


Revelations from the leaked emails:
Just a small sample below… I don't need to dig-in too deep to get an idea for the kind of disruption Russia is trying to cause here, and how they've employed asymmetrical warfare.
The Hillary camp may have requested the DNC to commit an FEC violation.The DNC constantly schemed against Sen. Bernie Sanders and infiltrated Sanders' Campaign.Super PAC paid young voters to push back online Sanders supporters.The DNC frequently colluded with the media.The DNC also frequently "carried water" for Hillary.The DNC offered to send interns to fake a protest against the RNC.The DNC was feeding CNN the questions they wanted to be asked in interviews.BuzzFeed and DNC connection.The incentives for being a top Democrat fundraiser are…lavish.
"Not exactly the kind of behavior one would expect from a party that claims to stand for the little guy." … exactly what Russia wants: continued disruption
PART 7: THE SITUATION TODAY:
A. No solution to Ukraine
B. Syria
C. Russia: Hardly a superpower, but acting like one
D. Russia has been preparing for three possible scenarios of military conflict
E. The war of sanctions
F. A threat to Western security
G. Russia's potential triggers
A. No solution to Ukraine:
In 2009, Ukraine was already described as 'the single most important conflict issue in the relationship [between Russia and the West], and with no obvious end result'. But it is far from the only one, and trends to date suggest that a Russia growing in confidence and capability will certainly be inclined to resolve other conflicts in the not too distant future.
Western leaders have been more than willing to point out that there can be no military solution to the crisis in Ukraine. This is true, albeit from their own perspective. Moscow has successfully used military force, causing significant injury to the vision of a Euro-Atlantic security community. The current European security system could not prevent either the annexation of Crimea or the destabilization of eastern Ukraine. And despite the Minsk agreements, people continued to die through acts of war in 2015 in the country that hosted the 2012 European football championship. Today, it is not only Ukraine that feels under threat but also other countries, such as Moldova, Georgia and the Baltic states. It is not impossible to imagine that a gray area might emerge between EU/NATO and Russia. From Moscow's standpoint, these countries form a cordon sanitaire (a series or chain of small neutral buffer states around a larger, potentially dangerous or hostile state.), even though we have always wanted to avoid allowing differing levels of security across Europe.
The current crisis does not represent a short-term worsening of conditions; rather, we are watching a fundamental shift in East-West relations unfolding before our eyes. The situation is unlikely to change anytime soon.


B. Syria:
The intervention in Syria is a conventional campaign relying predominantly on superior air power. Russia actions in Syria can be challenging to other regional powers like Turkey or Saudi Arabia. This in the bigger strategic picture can be seen as a Russian attempt to influence the establishment of a new balance of power in the region. The February 2016 Syrian ceasefire agreement, concluded on Russian terms, in particular confirms for Moscow once again that Russia's 'New' Tools for Confronting the West is an effective means of achieving swift and positive foreign policy results.
The Syrian military was foundering last year, with thousands of rebel fighters pushing into areas of the country long considered to be government strongholds. The rebel offensive was aided by powerful tank-destroying missiles supplied by the Central Intelligence Agency and Saudi Arabia. Intelligence assessments circulated in Washington that the Syrian president, Bashar al-Assad, was losing his grip on power.
But then the Russians arrived, bludgeoning C.I.A.-backed rebel forces with an air campaign that has sent them into retreat. And now rebel commanders, clinging to besieged neighborhoods in the divided city of Aleppo, say their shipments of C.I.A.-provided antitank missiles are drying up.
For the first time since Afghanistan in the 1980s, the Russian military for the past year has been in direct combat with rebel forces trained and supplied by the C.I.A. The American-supplied Afghan fighters prevailed during that Cold War conflict. But this time the outcome — thus far — has been different.
"Russia has won the proxy war, at least for now," said Michael Kofman, a fellow at the Woodrow Wilson Center in Washington.


Russia's battlefield successes in Syria have given Moscow, isolated by the West after its annexation of Crimea and other incursions into Ukraine, new leverage in decisions about the future of the Middle East. The Obama administration is now talking with President Vladimir V. Putin's government about a plan to share intelligence and coordinate airstrikes against the Islamic State and other militant groups in Syria, and Mr. Putin has thus far met his goals in Syria without becoming caught in a quagmire that some — including President Obama — had predicted he would.
But even Mr. Obama has expressed wariness about an enduring deal with Moscow. "I'm not confident that we can trust the Russians or Vladimir Putin," Mr. Obama said at a news conference recently. "Whenever you are trying to broker any kind of deal with an individual like that or a country like that, you have got to go in there with some skepticism."
Some military experts point out that Mr. Putin has saddled Russia with the burden of propping up a Syrian military that has had difficulty vanquishing the rebels on its own. They remain surprised that Mr. Putin took the risky step of fighting American-trained and equipped forces head on, but they also assess that his Syria gamble appears to be paying off.
"We're not going to make Syria into a proxy war between the United States and Russia," President Obama said. "This is not some superpower chessboard contest."


C. Russia: Hardly a superpower, but acting like one
Today the problem is that Russia is a superpower only in the military sense (above all because of its nuclear arsenal) and in terms of its energy resources. In the 21st century, superpower status not only depends on military capabilities, but also on the ability to persuade and acquire partners, to get involved and get others involved to shape alliances. According to this definition, the Russia of today is definitely no superpower. When Barack Obama was elected president of the United States, his administration decided to rebuild the country's relationship with Russia from the ground up. Obama reworked the missile defense plans, turned them into a NATO project and invited Russia to collaborate. This strategy produced positive results, including a new START agreement and greater cooperation in relation to Afghanistan and Iraq. Nevertheless, both sides remained dubious about the others' intentions.
Instead of becoming a game-changer and serving as the roof of the "common home," the missile defense system emerged as a form of "game-breaker," that some argue led directly to Russia's use of asymmetrical warfare against the United States and its allies.


What also changed, however, was Russia itself, as observed by Michael McFaul, former U.S. ambassador to Moscow:
"Russian foreign policy did not grow more aggressive in response to U.S. policies; it changed as a result of Russian internal political dynamics. The shift began when Putin and his regime came under attack for the first time ever."


In a 2014 essay, former U.S. Deputy Secretary of State Strobe Talbott analyzed it like this:
"Putin's aggression only makes sense against the backdrop of what has been the defining theme of his presidency: turning back the clock. For years, that has meant repudiating the transformational policies of his immediate predecessors and reinstating key attributes of the Soviet system within the borders of the Russian Federation."


Although Russia sees Europe as its most important partner in many areas, it considers the spread of Western values in Eastern Europe part of a strategy to establish a neo-colonial power relationship. It is convinced that, if the West is unable to achieve objectives using instruments of soft power, it will use military power to overthrow established regimes and impose puppet governments. This is unacceptable for Russia, which will fight to maintain not only its regional geopolitical influence, but its independence from external pressures on its internal affairs.
A country cannot be considered a Great Power without friends or allies.
Unlike the United States, Russia does not have 'natural' allies and even during Soviet times it struggled to achieve cooperation based on shared ideology or values. Instead, Russia has preferred to seek various cooperation partners when it suited its interests and it would prefer it if other countries also took a similarly pragmatic approach to cooperation. This does not mean that Russia does not seek its own sphere of influence, however. As Russia regained strength after the collapse of the Soviet Union it naturally assumed that the post-Soviet space would remain its sphere of influence. This would be enough if Russia was content with the status of a regional power, as it has often been referred to by leaders of Western countries. The Russian view is that, as a global Great Power, Russia's status needs to be recognized and extended beyond the former Soviet region.
D. Russia has been preparing for three possible scenarios of military conflict:
A major war with NATO and Japan.A regional border conflict scenario over disputed territories.An internal military conflict as a result of terrorism.
The possibility of a direct military conflict with NATO in the short term is not conceivable… or is it? Russia has been facing severe pressure of infringement on its strategic national interests. NATO has politically and militarily neutralized most of Russia's potential natural allies, as exemplified by NATO's expansion into the former Warsaw Pact space. According to a 2013 Russian collaborative report on defense sector reform edited by Alexander Nagorny and Vladislav Shurygin, the monetarist economic ideology imposed by the International Monetary Fund (IMF), the World Bank and other multilateral organizations not only sought to weaken Russian society, but resulted in underfunding the armed forces and thus, operational degradation.
At the same time, the Afghanistan and Iraq wars and other American/NATO military interventions caused Russian President Vladimir Putin to conclude that the West is dangerous and unpredictable.
In Russia's view, the trans-Atlantic community, especially the U.S., uses instruments of irregular warfare such as nongovernmental organizations and multilateral institutions (IMF, World Bank) to destabilize Russia. As a result, the view that it constantly faces outside threats became mainstream in Russia. In the face of these threats, Russia considers itself a fragile country. Putin and his inner circle understand that the economy is too dependent on oil and gas. As a result, there is not enough energy for expansion. At the same time, they feel regional influence needs to be retained by all means. Putin believes that external factors outside Moscow's control can influence internal events and result in Russia's collapse. This explains why Russia is interfering with Ukraine's attempt to move toward the West. At the same time, Putin is convinced that defending private interests and those of his inner circle is tantamount to defending Russia's national interests. Thus, any attempt to make Russia more transparent, democratic or tolerant is considered a personal attack against not only him and his allies, but also against the Russian state.
Russia's answer to these threats is asymmetric.
E. The war of sanctions:
The Russian Ministry of Economic Development has published some statistics that many in the West still prefer to ignore. Those reveal that the European Union, US, Canada, Norway, and Australia have lost an annual market worth $8.6 billion, due to the sanctions they introduced against Russia. In tonnage, Russian food imports from those countries decreased by 98.9% – from 4.331 million tons to 46,500. "You could say that a sales market has been lost within the Russian Federation that was equivalent in value to the reduction in such agricultural imports from those countries," emphasized the Russian Ministry of Economic Development in a statement.
That office also offered a rough estimate of the financial toll on the countries of the EU – as much as 50 billion euros per year. That is equal to approximately 0.4% of the EU's total gross domestic product.


That is a significant figure, considering that in 2015, accordingto Eurostat, total economic growth in the EU amounted to 2% of GDP, but only 1.7% in the eurozone nations. Even more revealing are the comparative figures for the last decade, which are able to include in their calculations not only the period of the financial and economic crisis, but also the EU's "fatter" years. According to Eurostat's data, the economy of the entire European Union has grown by an average of 1% per year since 2004. But in the eurozone that growth was only 0.8%.
The war of sanctions against Russia is eating up about half of the EU's average annual economic growth.
However, this is averaged data from across the entire EU. An even clearer picture is obtained if this is extrapolated to individual countries, taking into account not only their direct but also their indirect losses. Thus, according to the analysts at the General Invest holding company, in 2014 alone – the first year of the sanctions – the toll suffered just by companies in Italy amounted to approximately 20-22 billion euros. This includes the losses incurred not only by companies that trade directly with Russia, but also by those that maintain an indirect presence on the Russian market through other European Union member states.
The Italian newspaper La Stampahas sounded the alarm: the sanctions war with Russia has touched off a "perfect storm" that has wrought havoc on Italy's manufacturing sector. Italian exports to Russia effectively imploded last year, plunging 34% – from 10.7 billion euros in 2013 to 7.1 billion in 2015. La Stampa writes, "Machine-building, which accounted for 34% of all our exports to Russia, lost 648 million euros in 2015, while the apparel industry lost 539 million (a drop of 31%), motor vehicles – 399 (down 60%), footwear – 369, and furniture – 230."
Long ago, Italian experts were among the first to warn of the dire effects of the sanctions war with Russia. In the next few months Italy could prove to be the "bomb" that will blow up the fragile financial (and hence political) stability in the European Union.


Federico Santi, an analyst with the Eurasia Group, a political-risk consultancy, claims that as we enter the second half of the year, the situation in Italy and its consequences for the rest of Europe may prove to be the biggest macro-political risk.
The Italian banking system is weighed down under the massive ballast of non-performing loans and the aggressive policies of Germany and Deutsche Bank, which are using the crisis in the eurozone to strengthen their own positions. Government officials in Italy have reported 200 billion euros worth of "bad" loans (about 10% of their total), and independent experts would bump that up by another 160 billion euros (which is an unprecedented figure for the national banking system and comparable only to the numbers found in Greece).
In 2015 Italy's third-largest bank – Monte dei Paschi di Siena – held 46.9 billion euros of overdue loans. Matteo Renzi's cabinet has already launched into a fierce polemic against Berlin and Brussels, accusing them of the inability and unwillingness to effectively address the eurozone's financial problems and demanding that national governments be given the right to take their own measures to combat the crisis, with an eye toward their particular socioeconomic situations, which would include recapitalizing debt.
But Nicholas Spiro, a consultant with Lauressa Advisory, believes that the stakes are too high in Italy for politicians not to adopt a plan to recapitalize Italian banks. At the same time, Brussels and Berlin are hesitant to take their own emergency measures to rescue the Italian banking system at European taxpayers' expense, given the upcoming elections in Germany and France.
The results of the stress tests on EU banking institutions that were conducted by the European Central Bank and releasedin late July show that the Siamese triplets known as Italy, France, and Germany could soon bring down the entire financial system of the European Union.


Just in the last few months Deutsche Bank shares have dropped 25%, those of the French bank Société Générale – 23%, and the Italian bank UniCredit – almost 30%. And the 47 billion euros of "bad" loans found on the balance sheet of Banca Monte dei Paschi di Siena account for more than 40% of the bank's total credit portfolio.
Financial problems, coupled with the decline in manufacturing, make for a truly explosive mix, not only for Italy but throughout the European Union. However, Brussels is apparently still focused not on that, but on continuing the sanctions war against Russia.
F. A threat to Western security:
Russia's annexation of Crimea in March 2014 and its subsequent concealed combat support of pro-Russian separatists in Donbas with the intention of destabilizing the Ukrainian state and establishing favorable conditions for a secession of Ukraine's eastern areas represented clear evidence of Moscow's violations of international law and its desire to fundamentally reshape the security order in Europe.


The crisis in Ukraine has taken a toll on Eastern Europe's future regional security, as well as global security.
Not only has it resulted in major changes in international politics, such as the exclusion of Russia from the G8 and a deterioration of Russian-American relations to levels seen at the end of Cold War, but it also has made a significant impact on a wide range of humanitarian and regional security issues. What started as a Ukrainian struggle for regime change has led to a civil war with Russian involvement and the internal displacement of up to 1.2 million people.
Driven by a desire to roll back Western encroachment into the Russian sphere of influence, the current generation of Russian leaders has crafted a multidisciplinary art and science of unconventional warfare. Capitalizing on deception, psychological manipulation, and domination of the information domain, their approach represents a notable threat to Western security.
Russian military interventions and associated information warfare campaigns in the past two years have not been an anomaly. Instead they are examples of Russia implementing its long-standing intent to challenge the West now that it feels strong enough to do so.


The new forms of Russian unconventional warfare challenge the structure of the NATO Charter,
Because they obviate the appearance of "armed invasion." Russia has undermined the foundations of the post-Cold War order and security systems governing relations between European states. What is more, by massing military potential along Ukraine's eastern border and permanently supplying pro-Russian separatists with military hardware, logistics, training and intelligence, Moscow has posed a challenge to the European states' defense systems as well as to international security institutions. These strategic changes have led to a fundamental shift in national security philosophy. In Central Europe and the Baltic region in particular, this has meant moving from a less-military-oriented security strategy to a defense-centric one.
Russia has undermined the foundations of the post-Cold War order and security systems governing relations between European states.


The threat of Russian information campaigns:
They prepare the ground for future Russian action, which would be directly counter to the interests of Europe and the West. BREXIT anyone?
By either undermining the will or support for deterrent measures, or by sowing an entirely false impression that it is justified in its actions, Russia adjusts key variables in the security calculus determining the risk inherent in future assertive action against its neighbors. In the case of Ukraine, Russia felt the balance was tipped sufficiently in its favor to act; but Ukraine, and Georgia before it, are unlikely to be the last neighbors of Russia to fall victim to this calculation.
Current Russian ambitions, if followed to their conclusion, must necessarily lead to a more direct confrontation with the West.


Russia now benefits from a highly developed information warfare arsenal, and this will be a key facilitator in preparing for further actions against its Western neighbors.
Martin Hurt argues:
"No matter which country Russia picks on next, it is almost certain that the first phase will be an attempt to harm its international reputation using provocations and dirty tactics in order to isolate it from its EU and NATO allies. For example, heads of governments must be prepared to explain to their publics that social media footage of purportedly murdered Russian children and elderly people are just one of many tactics whose ultimate goal is to dismantle European security."


Estonia, Latvian and Lithuania:
It is the Baltics, though, that represent a special target. Estonia and Latvia have large Russian minorities and Lithuania is vulnerable because it separates Russian forces in the Kaliningrad exclave from Belarus and the rest of Russia. Estonia, Latvia and Lithuania are widely considered the most likely next potential victims of Russian "intervention." Russia's information-warfare campaign vis-à- vis these Baltic States is very slick, with Peter Pomerantsev observing that in Estonia, for instance, 'huge parts of [the] population live in a separate reality created by the Russian media'.
They are far from the only candidates.
In early 2015, the undefended nature of the Swedish island of Gotland, despite its strategically vital position in the Baltic, received substantial public attention. The Danish island of Bornholm has also featured in publicly discussed scenarios for Russian assertive action, as has the tiny Polish village of Redzikowo.
There is no doubt that Russia possesses the tools and levers to attempt to impose its will on its neighbours. What is lacking at present is the trigger event. There is a wide range of potential triggers, and it is essential to bear in mind that not all of them are immediately obvious outside Russia. The distinctly Russian concept of what constitutes national security, and a view of international relations which is at odds with that held in the rest of Europe, mean that – as was the case with Ukraine – assessing actions and reactions by criteria that seem rational in Western capitals will be of limited use. As noted by a detailed Finnish study: 'It is good to keep in mind that Russia's sore points are almost invariably psychological and tactical.' Understanding this psychology is crucial.
G. Russia's potential triggers:
The following issues are potential points of neuralgia in the Russian security picture, and any one of them could trigger an assertive intervention in defense of what Russia sees as its legitimate interests:
'Securing borders': The security of the country's borders, and by extension control over the approaches to them in substantial depth, has been a persistent concern in Russia's history over centuries. In the 20th century this was one of the drivers that led to Soviet ultimatums to the Baltic states and Finland in 1939, and eventually to their invasion. More recently, this same concern lies at the root of the constant complaint over NATO 'approaching Russia's borders', and was a contributing factor to actions in Georgia in 2008. A wide range of perfectly innocent actions can be perceived in Moscow as compromising border security and justifying an assertive response.
'Protecting allies': A recurring reference in Russian strategic documentation (such as the Military Doctrine and National Security Strategy) is the protection of Russia and its allies. Under the Collective Security Treaty, Russia's obligations towards other members of the Collective Security Treaty Organization are far stronger than those imposed on NATO allies by the North Atlantic Treaty. A threat to the security of another member state, whether real or invented, could be used to legitimize intervention by Russia 'in accordance with treaty obligations'. In particular, the delicate balancing act between Russia and the West by Belarus should be watched closely, especially after the October 2015 election gave President Alyaksandr Lukashenka a new mandate. Despite key differences with the situation in Ukraine, there are enough factors in common that Russian hostile action to protect its interests in Belarus becomes more likely with each step by Lukashenka towards rapprochement with the West.
Missile defense: Russia's long-standing objections to ballistic missile defense overall, and to the European Phased Adaptive Approach (EPAA) in particular, were overshadowed in 2014–15 by the Ukraine crisis, but they have not gone away. Russia has promised direct action against the missile defense installation in Redzikowo, Poland, which it describes as the site that most directly compromises its strategic nuclear deterrent. Moscow has been building up military capabilities in its Baltic enclave of Kaliningrad. It has angrily criticized the stationing of NATO's anti-missile shield in eastern Europe.
Potential NATO accession: by Finland and/or Sweden. Despite recent increased focus on the NATO debate in both countries, the issues involved remain unchanged – as, broadly, does the balance of public opinion. However, this has not prevented Russia from making direct and specific threats to both countries.
But Sweden, and even more so Finland, which has more than 1,300 kilometers (800 miles) of border with Russia, know any move to join the alliance would create a backlash in Moscow. "We would have to go through a phase of Russia's initial reaction that wouldn't be positive," Finland's former prime minister, Alexander Stubb, who supports joining NATO, told Reuters.
Moscow says moves by Helsinki and Stockholm towards closer ties with NATO are of "special concern" to Russia, which has vehemently opposed NATO's eastward expansion.


"It is an issue in case of a conflict in the Baltic Sea region. We would need to work with Sweden and Finland, especially to use their airspace," said a NATO diplomat. "We can talk now and imagine how that would work. But eventually it would be their political decision, we have no guarantees." Some in Sweden and Finland view their current ties with NATO as already too strong, and accuse their governments of trying to get them into the alliance through the back door.
PART 8: WHAT ARE THE INVESTMENT OPPORTUNITIES?
A. The investing environment
B. Let's review some of the etfs…
C. My top pick: Boeing, Lockheed Martin, or AeroVironment?
A. The investing environment:
There are a number of technological investments that need to be made in order to counter future asymmetric tactics. Fortunately for us, #4IR Global Macro investors, we can invest where and how we want, taking any opportunity that comes our way. From defense and military innovation to precious metals, what area represents the best risk vs. reward opportunity? Next, what SINGLE company do I choose to represent this investment theme?
The military will need the ability to identify, track, and defeat small drones that pose a security risk in civilian-rich environments. The military will also need unmanned aerial vehicles that can deliver supplies to soldiers and civilians in remote areas in contested environments. If the United States had a means of easily blocking insurgents' recruitment messages via social media and spreading disinformation among their ranks, it could disrupt one of their prime means of strategic communication and intelligence.
As the United States prepares to address multiple threats across multiple geographies with a flat defense budget, the need for allies to jointly invest in technological innovation is real. However, allies' threat perceptions are quite different depending on their geography and strategic culture. Japan and Taiwan are concerned with the Chinese threat; Israel and Arab allies with the Iranian nuclear program and ISIL/Al-Qaeda; and European allies with terrorism and Russia. In previous warfare strategies, large investments in military capabilities against the Soviet threat also reassured NATO allies that the United States would come to their aid and pressured them to spend on their own militaries. A narrow focus on the Chinese threat may reassure Asian allies, but it may not help American relationships with NATO members and Middle Eastern allies. As it did with the F-35 development, the Pentagon could jointly fund research with European and Middle Eastern allies to counter hybrid technologies and tactics, and to reduce cost and promote strategic cooperation.
Defense companies could play a valuable role and stand to gain by investing in these technologies because they would be able to address larger adjacent markets like homeland security, law enforcement, and transportation. In the future, domestic security agencies, power plants, and airports will need the ability to identify, track, and defeat small drones that pose a security threat in a civilian setting just as much as the military will on the battlefield. Likewise, research into the delivery of goods and people by unmanned platforms could usher in a new age of transportation and logistics.
"The first step in winning a war is knowing what type of war one is fighting."
So where do we start looking for possible investment choices?
I wrote a blog post called: Creating a Tech Innovation, Disruption, and Cool Gadget ETF Portfolio that discussed using etfs relevant to "asymmetrical warfare," although, to be honest, at the time I didn't know the term.
B. Let's review some of the etfs…
From this post as well as etfs related to military defense, hacking, cyber warfare, robotics, drones, …
ARK Industrial Innovation ETF (ARKQ)ARK Innovation ETF (ARKK)Robo Global Robotics & Automation ETF (ROBO)First Trust Nasdaq Cybersecurity ETF (CIBR)PureFunds Drone Economy Strategy ETF (IFLY)PureFunds ISE Cybersecurity ETF (HACK)iShares Aerospace and Defense ETF (ITA)iShares Exponential Technologies ETF (XT)PowerShares Aerospace and Defense ETF (PPA)SPDR S&P Aerospace & Defense ETF (XAR)
Taking the top 5 picks from each…
And comparing the results. Is there overlap, does one company cross multiple investment themes, and does any one company have obvious opportunity according to investment managers? What do the "Gurus" say? Understanding that the market is hot right now, that investor sentiment has reached "extreme greed," and that we're heading for a war and /or financial collapse in the near future, where are the opportunities to make money? This may prove difficult and require investing POST market crash, as is the case with several other #4IR investment opportunities I've identified: Monsanto (agtech) and Amazon (innovation).
The results are: (looking for US traded companies)
Stratasys Ltd (SSYS) **Tesla Motors (TSLA)NVIDIA Corp (NVDA) **Proto Labs (PRLB)Alphabet (GOOG)Illumina (ILMN)Cognex Corp (CGNX)HollySys Automation Technologies (HOLI)iRobot Corp (IRBT)Accuray (ARAY)Intuitive Surgical (ISRG)Symantec (SYMC) **Cisco (CSCO)Palo Alto Networks (PANW)Juniper Networks (JNPR)NXP Semiconductors (NXPI)AeroVironment (AVAV)GoPro (GPRO)Boeing (BA) ***Ambarella (AMBA)Kratos Defense & Security Solutions (KTOS)Proofpoint (PFPT)Imperva (IMPV)CyberArk Software (CYBR)AVG Technologies (AVG)United Technologies (UTX) ***Lockheed Martin (LMT) ***General Dynamics (GD) ***Raytheon (RTN)Honeywell International (HON)TransDigm Group (TDG)Huntington Ingalls Industries (HII)Advanced Micro Devices (AMD)Exelixis (EXEL)Sprint (S)Computer Sciences Corp (CSC)
Companies in bold received multiple "votes" from our etfs. Stars indicate the numbers of etf votes.
From a #4IR Geopolitics investing standpoint, the companies above that make the most sense are:
Stratasys Ltd (SSYS)Symantec (SYMC)Boeing (BA)United Technologies (UTX)Lockheed Martin (LMT)General Dynamics (GD)iRobot Corp (IRBT)AeroVironment (AVAV)Kratos Defense & Security Solutions (KTOS)Imperva (IMPV)CyberArk Software (CYBR)
Next, I'd like a special focus on drones and unmanned vehicles and/or drone defense:
I totally understand that the Russian propaganda machine starts as a cyber security issue, but I see some serious #4IR applications for drones and unmanned vehicles. From space mining to unlimited warfare, the implications of an advanced drone army are huge. Stop thinking about massive attack drones and start thinking about microscopic drones used for everything from Big Brother surveillance to instant medical care. And I can imagine all sorts of next-level Asymmetrical Warfare uses for drones.
Remember: Asymmetrical Warfare is all about Disruption. We can ALREADY see how important cyber security is… Fourth Industrial Revolution investing is investing in the intersection of Innovation + Disruption. In the case of drones, it's what we CAN'T already see and imagine that gets me most excited. That's the disruption.
From my perspective, drones represent the best opportunity for investment in Innovation + Disruption meets Geopolitics + Asymmetrical Warfare.


My top 5 quick picks are:
Boeing (BA)Lockheed Martin (LMT)iRobot Corp (IRBT)AeroVironment (AVAV)Kratos Defense & Security Solutions (KTOS)
OK, now the hard part: getting this Top 5 quick pick list down to only 3 companies for further research:
Boeing (BA)Lockheed Martin (LMT)AeroVironment (AVAV)
In 10 words or less (or more), why these 3 companies?
Without doing TOO much research into these companies, what are my first thoughts, opinions, and reasons for choosing? Why do they stand out and merit the next stage of research?
Boeing: In the case of the above etfs, Boeing was not only a top pick from the Defense and Aerospace etfs, but also the drones focused etfs. Boeing has had a hand in the drone market for a number of years, mostly developing for the US Military. But when I think of Boeing drones, I recall large combat drones used in traditional warfare. So, although a top drone investment choice, I'm not sure they fit into the #4IR side of drone innovation in preparation for #4IR Asymmetrical Warfare.
Lockheed Martin: Not to be focused on the wrong thing here, but Lockheed Martin's website is amazing… the best of the bunch. It's full of resources, research, and great content. I take a strong website VERY seriously… after all, we ARE #4IR investors, and a crappy website is totally NOT #4IR. Beyond that, though, Lockheed is involved in all sorts of #4IR warfare: directed energy, electronic warfare, unmanned systems, missile defense (Russia, anyone?), nuclear systems, energy storage, cyber security, space flight, robotics, and nanotechnology.
AeroVironment: AeroVironment specializes in drone technology and the energy storage systems (EV) associated with their products. This is a small-cap company, so a +1 in my book (small-caps tend to have less analyst coverage, so more opportunity to discover a hidden treasure). I find this company to be worth consideration because not only do they produce drones for military purposes, but also for agriculture. Agtech is a major theme for #4IR investing and, although not a focus in this research, should be considered as another +1 in the AeroVironment column. Also, AeroVironment is on the innovation side of drone tech… Nano drones, drones plus renewables, and more.
C. My top pick: Boeing, Lockheed Martin, or AeroVironment?
All are great companies, no doubt. I'm just not sure which should be my TOP pick. I don't really think I can lose long-term by investing in any of these three companies, so I need to differentiate them and determine which has the best risk vs. reward.
I have a strategy to identify which is best positioned from a cyber security standpoint to combat Russia's propaganda machine and Asymmetrical Warfare… and it might sound juvenile: Which of these companies replies to a comment or question left on their twitter page, how quickly do they respond, and is the response from a bot or a real person? I left the tweets below at 8:21 pm on a Sunday night… let's see what happens…
Question left for Boeing: @Boeing
.@Boeing Hello! I'm researching #Boeing #Drone #Innovation: is $BA working on #nano, non- #military, or #agtech #drones? Thanks! #4IR $ITA
Question left for Lockheed Martin: @LockheedMartin
.@LockheedMartin Hello! I'm researching #LockheedMartin #Drone #Innovation: is $LMT working on #nano, non- #military, or #agtech #drones?
Question left for Lockheed Martin: @Aerovironment
.@AeroVironment Hello! I'm doing $AVAV #drone research: What % of income comes from #agtech #drones? & is #Aerovironment doing #nano drones?
Results from my experiment: proving anything?
Nope… NO ONE RESPONDED!!! Serious lame sauce…
In any case, I just can't justify investing in either Boeing or Lockheed Martin.
Why? The charts! Both Boeing AND Lockheed Martin have blown the doors off performance in the last few years. Since both are at all-time highs and tend to correlate to the S&P 500, and I believe that we are heading for the next big financial crisis in the next several years, this becomes another case of waiting for the right time to get some value and reduce downside risk.
But if I had to pick one, I choose Lockheed Martin because their research and focus is more on #4IR warfare than is Boeing's, which tends to "old school" warfare type technology and innovation.
When we look at AeroVironment, however, we see that, despite the S&P 500 reaching new highs, despite amazing defense and aerospace sector performance over the last several years, AeroVironment is STILL of its highs.
Let's look at the charts for all three companies to illustrate my point:
10-year chart for $BA vs $LMT vs $AVAV:
Here we see $BA with a gain of +65.5%, $LMT at +220.4% (AMAZING), and $AVAV at +19.7% … so $AVAV not a great investment over the last 10 years. I see this as a positive, since drone tech is just coming into its own with airspace regulation, venture investment, and advanced application in Asymmetrical Warfare.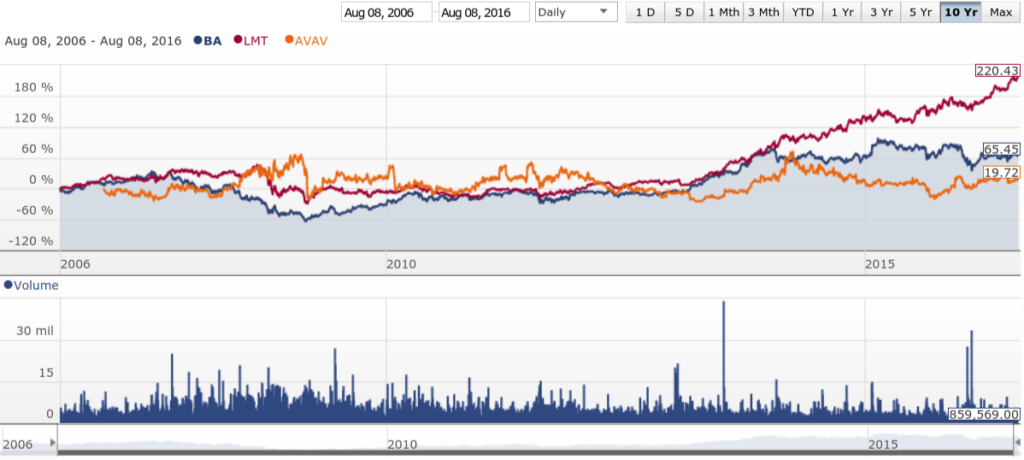 5-year chart for $BA vs $LMT vs $AVAV:
Over a 5-year period we see $BA at +110.3%, $LMT as the clear winner with a gain of +257.3% (WOW), and $AVAV basically flat at +4%. The best is yet to come for $AVAV?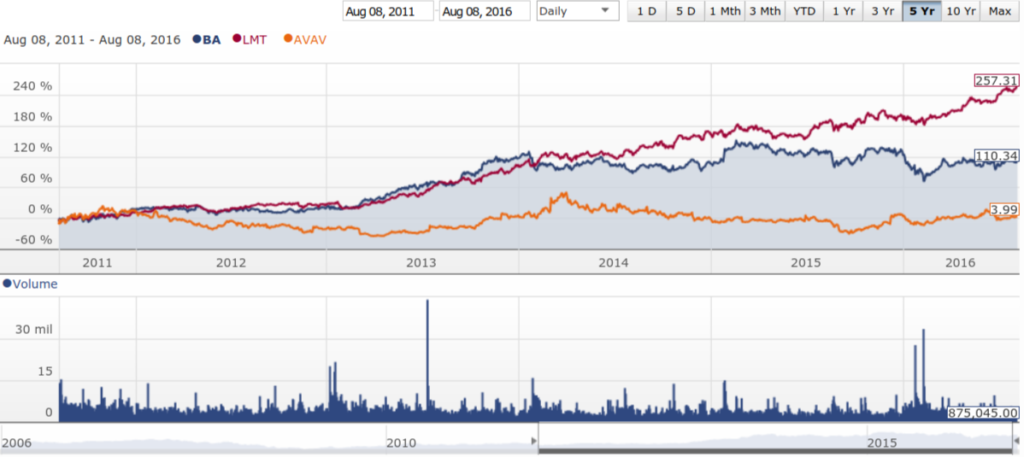 3-year chart for $BA vs $LMT vs $AVAV:
The three-year chart shows $BA and $AVAV tied at around +24%. Drones finally starting to come into investor focus? $LMT is crazy hot at a gain of +108.9% over the last three years (DAAANG).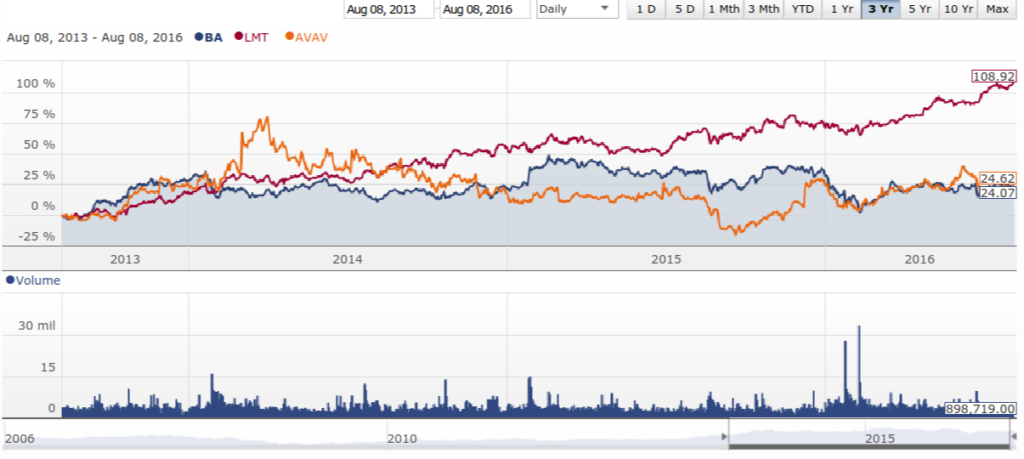 1-year chart for $BA vs $LMT vs $AVAV:
Over the last year $BA shows a slight fall off its high and is down -7.3%, $LMT is still screaming at +24.4%, and $AVAV is at +10%… not a bad year. Maybe things are heating up for drones? It would be nice to get in near the bottom of this revolution…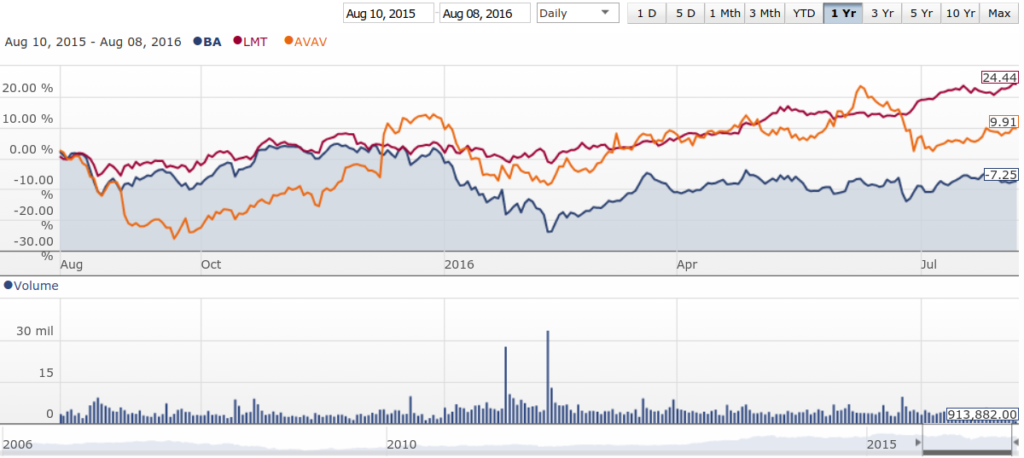 Year-to-date chart for $BA vs $LMT vs $AVAV:
YTD shows $BA down -8.6%, $LMT up, up, up +19.8%, and $AVAV down -2.9%. Again, basically flat for $AVAV. $AVAV has been up, has been down, and has been volatile. I find this to be a plus because volatility allows me, as a drip investor, to improve my cost basis and returns over time. As I've stated in previous posts, I LOVE volatility.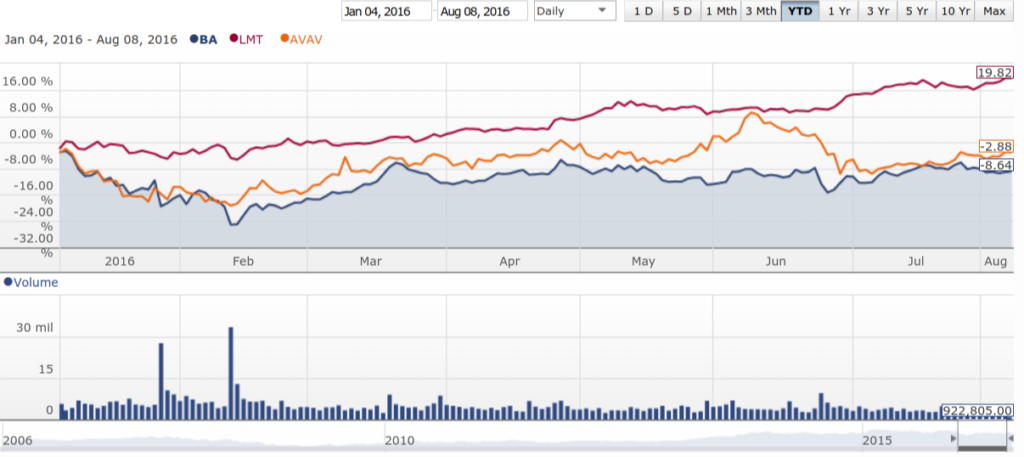 1-Month chart for $BA vs $LMT vs $AVAV:
I would't normally lend too much weight to the one month chart, but I noticed some SERIOUS upward momentum for $AVAV, up +7.8% this month, while $BA and $LMT have nearly identical returns at about +4%. Why sudden positive sentiment? Because the FAA recently relaxed regulation on drone use… pretty soon Amazon and others will have thousands of drones in the air, in space, in the deep sea… everywhere. Massive disruption is coming… #4IR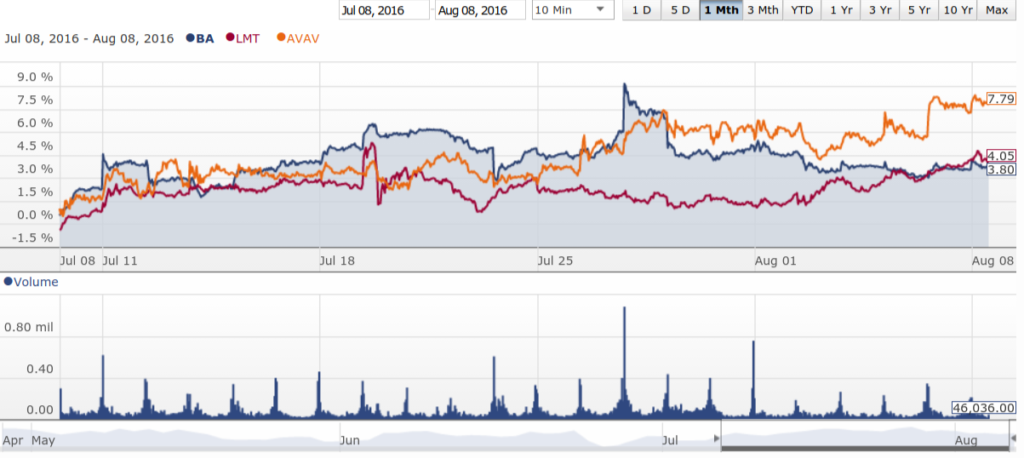 And Dividends… I don't want them!
Boeing has a dividend of 3.3%Lockheed Martin has a dividend of 2.6%AeroVironment has a dividend of 0% … perfect!
I have to pay taxes on dividends… I hate taxes. I don't want to give my money to a company for them to grow, and then have them give me back 3% as a "reward." I'd rather the company I invest in invest my money… to me, dividends indicate that the company doesn't know what to do with their money. Does Amazon pay a dividend? … just saying …
CONCLUSION:
Russian unconventional warfare and Moscow's innovative approaches to IO largely succeeded in the recent annexation of Crimea. Nonetheless, Russia's intervention in eastern Ukraine experienced difficulties, leading to an extended conflict. While the current outcome for the Russians is mixed, it is clear that Russian leaders have absorbed the painful lessons of their post-Cold War setbacks, most notably those in Georgia in 2008. Over time they have observed and adjusted to American moves during the Color Revolutions and the 2010 Arab Spring. By viewing US foreign policy initiatives through the lens of geopolitics, Russian neoconservatives have embraced an aggressive foreign policy designed to reverse the losses associated with the collapse of the Soviet Union, especially along the Russian periphery. Driven by a desire to roll back Western encroachment into the Russian sphere of influence, the current generation of siloviki have crafted a multidisciplinary art and science of unconventional warfare. Capitalizing on deception, psychological manipulation, and domination of the information domain, their approach represents a notable threat to Western security interests.
The United States needs a national acceptance and understanding that it is engaged in an Asymmetric War. The nation must mobilize its industry and population. Federal government departments are only the beginning of the human resources and expertise needed to win over a target population. Local experts on such services as law enforcement, sewage, education and electricity—just to name a few—are also crucial. During World War II, this nation's industry rallied behind the war effort. In a war of ideas where information operations are so important, why are the brightest minds in the United States focused on convincing more young Americans to prefer one soft drink over another, or convincing more voters in the Midwest to vote for one party over the other? How many Wharton marketing MBAs or Harvard political analysts are trying to show the young Muslim population of the world that U.S. interests do not conflict with their religious beliefs? That the United States is a secular society that makes no religious judgment? That working with the United States is greatly within their material interests? That the United States simply wishes to rebuild their country into greatness rather to than exploit it— looking at Germany and Japan as examples? And finally, that the enemy seeks only to build his own power at the cost of young Muslim lives and suffering? The brightest minds of the enemy are convincing them of the opposite…
The major threat to Western interests anywhere in the world is not terrorism, it is the threat posed by information warfare such as that recently conducted by Russia. It has achieved clear results and this success can be repeated. As NATO finds it almost impossible to react effectively in a symmetrical fashion to this threat, it has felt the need to resort to more traditional means. Yet these are responses that are better suited to the 'last war'. Unlike the Russian military, NATO is still putting the use of military force ahead of information warfare because – as an institution–it knows no other way of reacting.
This is a unique opportunity to make smart and targeted investments in technologies suited for low-intensity military operations that will continue to be a staple of future conflicts. There are big strategic and military challenges for America, particularly in the Pacific with China and in Eastern Europe with Russia. As history has shown, Asymmetric Warfare is not going away and if anything, it is only going to get more dangerous and more disruptive.
With Disruption, Innovation, #4IR Geopolitics, and Asymmetrical Warfare in mind, I've identified several investment opportunities from completing this research. My top two choices are Lockheed Martin and AeroVironment. Lockheed Martin is a wait for the next big crash investment (its just too hot right now), while AeroVironment is a position I will be starting in the near term with an initial investment of only $500, planning to build the position on volatility.
Look forward to my company profile on AeroVironment! I'll be digging into $AVAV in depth over the next few weeks…
RESOURCES:
The Contemporary Spectrum of ConflictNATO and the problem of asymmetric warfareAsymmetric WarfareAsymmetric Warfare: wiki4GW — FOURTH GENERATION WARFAREBAD GUYS KNOW WHAT WORKS: ASYMMETRIC WARFARE AND THE THIRD OFFSETDEFINING ASYMMETRIC WARFARECarl von Clausewitz, eds./trans. Michael Howard and Peter Paret, On War(Princeton: Princeton University Press, 1976)Dr. Stephen Metz and Dr. Douglas Johnson II, Asymmetry and U.S. Military Strategy: Definition, Background, and Strategic Concepts (Carlisle, Pa.: U.S. Army Strategic Studies Institute, January 2001)Metz and Johnson, Asymmetry and U.S. Military StrategySun Tzu, trans. Samuel B. Griffith, The Art of War(London: Oxford University Press, 1971)B. H. Liddell Hart, Strategy, 2nd Revised Edition (New York: Signet, 1974)T. E. Lawrence, Seven Pillars of Wisdom (Hertfordshire, England: Wordsworth Classics of World Literature, 1935 and 1997)David Galula, Counterinsurgency Warfare, Theory and Practice(Westport, Conn.: Greenwood Publishing, 1964)Qiao Liang and Wang Xiangsui, Unrestricted Warfare (Beijing: PLA Literature and Arts Publishing House, February 1999), Translated by Foreign Broadcast Information Service (FBIS)Bruce Berkowitz, The New Face of War: How War Will be Fought in the 21st Century (New York: The Free Press, 2003)Martin Van Creveld, The Transformation of War (New York: The Free Press, 1991)Robert D. Steele, The New Craft of Intelligence: Achieving Asymmetric Advantage in the Face of Nontraditional Threats(Carlisle, Pa.: U.S. Army Security Studies, February 2002)Dr. Max G. Manwaring,Internal Wars: Rethinking Problem and Response(Carlisle, Pa.: U.S. Army Strategic Studies Institute, September 2001)Dr. Stephen J. Blank, Rethinking Asymmetric Threats (Carlisle, Pa.: U.S. Army Security Studies Institute, September 2003)The Uncertain Role of the Tank in Modern War: Lessons from the Israeli Experience in Hybrid Warfareper Concordiam (volume 6, issue 3, 2015)"Little Green Men": A Primer on Modern Russian Unconventional Warfare, Ukraine 2013–2014Russia's 'New' Tools for Confronting the WestThe Changing Nature of Modern WarfareRUSSIA AND HYBRID WARFARE – GOING BEYOND THE LABELMilitary Success in Syria Gives Putin Upper Hand in U.S. Proxy WarThe War of Sanctions: New Casualties for the European Union