Dear reader,
The signal-to-noise ratio is a scientific measure that compares the level of a desired signal with the level of background noise.
Engineers use this ratio for electrical signals, but in the time of Kim Jong-un and Donald Trump, the concept is very important for the news business. U.S.-China trade tensions and whatever you call the developments on the Korean Peninsula are two of the biggest news stories of the year, and both are generating a din, a hubbub, a clamor, a racket, and a commotion. But that's really all we have. The parties involved are making a fuss, but nothing has really changed. America's economic ties to China are much as they were last year, while Kim Jong-un still has his nukes and his gulags.
So while at SupChina, our aim is to keep you on top of the very latest news from and about China every day, sometimes news from the margins tells you a lot more than the headlines do. So as you read about North Korea and the trade war covfefe, consider that stories of a more humble nature might tell you more about China. Here are three worth your time:
State media takes side of protesters against the police: Over the weekend, police in Lu'an, Anhui province, police violently dispersed a group of teachers protesting for better wages and the release of their delayed 2016 (!) annual bonuses. On May 28, Guangming Daily, an established state-owned newspaper, published a commentary (in Chinese), calling the brutal treatment of the teachers "unacceptable" and the low pay that they were protesting "a thing to be ashamed of." Jiayun Feng has more on the affair on SupChina.It's hard loving your country! The South China Morning Post reports on a man who led a wedding party dressed as a Japanese soldier and was lambasted on Chinese social media for his treacherous tastes. However, the man said he had been filming a "patriotic video" before the wedding and simply didn't have time to change.Autism in Shanghai: From lack of accessible design to social stigmas, China remains an uncomfortable place for those with special needs and physical or mental disabilities. But it's changing. Here is a feel good story — also in the SCMP — about a "café" in Shanghai that uses volunteer "customers" to allow people with autism to practice their social skills.
Now, on with the low-signal, high-noise show!
—Jeremy Goldkorn, Editor-in-Chief
1. The Trump and Kim show — Singapore summit is on, for now
The planned June 12 Singapore rendezvous between Donald Trump and Kim Jong-un might yet happen.
ABC reports that U.S. and North Korean officials are "laying groundwork for on-again, off-again, back-on-again summit." This morning, Trump tweeted that Kim Yong Chol, vice chairman of the ruling Workers' Party of Korea Central Committee, is "heading now to New York." Xinhua News Agency noted that "Trump misspelt Kim's name as 'Kim Young Chol' in his tweet."
In other D.P.R.K. news, Reuters reports that this morning, Japan "said it had detected what appeared to be a Chinese-flagged vessel, 350 km (218 miles) off Shanghai, conducting illegal transfers to a North Korean ship."
—Jeremy Goldkorn
2. The Trump and Xi trade war show: Surprised, but not surprised
It was just a week ago that U.S. Treasury Secretary Steven Mnuchin declared, "We're putting the trade war on hold," and stock markets breathed a sigh of relief. Chinese negotiators called the pause a "win-win choice" (SupChina paywall), although most American media lambasted the outcome and even White House officials backed off calling it a "deal."
Meanwhile, President Trump continued to pursue a deal to revive Chinese telecom giant ZTE, despite opposition from fellow Republicans, and findings from the U.S. government that ZTE had endangered national security by breaking sanctions on Iran and North Korea.
The latest twist in trade tensions was announced on the White House website today:
The U.S. will impose a 25 percent tariff on $50 billion of imports from China that contain "industrially significant technology," including those related to the Made in China 2025program. The final list of covered imports will be announced by June 15, 2018.The United States Trade Representative (USTR) will continue the WTO dispute settlement against China originally initiated in March to address China's discriminatory technology licensing requirements.The U.S. will implement specific investment restrictions and enhanced export controls for Chinese persons and entities related to the acquisition of industrially significant technology. The list of restrictions and controls will be announced by June 30, 2018.


A Chinese Ministry of Commerce spokesperson said (in Chinese), "We feel surprised, yet also not surprised…this clearly goes against the common understanding recently established in Washington."
Meanwhile, Trump's team continues to negotiate to achieve Trump's pet project of reducing the trade deficit. Here's how that's going:
"Washington is pressing Beijing to enter into multiyear contracts to buy U.S. agricultural and energy imports," the Financial Times reports (paywall), but "the move could mean taking Chinese business away from key U.S. allies such the EU, Australia, Brazil and Argentina."Coal from West Virginia is attracting eyes from Beijing, Bloomberg says(paywall), though "a final decision hasn't been made."Unfortunately, the root of the problem isn't trade in goods, Stephen Roach, a veteran practitioner and scholar of the interplay of American and Chinese economies, points out in a piece in the SCMP. Roach makes the same argument in the article that he did in a Sinica Podcast episode last year: "Without addressing the [American] shortfall in domestic saving, the bilateral fix simply moves the deficit from one economy to others."
Finally, in what is probably just an innocent coincidence, Ivanka Trump — the president's daughter and a senior adviser in the White House — received 13 new trademark approvals in China in the past three months, AP reports.
—Lucas Niewenhuis
3. Duterte's red line?
More from the awful-lot-of-noise-and-who-knows-what's signal department: news about the disputed waters of the South China Sea. Here's today's update:
Philippine President Rodrigo Duterteis as mercurial as Trump: He has threatened to ride a jetski to disputed islands in the South China Sea and plant a flag to keep China at bay but he also claimed to be Chinese as part of his ongoing flattery of the Chinese leadership. Today, the Associated Press reports that "the Philippines warned China that it will go to war over natural resources in the South China Sea — and it identified other 'red lines', or actions, Manila would find unacceptable."Philippines island construction: the island nation itself "has started repairing a runway and upgrading other facilities on Thitu Island, the South China Sea territory that was last year the scene of a stand-off between Chinese and Philippine vessels," according to the South China Morning Post.On the weekend, China's militaryannounced that two of its warships had challenged two United States Navy vessels that sailed within 12 nautical miles of the Paracel Islands, one of the disputed features of the South China Sea. The New York Times reports (paywall) that a Chinese defense ministry spokesperson said the U.S. had "gravely violated Chinese sovereignty."The Asia Maritime Transparency Initiative's Island Tracker is a free database of satellite photos and information about occupied and reconstructed islands and rocks in disputed areas of the South China Sea. Sadly, this is going to become an essential resource in the coming years.
—Jeremy Goldkorn
4. Iran — buying oil and fighting terror
Russia and China are eager to dance with Iran after U.S. President Donald Trump rtore up his government's commitment to the Iran nuclear deal. Iranian President Hassan Rouhani will attend a regional summit for the Shanghai Cooperation Organization (SCO) in Qingdao next month, where discussions will cover economic, energy, and security cooperation throughout Central Asia.
Iran currently is an SCO observer, but has long sought full SCO membership, for which Russia and China have voiced approval.Beijing will push for cooperation to combat the "three evil forces" — terrorism, extremism, and separatism — in addition to economic cooperation related to Belt and Road at the SCO Summit in June, the SCMP reports, but in general China wants to "push forward development of bilateral cooperation," Reuters reports.Chinese support for Iran also has a lot to do with oil. The Wall Street Journal reports (paywall) that "Sinopec...sent a delegation to Tehran this month to complete a $3 billion deal" to develop the Yadavaran oil field, which would be "the biggest foreign investment in a decade."
—Lucy Best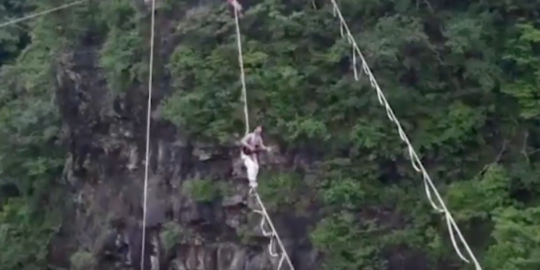 What China is watching: A concert up in the sky
A French band, Houle Douce, staged a performance on slacklines across a 1,400-meter-high cliff in Zhangjiajie, Hunan Province.
TODAY ON SUPCHINA
TechBuzz China: Live Streaming in China: How to Win Fans and Influence Losers
This week on TechBuzz China by Pandaily, our hosts Ying-Ying Lu and Rui Ma look at the Chinese live-streaming industry. They trace back the origins of this industry, whose market cap grew by almost 250 times in half a decade, explain the psychology of the ordinary Chinese involved, and break down companies such as HUYA, Inke, and M17, which are the forerunners in this arena.
Subscribe to TechBuzz China on Apple Podcasts, Overcast, or Stitcher, or click here for the RSS feed.
Why did Tencent just invest in a self-media account with a history of 'article laundering'?
It was reported on May 24 that Tencent led a $4.1 million investment in Chaping 差评, a WeChat self-media account popular for its scathing reviews of Chinese tech companies. But the announcement was met with outrage from several bloggers, as Chaping has a reputation for "article laundering," if not outright plagiarism.
The Caixin-Sinica Business Brief, episode 49
This week on the Business Brief: Sina's plan to launch a secondary listing in Hong Kong, Tesla's tentative approval from the Shanghai government to manufacture cars in the city, controversial proposals to ban the online sale of prescription medicines, a man who was wrongfully imprisoned for 25 years and is seeking compensation, and more.
Subscribe to the Business Brief on Apple Podcasts, Overcast, or Stitcher.
TODAY'S NEWS ELSEWHERE ON THE WEB:
BUSINESS AND TECH:
State-owned companies in trouble
Chinese energy company's missed bond payment fans fears of more defaults / WSJ (paywall)
China Energy Reserve and Chemicals Group recently backed out of a $5.2 billion deal for The Center in Hong Kong, and this month "defaulted on a set of U.S. dollar bonds." The Journal says that this "marks the third time this year that an Asian company has defaulted on its U.S. dollar debt."
Chinese bank chief found dead inside his office / SCMP
"The chairman of a regional bank in China's northern city of Tianjin has been found dead in his office after his wrists had been slit."Qualcomm deal
China set to approve Qualcomm-NXP deal, a sign of easing trade tensions / WSJ (paywall)Africa: Tech and currency ties
China is exporting facial recognition software to Africa, expanding its vast database / Quartz
"'I watched with envy as Chinese people were able to pay for meals with their lovely faces,' said Shingi Magada, a Zimbabwean consultant on the partnership."
Top finance officials discuss possible use of Chinese yuan as reserve currency for eastern, southern Africa / Xinhua
"The Chinese yuan comes under the spotlight Tuesday and Wednesday when 17 top central bank and government officials from 14 countries in eastern and southern Africa meet in Harare to discuss its possible use as a reserve currency for the region." Quartz has more on this story.Ecommerce
Alibaba leads $1.38 billion investment in courier ZTO / Caixin
The ecommerce giant wants, naturally, to own the logistics chain.Live streaming
Can live streaming make money? Takeaways from Huya's May IPO / China Film Insider
Short answer: a very uncertain "maybe." China Film Insider says: "Reassuringly, the financial reports show that Huya's livestreaming debts have narrowed."Semiconductors and technology self-reliance
Tencent chairman pledges to advance China chip industry after ZTE 'wake-up' call: reports / ReutersStock markets: China's entry into MSCI ?
Flood or dud? Inflows from China MSCI entry are anybody's guess / Reuters
POLITICS AND CURRENT AFFAIRS:
South Asia's banker — China opens the purse strings
Exclusive: Pakistan seeks economic lifeline with fresh China loans / Reuters
"Pakistan expects to obtain fresh Chinese loans worth $1-2 billion to help it avert a balance of payments crisis." In related news, Reuters also reports: Sri Lanka accepts a US$1 billion, eight-year loan from China Development Bank. To put these stories in context, see also Warning sounded over China's 'debtbook diplomacy' published by the Guardian last week, and Maldives in crisis is torn between India and China, published in February on SupChina.Five nuclear tests a month in China
China steps up pace in new nuclear arms race with US and Russia as experts warn of rising risk of conflict / SCMP
"China is aggressively developing its next generation of nuclear weapons, conducting an average of five tests a month to simulate nuclear blasts." The article says the U.S. conducts such tests "less than once a month on average."Soft power in space
China just invited the world to its space station / Ars Technica
"All countries, regardless of their size and level of development, can participate in the cooperation on an equal footing," said a senior Chinese diplomat (per Xinhua). Ars Technica says that "such an announcement represents potentially the greatest soft power threat of the last six decades to US and Russian dominance of spaceflight."U.S.-China relations
Opinion, by James Fallows: America Is fumbling its most important relationship / Atlantic
Why a new office building in Taiwan is heightening U.S.-China tensions / Brookings
Ex-spy accused of selling secrets to China claims he was trying to help the United States / Washington PostBullying Taiwan
Taiwanese citizen assaulted by mainland Chinese tourists in Cambodia, reports say / SCMP
Beijing gives airlines more time to comply with 'one-China' rule on Taiwan, Hong Kong, Macau / SCMPEnvironmental policy
China says to end 'one size fits all' environmental policies / Reuters
China regions vow to step up pollution crackdown after central government probes / Reuters
SOCIETY AND CULTURE:
Xenophobia in the U.S.A.
US flight instructors kidnapped and tried to deport trainee to China, say police / AP
"Two employees of a northern California flight school have been arrested on suspicion of kidnapping a student pilot and trying to send him back to China, authorities said."
Review: A new film investigates the time America banned an entire race / NYT (paywall)
"'The Chinese Exclusion Act,' appearing Tuesday as part of PBS's 'American Experience,' was in the works well before the election of Donald Trump. But it feels as if it were made for a moment when border walls and immigration controls are topics of daily conversation." You can watch "The Chinese Exclusion Act" here.What is jianbing?
As a Chinese street snack gets trendy, some say enough's enough / NYT (paywall)
"In the Chinese city of Tianjin, a local trade association sees the snack's soaring popularity — and variety — as a threat. Over the weekend, it imposed rules that attempt to standardize the jianbing, apparently as a way of saving the soul of northern China's quintessential street food." For more on the traditional jianbing as well as its uppity New York version, see SupChina's video: Jianbing, a Beijing street food that bridges China-U.S. culture.Sexism in tech
In China's booming tech scene, women battle sexism and conservative values / Reuters
PHOTO FROM MICHAEL YAMASHITA
Bridge in Hangzhou
The scene of a bridge spanning West Lake in Hangzhou. The Venetian traveling merchant Marco Polo wrote that the city had 12,000 stone bridges, but some argue that this was a corruption of "12 city gates."
—Jia Guo