USCPublicdiplomacy.org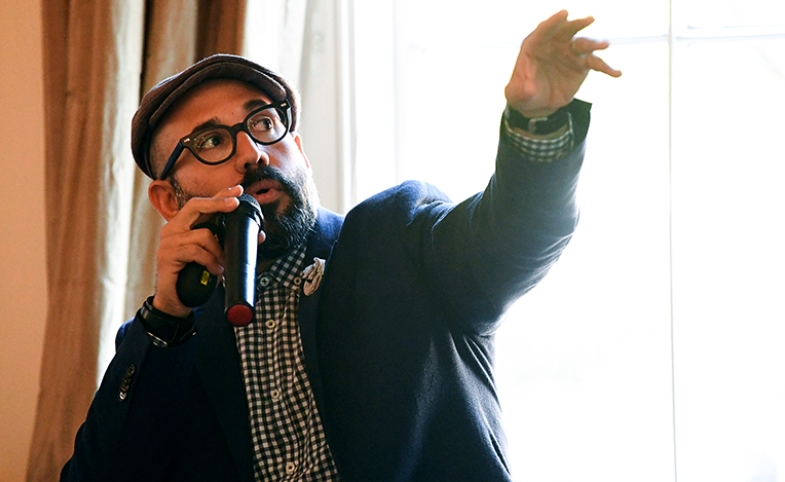 Jun 4, 2018
CPD Faculty Fellow Robert Hernandez is associate professor of professional practice at the USC Annenberg School for Communication and Journalism and founder of JOVRNALISM, an immersive journalism storytelling platform utilizing 360-degree video and other emerging virtual reality (VR) technologies.
This year, Hernandez partnered with CPD to launch CPD 360, an initiative exploring the opportunities VR presents for the future of public diplomacy storytelling. The collaboration has thus far garnered national media coverage of the team's immersive storytelling about sports diplomacy at the 2018 Winter Olympics in Pyeongchang. More recently, CPD/JOVRNALISM traveled to "Broadway's Secret Laboratory" in NYC for a 360-degree sneak peek of rehearsals for "Soft Power," a new East-meets-West musical theater production from David Henry Hwang.
In July, Hernandez will return to the CPD Summer Institute to teach "Virtual Reality and Immersive Storytelling for Public Diplomacy," the second year this course is offered in CPD's signature professional training program.
Currently, Hernandez is wrapping up Documenting the Life of the Deported, a partnership with KCRW and nonprofit Al Otro Lado that equipped USC Annenberg students with 360-degree video technology to tell immersive stories about migrants' journeys to the U.S.-Mexico border.
Stories from this project were published by NPR and Al Jazeera English.
"In the Works" for Robert Hernandez are storytelling projects using Videogrammetry and Photogrammetry, both quickly evolving technologies that use regular videos and photos to generate 3D models (aka holograms) for Augmented Reality (AR) experiences. Hernandez and his students first experimented with this technology during fall 2017 with "Johnnie's House," where viewers can virtually "walk through this door" into another neighborhood to experience the storyteller's memory. This fall, Hernandez will explore with his students how to use this technology to tell stories of and about the homeless.
Other recent relevant activities includes:
Partnership with the U.S. Consulate in Tijuana to train local journalists with digital journalism skills;Panelist at SXSW 2018 News & Journalism: There Is No Pipeline Problem!;Partnership with Discover LA to create immersive views of the LA Waterfront for the Los Angeles Tourism & Convention Board, with the Korean Friendship Bellpiece garnering more than 12,000 Facebook views;Speaker at TEDx Talk 2017: Fake News and the Future of Journalism;Recipient of a 2017 Online News Association award for an environmental investigative journalism project using 360 video and drones; andTraveled to Washington, D.C. with seven USC Annenberg students to create immersive postcards of the 2017 Presidential Inauguration for the New York Times and the 2017 Women's March for NPR.
To learn more about Hernandez's work with immersive storytelling, visit JOVRNALISM.
About this series:
"In the Works" is CPD's periodic roundup of news from the international PD scholarly community. If you've taken up a new academic position, published a new work or recently embarked on a research project on a public diplomacy topic, let us know! All updates can be sent to cpd@usc.edu. Please be sure to use "In the Works" in the subject heading