Belt and Road at a Glance
 
Top Developments
Hambantota Controversy Re-Emerges
The June 25 publication of a New York Times report on China's involvement inSri Lanka's Hambantota Port has re-ignited controversy surrounding the facility. A group of lawmakers linked to former president Mahinda Rajapaksa held a news conference in which they claimed that two Sri Lankan Times journalists were working on behalf of the current government to undermine Rajapaksa, who also denied allegations that he had taken campaign contributions from the Chinese government. State tabloid Global Times added fuel to the fire, commenting: "Instead of the New York Timesdemonizing China's efforts, isn't it better if it explores how the U.S. can participate in aiding impoverished countries?"Bank of China Opens Branch in Mexico, Possibly Signaling Increase in Chinese Investment?
On June 26, Mexican regulator Comisión Nacional Bancaria y de Valores (CNBV) authorized the opening of a new branch of Bank of China, making it the second Chinese bank to have operations in the country. CNBV said in astatement that the branch will focus on corporate financial services for Chinese firms operating in the country, their suppliers, and other Mexican businesses involved in trade with China. With an initial capitalization of $44 million, its capacity will have to be increased before it is in a position to lend for potential Chinese infrastructure projects in Mexico. There is a good probability of new projects in this domain due to new President Andres Manuel Lopez Obrador's interest in reviving plans to build a connection across the Isthumus of Tehuantepec, where the Atlantic and Pacific Oceans are only 200 km apart.Major Power, Rail Projects Announced during Nepal PM's Beijing Visit
Nepalese Prime Minister K.P. Sharma Oli made a state visit to Beijing on June 20. During his visit, Nepal and China signed eight different agreements, including memoranda of understanding (MoUs) regarding hydropower plants at each of Kali Gandaki Gorge, Siuri Nyadi, Marsyangdi, and Trishuli-Galchhi. There was no update, however, about the 1,200MW Budhi Gandaki hydropower plant, which was cancelled by Nepalese authorities in November 2017 due to "irregularities", but saw talk of a "revival" in February 2018. Other MoUs signed during the visit called for the construction of a 540km rail link between Nepal and China's Tibet Autonomous Region as well as a $144 million cement factory.Chinese Aid and Investment in Pakistan Deepens
On July 1, China lent Pakistan $1 billion to bolster the country's foreign exchange reserves, the result of negotiations that have been underway since late May. Overall, China lent Pakistan $5 billion in the financial year that ended in June. Analysts say, however, that Pakistan may also be forced to take lending from the IMF. China is aiming to increase the depth of its relationship with Pakistan in other, "softer" ways as well. Also on July 1, it was announced that the China-Pakistan Economic Corridor Cultural Communication Center "Talent Corridor" will see 1,000 Pakistani students travel to China for a year of vocational training, with their departure slated for November. Countering the Chinese and Pakistani government message on the mutual benefits of CPEC, areport released by NGO International Crisis Group warned that many projects associated with CPEC "risk widening social divides and heightening political tensions along the route."16+1 Summit Faces Local Frustration
As the Bulgarian capital of Sofia prepares to host the annual meeting of the "16+1" China-Central and Eastern Europe grouping, unease has been building among officials. In particular, Polish representatives expressed frustrationwith the way the summits are organized and the final communique put together. Warsaw also complained that Chinese firms abandoned several construction sites in Poland before the Euro 2012 soccer championships.Slovakian officials said there was no major Chinese investment there, and Romania said that there had been minimal progress on a 2015 agreement for China to build two nuclear reactors. Meanwhile, however, members fromHungary and Serbia continue to be enthusiastic supporters. Amidst this discord, there are reports of difficulty configuring a final communique.China, Belarus Scale Up Engagement
Newly-elected Malaysian Prime Minister Mahathir Mohamed appears to be making good on his campaign threat to review and possibly cancel major Chinese investments. In early July, work on the East Coast Rail Link was halted, along with two oil and gas pipelines. Finance Minister Lim Guan Engconfirmed that Malaysia had suspended a $813 million gas and petroleum pipeline linking Malacca to a Petronas refinery and petrochemical integrated development project at Pengerang. Minister Lim said that Malaysian officials would likely travel to Beijing next week to negotiate the terms of the suspended projects, the total value of which is approximately $23 billion. Malaysian authorities are also investigating whether part of a $2.3 Chinese loan linked to the projects was used to repay dues of the controversial 1MDB fund, from which former Prime Minister Najib Razak is thought to have embezzled large sums.Air China Frames London-Chengdu Flight as "Belt and Road"
Air China's new UK service from Chengdu to London's Gatwick Airport was launched on July 3 and described by the state-run People's Daily as "boosted by China's Belt and Road." This is the second time in recent weeks that Air China has promoted its activities as being intimately linked to BRI. The airline has also started marketing new services to Hanoi, Vietnam and Irkutsk, Russia as "Belt and Road routes", as it did flights to Nha Trang, Vietnam; Bangkok,Thailand; and Copenhagen, Denmark. There is government support for commercial aviation being framed within the context of the Belt and Road Initiative, but designations such as this are increasingly contributing to skepticism over Belt and Road becoming a catch-all phrase for Chinese business abroad.CNPC Moves to Rescue Petrobras Refinery Project
State-owned oil company CNPC signed a letter of intent to help Braziliancounterpart Petrobras complete a Rio de Janeiro refinery that already cost $14 billion before construction was halted amid a investigation into the "Carwash" corruption case. The letter adds Comperj refinery to a partnership the companies signed last year, under which CNPC will also investigate investments in the offshore Marlim field. The Carwash investigation showed that contracts were rigged by a cartel of 16 engineering and construction conglomerates.China Development Bank, Vnesheconombank Sign Loan Agreement
On June 27, Russia's Vnesheconombank (VEB) signed a framework agreement with China Development Bank (CDB) to receive $9.8 billion in five-year loans for financing joint projects. This is not the first time that CDB has positioned itself as a lender to VEB, Russia's government-owned development bank. Prior to the current credit facility, CDB extended loans to VEB in each of 2017, 2016, 2015, 2013, and 2012, with the total amount available or disbursed standing at $12.39 billion. As VEB has been subject to U.S. economic sanctions since July 2014, this most recent loan can be observed in the context of Russia's turn to China for financing support. Losses following the implementation of sanctions in 2014-2015 earlier prompted the Russian government to offer VEB a $5.28 billion bailout in 2015 as well as an $8 billion loan from CDB.Minister: $3 Billion Jamaica-Gansu SEZ Groundbreaking in December
Jamaican Minister-without-Portfolio Mike Henry said on June 27 that construction on the Jamaica-Gansu Special Economic Zone and Industrial Park will begin in December 2018. China's Jiuquan Iron and Steel Company (JISCO) will invest over $3 billion in the development, which is located in Nairn, where JISCO also operates the Alpart alumina refinery. While Minister Henry said that, "there is no question of the scale, the developmental scope, and the economic imperatives of this project," this is not entirely true. The $6 billion overall investment cited in the February framework agreement appears to have been lowered, and the project timeline is believed to be a murky period of between 2 and 8 years.
New Project Locations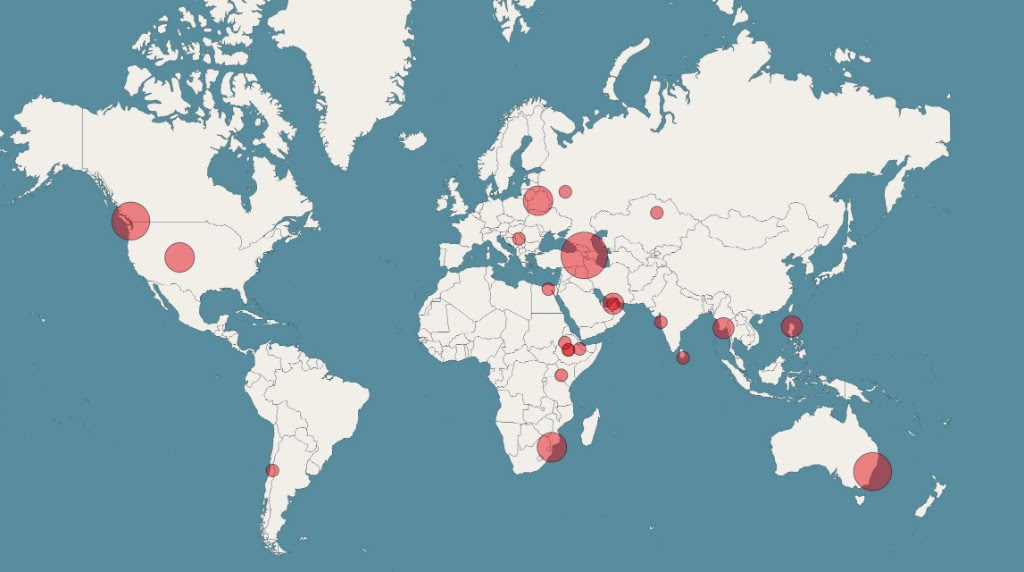 Data from IntelTrak, June 19 - July 3
What They're Saying

SUBHASH CHANDRA GARG
INDIA'S ECONOMIC AFFAIRS SECRETARY
On India's request for project financing from the Asian Infrastructure Investment Bank
"With 86 member countries, I don't think anybody should consider [AIIB] belongs to any particular country. In a way it might be as Chinese as the World Bank is American. We have not seen any projects specifically funded on [the Belt and Road Initiative] where we have an issue, so far."

PETER FABRICIUS
CONSULTANT WITH SOUTH AFRICA'S INSTITUTE FOR SECURITY STUDIES
On deals that require African countries to mortgage their natural resources to China
"The scales are beginning to fall off from the eyes a bit in realizing that China's not just a completely altruistic country."

CHINA DEVELOPMENT BANK 
Responding to the Center for Global Development's report on Belt and Road debt risks
"It's biased to say that loans for [Belt and Road] projects have generated more debt for countries, and the bank operates in accordance with international conventions and market rules. We stick to projects that could bring economic benefits and are economically feasible. For some heavily indebted less-developed countries, [CDB] loan limits and requirements are in line with the IMF."

ROHAN KARUNARATHNA
PRESIDENT OF THE CEYLON INSTITUTE OF BUILDERS
Speaking at the Construction Expo 2018 in Colombo
"In the next three years [China International Contractors Association] wants to increase their stake in the Sri Lankan construction industry to 70% of total projects. This can be detrimental to our local firms."

COMMUNIQUÉ
NIGERIA'S ABUJA FORUM SERIES ON CHINA-AFRICA COOPERATION
"Money and grants from China should be tied to projects not as loans, so as to reduce corruption and promote accountability."

BISHNU RAJ UPRETI
RESEARCH DIRECTOR OF THE NEPAL CENTER FOR CONTEMPORARY RESEARCH
Op-ed in The Kathmandu Post on China's place in the new world order
"China has used multiple strategies to shape [the] global order by engaging in oil industries, mines and minerals, dams, trade, private business, developing infrastructure around the world. Such initiatives became powerful instruments for international expansion...Aim of all these initiatives seems [to be] weakening the hegemony of conventional power."


By the Numbers
Data from RWR's IntelTrak tool
Data from RWR's IntelTrak tool
Domestic Developments
Public Engagement
June 27: The inaugural Belt and Road Global Forum was held in Hong Kong,attended by more than 110 organizations, including chambers of commerce, industry associations, investment promotion agencies, and think tanks from 29 countries.June 28: The third Belt and Road Summit themed "Collaborate for Success" was held in Hong Kong, jointly organized by the government of Hong Kong and the Hong Kong Trade Development Council (HKTDC). China International Capital (CIC) served as the summit's strategic partner and Bank of China (Hong Kong) served as the main sponsor. The summit featured investment and business matching sessions, a zone dedicated to global investment featuring international investment promotion agencies, and project pitch sessions focusing on transport and logistics infrastructure, energy/natural resources and public utilities, and rural and urban development.July 2-3: The Forum on the Belt and Road Legal Cooperation was held in Beijing, co-organized by the Ministry of Foreign Affairs and China Law Society. Sponsors included the Chinese Society of International Law, University of International Business and Economics, and Hong Kong Department of Justice.
Autonomous Regions
June 23: A $430 million comprehensive bonded zone was launched in Urumqi. 31 companies have expressed interest in participating. Xinjiang currently has two other bonded zones in Alataw Pass and Kashgar, where foreign goods can enter without paying customs or import/export duties.
Regional Developments
East Asia and the Pacific
June 27: Chinese steel company Win-Win Development Group signed an MoU with Australian Vanadium Limited, which owns the Gabanintha project in western Australia, on project financing and offtake of vanadium carbon nitride (VCN) for rebar production. Win-Win Development Group is currently building VCN production facilities in China. The companies were connected by Australian China consultancy, Mastermines.
Southeast Asia
June 27: Hong Kong Energy Infrastructure (HEI) of Kum Shing Group signed an MoU with the Metropolitan Electricity Authority of Thailand to conduct a feasibility study on moving overhead power lines underground in the greater Bangkok area.June 28: Several agreements were reached between private companies and the governments of Hong Kong and Thailand during the third Belt and Road Summit held in Hong Kong. China has emphasized Hong Kong's key role in Belt and Road. This is likely to manifest in the use of Hong Kong entities to carry out Belt and Road transactions. Three such agreements signed at the summit include:
Hong Kong's CLP Group signed an MoU with Thai industrial developer Amata Corporation to conduct a feasibility study on the construction of a floating solar farm at Chonburi Industrial City, located in the Thailand Eastern Economic Corridor;
Hong Kong's Ho & Partners Architects (HPA) signed an agreement with Thai developer Life & Living on concept development and master planning for a tourism and leisure development in Thailand. HPA will also design and develop a $3 billion smart city in the Sriracha Creative District, also located on Thailand's Eastern Economic Corridor; 
The Hong Kong Trade Development Council (HKTDC) signed MoUs with Thailand's Ministry of Industry, Bangkok Bank, and Siam Commercial Bank on bilateral cooperation under the Belt and Road framework.
June 28: Hong Kong's Kwan On Holdings and HPA signed an MoU with thePhilippines' Aggregate Business Group on planning and marketing three infrastructure development projects in the Philippines, estimated at $3.5 billion. The projects include a subway connecting the Philippines' Makati business district to Fort Bonifacio.June 29: The first joint China-Thailand think tank forum was held in Beijing, with discussions on bilateral cooperation under the Belt and Road framework by scholars from both countries. The forum was jointly hosted by the Chinese Academy of Social Sciences (CASS) and the National Research Council of Thailand (NRCT).July 1-3: The Lancang-Mekong Cooperation Media Summit was held in Vientiane, hosted by the Laos Ministry of Information, Culture, and Tourism in cooperation with the People's Daily of China. Media officials and journalists from Cambodia, Laos, Myanmar, and Thailand completed a week-long training program in Kunming, China from June 12-19 in preparation for the summit. The training program was hosted by the Yunnan Daily Press Group and sponsored by China's Department of International Cooperation and State Administration of Press, Publication, Radio, Film, and Television.
South Asia
June 20: The governments of Nepal and China and representative companies signed eight agreements during Prime Minister of Nepal KP Sharma Oli's visit to Beijing. These include:
Investment Board Nepal and China's Huaxin Cement signed an MoU on constructing a $144 million cement factory;
Nepal's Ministry of Energy, Water Resources, and Irrigation and China Communications Construction Company signed an MoU on preparing a feasibility study on Eastern Terai River Training (structural measures to improve a river, as flood control) for the Biring, Kankai, and Kamala rivers;
Nepal's Fortuna Investment and Guizhou Maritime Silk Road International Investment Corporation signed an MoU on establishing a highland food park with an investment of $46 million;
Nepal's Hydro Solutions, Yunnan Xinhua Water Conservancy and Hydropower Investment Company, and Shanghai Investigation, Design, and Research Institute signed an MoU on jointly developing the 164MW Kali Gandaki Gorge hydropower project in Nepal, in the BOOT (build, own, operate, transfer) model;
Nepal's Siuri Nyadi Hydropower Plant Project and China's National Electric Engineering Company signed an MoU on construction of the 40.27MW Siuri Nyadi hydropower plant, in the EPCF (engineering, procurement, construction, financing) model;
Nepal Pashmina Industries Association and the "One Belt, One Road" International Trade Platform of China Investment Corporation (CIC) signed an MoU on the sale of Nepali pashmina in China;
Nepal's Butwal Power Company, Sichuan Investment Group Company, Chengdu Xingcheng Investment Group Company, and Sichuan Qingyuan Engineering Consulting Company signed an MoU on the construction of the 600MW Marsyangdi Cascade Hydropower Project; 
Nepal's Siddhakali Power Company and Dongfang Electric International Corporation signed an MoU on construction of the 75MW Trishuli-Galchhi hydropower project.
June 21: Prime Minister of Nepal KP Sharma Oli and President Xi Jinping signed an MoU on the construction of a rail link between Tibet and Nepal. The link would extend 540-km from Xigaze to Gyirong in Tibet, as a continuation of the line between Tibet's capital Lhasa and Xigaze. The completed line will reach Kathmandu and is expected to open by 2025.June 22: A consortium including India's Tata Projects, Capicite Infraprojects, and China's CITIC Group was awarded a $1.7 billion residential and commercial redevelopment project by the Maharashtra government and the Maharashtra Housing Area Development Authority. The redevelopment project is located in a 26 million square-foot area in the Worli region of Mumbai.June 26: Nepal's Ministry of Finance received a $1 million loan from the Asian Infrastructure Investment Bank (AIIB) for the Nepal Electricity Authority (NEA) power distribution system upgrade and expansion project that will increase access to electricity in the western regions of Nepal. The MoU wassigned on the sidelines of the third annual AIIB meeting held in Mumbai. This is part of a greater $100 million loan that will be extended to Nepal, which has submitted funding proposals to the AIIB for the Sharada-Babai hydropower project, Pokhara-Beni Jomsom road upgrading, and Samakhusi-Tokha-Chhahare road upgrading and extension project.June 29: The China Liaoning-Sri Lanka Business Forum was held on the sidelines of Sri Lanka's seventh annual construction industry exhibition, "Construction Expo 2018," in Colombo. Over 240 local and international vendors were in attendance, including 30 Chinese firms.July 1: The China-Pakistan Economic Corridor Cultural Communications Center (CPEC CCC), based at Suzhou Vocational University, will work with China's Ministry of Education and Pakistan's Ministry of Planning, Development & Reform to offer scholarships to 1,000 Pakistani students under CPEC CCC's "Talent Corridor" program. The students will receive year-long vocational training on solar energy and hydropower engineering, space and high-speed train technology, and machinery operation at different universities and institutes in China.July 1: Pakistan received a $1 billion loan from China to bolster its foreign currency reserves. The loan had been under negotiation for several months.
Middle East and North Africa
June 20: China Railway Construction Corporation (CRCC) began testing the Mecca Light Rail in preparation for the Hajj pilgrimage in August, under a $93 million operation contract from Saudi Arabia. The light rail first beganoperating in November 2010, built under a turnkey contract by a CRCC-Beijing Railway Administration consortium using metro cars manufactured by CNR Changchun Railway Vehicles.June 26: China's Fidu Properties announced plans to invest about $544 million in real estate projects in Dubai by the end of the year as part of its regional expansion strategy. Fidu has already signed multiple deals valued at $103 million with UAE developer Emaar Properties on residential and commercial projects in Dubai's "The Grand" skyscraper.July 3: Tunisia and China signed a partnership agreement on developing the digital economy, focusing on areas such as telecommunications, fiber-optics, e-commerce, and network computing. The agreement was signed on the sidelines of the Belt and Road Digital Economy conference in Beijing.
Sub-Saharan Africa
June 25: Zambia launched its digital television project, which is part of the "Access to Satellite TV for 10,000 African Villages" initiative being carried out by Chinese television service provider StarTimes Group. This launch willprovide satellite television services to 500 villages across Zambia.June 25: Kenya hosted the sixth China-Africa Infrastructure Cooperation Seminar, with a focus on the Mombasa-Nairobi standard gauge railway (SGR) project. The seminar was jointly organized by the Chinese Embassy in Kenya, Kenya Ministry of Transport, and African Economic Research Consortium was held in Kenya.June 25: The UK's Edenville Energy and China's Sinohydro Corporation extended their MoU on project development and construction of the Rukwa coal-to-power project in Tanzania. Sinohydro has completed a feasibility study on a 120MW power plant, but is now considering expanding it to 300MW. The companies will have until December 2019 to complete technical and financial tasks, including facilitating construction of the Sumbawanga-Tunduma section of the Zambia-Tanzania-Kenya (ZTL) power transmission line and associated infrastructure.June 26: China National Aero-Technology International Engineering (AVIC Engineering) was contracted to construct the first tarmac road linking Kitale,Kenya to the South Sudan border. The 60-km road is valued at $20 million and will be funded by the Kenyan government.June 26: The fourth Forum on China-Africa Media Cooperation was held in Beijing, where 12 cooperation agreements were signed between Chinese and African government officials and media representatives.June 28: The Institute of African Studies at Zhejiang Normal University, Heritage Africa-China Research Institute, and University of Abuja in Nigeriasigned an MoU on establishing exchange programs. The partnership willexplore language and culture, industrialization, and economic development.June 28: A workshop on "Africa-China Cooperation in Information Technology and Digital Economy: Prospects and Challenges" was held in Abuja, organized by the Nigerian Institute of International Affairs and the Chinese Embassy in Nigeria. Discussions were focused on developing Nigeria's digital space through cooperation with China.June 29: Ghana's Ashiaman Municipal Assembly signed an MoU with the Fujian Chamber of Commerce on investing about $50 million in development projects in Ashiaman, including the construction of an international truck terminal and affordable housing. The projects will be finalized during an upcoming meeting, after which funding will be released.July 1: The first conference of the Abuja Forum Series on China-Africa Cooperation, themed "Partnership for Peace, Security and Development," was jointly organized by Nigeria's Gusau Institute and the Center for Nigerian Studies of the Institute of African Studies at China's Zhejiang Normal University.July 2: Following reports that a consortium of Chinese companies represented by Namibia Oriental Tobacco acquired 10,000 hectares of land in the Zambezi region to build a $1 billion plantation for tobacco production, the Zambezi Communal Land Board denied giving its approval and claims that it never received an environmental impact assessment report on the project. The board has rejected the project in the past for environmental and health reasons.July 2: China International Water & Electric (CWE) was awarded a $185 million contract for the construction of the Lowaat dam project in Turkana,Kenya. The contract was originally awarded to Sinotec Company and appealed by CWE, as Sinotec's $300 million bid was over double the contract amount.
Russia and Eurasia
June 25: The Tajik Aluminum Company (Talco) and China's Tibet Huayu Mining broke ground on a new gold and antimony mining venture. The project is set to cost $200 million.June 27: Russia's Vnesheconombank (VEB) signed a framework agreement with China Development Bank to receive up to $9.8 billion in five-year loans for financing joint projects. Over 70 potential projects have been identified,including projects in the infrastructure, transport, export support, and high-tech sectors.June 28: Georgia and Hong Kong signed a free trade agreement (FTA) at the third Belt and Road Summit held in Hong Kong.
Europe
June 20: Latvia's Freeport of Riga Authority and China's Shenzhen Port signed a cooperation agreement establishing a sister port relationship during a Latvian transport sector delegation visit to China led by the Ministry of Transport. The Freeport of Riga Authority, which is a member of the Belt and Road International Transport Alliance (BRITA), also signed agreements with Chinese logistics information exchange platforms: National Public Information Platform for Transportation & Logistics (LOGINK) and Global Logistics Alliance (GLA).June 27: Polish rail transport company PKP Linia Hutnicza Szerokotorowa (PKP LHS) began testing a new container route to China with the assistance of the Austrian Far East Land Bridge Company, a subsidiary of Russian Railways Logistics. The new land route takes the Trans-Caspian Route and runs throughUkraine, Georgia, Azerbaijan, and Kazakhstan, avoiding sea and air transport.June 28: Turkey secured a $600 million loan from the Asian Infrastructure Investment Bank (AIIB), co-financed with the World Bank, to expand the Tuz Golu underground gas storage facilities. This is the AIIB's first loan to Turkey.June 29: The Shanghai Stock Exchange (SSE), China-Belarus Industrial Park Development Company (CBIP), and China Merchants Securities (CMS) jointly organized a promotion event for Belt and Road investment opportunities in Belarus. The SSE Global Business Development Department and CBIP signed a memorandum of cooperation on increasing investment promotion to build CBIP into a "pearl of the Silk Road." To facilitate the joint development of the two countries' capital markets, the SSE will simplify regulatory procedures and establish a long-term financing exchange platform to provide Belarusian companies with cross-border financing services.June 29: China General Nuclear Power Corporation (CGNPC) signed an MoU with the UK Nuclear Advanced Manufacturing Research Center (Nuclear AMRC) to develop expertise and knowledge and to deepen commercial and academic connections between Chinese companies and their UK counterparts. CGNPC is currently developing the UK's Bradwell B nuclear power station project and is also involved in the Hinkley Point facility.July 3: French transportation conglomerate Bolloré Group signed an MoU with Alibaba Group on the development of joint projects between their respective business units and subsidiaries: Blue Solutions, Bolloré Logistics, Alibaba Cloud, and Cainiao Smart Logistic Network. The two groups willidentify cooperation opportunities in logistics and supply chain management, software and data management solutions, and internet capabilities for electric vehicles.July 3: China Merchants Group, SPF Group, and other unspecified Chinese companies entered into a partnership with UK-based Centricus Asset Management to launch China New Era Technology Fund, a new $15 billion global technology venture fund. China Merchants Capital Investment Management, a subsidiary of China Merchants Group, will contribute 40% of the the fund's capital. Centricus will also form a China-based asset management company, Centricus SPF, with SPF Group. The new fund willinvite universities, leading technology firms, and other investors to participate.July 3: Chinese national carrier Air China launched a UK direct flight between Chengdu and London's Gatwick Airport, following a Chinese marketing campaign touting the flight as a development under the Belt and Road framework.
Latin America and the Caribbean
June 26: Bank of China Mexico was authorized to begin operations in Mexico with $44 million in initial capital, focusing on corporate financial services for Chinese companies operating in the country and Mexican companies involved in trade with China.June 27: Bolivia's BacTech Environmental Corporation and China's CACS International Investment signed an MoU on BacTech's Bolivian tailings project. CASCI will design, manufacture, and install a mineral processing plant for reprocessing tailings in Bolivia's mining area of Atocha. CASCI will alsocomplete a feasibility study and arrange for a Chinese financial institution to provide BacTech with 85% of the total project cost.June 27: Jamaican Minister without Portfolio, Hon. Mike Henry, indicated that the planned Jamaica-Gansu special economic zone (SEZ) and industrial park in Nain, St. Elizabeth will break ground in December 2018 and begindevelopment in January 2019. Jiuquan Iran & Steel Company (JISCO), which operates the JISCO Alpart alumina refinery in Nain, plans to invest over $3 billion in the project, which will focus on manufacturing for export.